A Podcast About Growing Up in the Weather Underground
Zayd Ayers Dohrn discusses his family's radical legacy with Jamal Joseph and Carol Becker.
March 28, 2023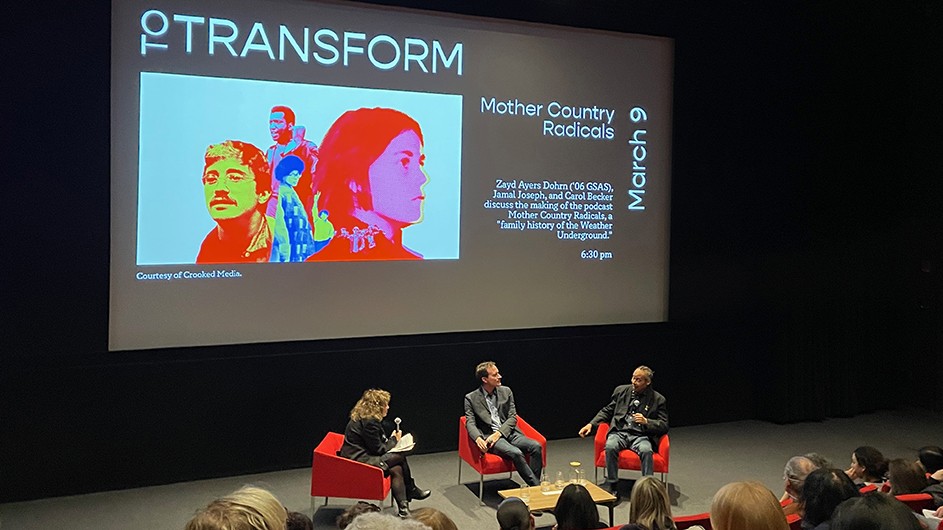 On March 9, 2023, writer and Northwestern University Professor Zayd Ayers Dohrn(GSAS'06) was joined by Film Professor Jamal Joseph and School of the Arts Dean Carol Becker to discuss the making of Ayers Dohrn's documentary podcast Mother Country Radicals. The event was co-presented by the School of the Arts, the African American and African Diaspora Studies Department, the Barnard Center for Research on Women, the Center for Justice, Barnard's history department and Columbia's history department, and the Institute for Research in African-American Studies.
Mother Country Radicals is described as a "family history of the Weather Underground." Ayers Dohrn's parents were radicals and counter-culture outlaws, fugitives from the FBI. In the podcast, he returns to the 1970s, when his parents, leaders of the left-wing organization, the Weather Underground, and their friends in the group declared war on the U.S. government. They brawled with riot cops in the streets of Chicago, bombed the Pentagon and the U.S. Capitol, broke comrades out of prison, and teamed up with Black militant groups to rob banks, fight racism, and help build a revolution. 
Born to Run
Ayers Dohrn grew up on the run. His parents were wanted by the U.S. government for their part in actions against the war in Vietnam and in support of the Black liberation movement. His mother, Bernadine Dohrn, ascended to the top of the FBI's 10 Most Wanted List in 1970, and was dubbed by J. Edgar Hoover "the most dangerous woman in America." 
Mother Country Radicals is both an unusual family portrait, and a portrait of the time. Ayers Dohrn's extended and adopted family were members of the Weather Underground and the Black Panthers, warriors who defied the law and served time in prison for their beliefs.
"The podcast for me ends up being about generations," Ayers Dohrn said. "It's about how the underground impacted those of us who were born into it, what it cost us and our families, and the consequences of the turn to violence. Those consequences are personal and political." 
"Having my mom's voice and the voices of the elders of our family on the podcast felt important personally," he said. "There was also this much bigger political motivation. Besides being my friends and family members, these people—Jamal [Joseph], Jeff Jones, Kathy [Boudin], David [Gilbert], and Bernardine (Dohrn] and Bill [Ayers]—are historical figures."
Podcast as Preservation
Mother Country Radicals is an act of preservation: "My mom was about to turn 80," said Ayers Dohrn. "Boudin, who some of you know was kind of an adopted mom to me, had stage four cancer. She passed away as we were working on the podcast." At Boudin's memorial service at Riverside Church in September of 2022, she was eulogized by both Angela Davis and Bernardine Dohrn, one after the other, "just as they followed each other on that 10 Most Wanted list," emcee Yolanda Johnson-Peterkin noted. 
This revolutionary community reflects another theme that Ayers Dohrn develops in the podcast: the solidarity and collaboration between the Black and white radical movements of the time. As a child, Ayers Dohrn was aware of the fact that he and his siblings were named after Black revolutionaries; that his adopted brother Chesa Boudin's parents were in prison for an attempted robbery committed with the Black Liberation Army; that the Weather Underground communiqués dealt a great deal with activist Fred Hampton, deputy chairman of the Black Panthers. Yet the Weather Underground is often treated as a separate, white antiwar movement. 
Ayers Dohrn realized there was "an untold story of how these groups supported one another, and learned from each other, while they were on the run, and fighting the police and the FBI—what we now call allyship. Or what a lot of revolutionaries called 'comradeship.'"
Joseph, himself a Black Panther, confirmed that there was indeed collaboration between movements such as the Panthers, the Weather Underground, the Young Lords, and I Wor Kuen. "You had people from other communities working those programs," said Joseph, "around tuberculosis in Chinatown, or an act of police brutality, or some kind of workers' rebellion in white communities. We were working each others' communities, literally."
A Charismatic Storyteller
Joseph is not only a font of knowledge, but also a charismatic storyteller. He appears on the podcast, providing necessary context for the time. "Those of you who've listened to it know he was not only integral to the story I was telling, but also that he steals every scene that he is in," Ayers Dohrn joked. 
Whenever Becker, a friend and longtime colleague of Joseph's, asked him a question, the audience was in for a treat: The story of how he joined the New York Panthers, expecting a gun, but being handed a stack of books instead; the story of staging theatrical productions at Leavenworth Prison, which brought the disparate ethnic mafias together ("Rafael, the leader, came up to me: 'Yo homes, that guy you're working with, he's not really feeling his character.'").
These stories sparkled with humor, as well as passion, and stirring wisdom from a life lived in pursuit of justice. Joseph recounted how young Panthers began the breakfast programs that are now one of the models for free food programs across the U.S., "with no money and no permission." 
"Freedom to someone who's dealing with food insecurity, who's hungry, is a meal, brothers and sisters, right?" said Joseph. "Justice for someone who's unhoused is a warm, dry, safe place to sleep." More than once, when he stopped speaking, the audience broke out into applause.
On Mother Country Radicals, Joseph tells the story of Clifford Glover, a 10-year-old boy gunned down by New York police in 1973. The murder had huge ripple effects in the community. By coincidence, Joseph recorded the story for the podcast the same month that George Floyd was murdered. 
Resisting Systemic Racism
Ayers Dohrn noticed a common thread among the people he interviewed for the podcast. "They were all telling me, independently of one another, that what had initially radicalized them was police violence against Black people," he said.
"Talking to Jamal, it became clear that many people in this country have been resisting systemic racism for a very long time," said Ayers Dohrn, "from slavery, and Jim Crow, right through the militarized occupation of Black neighborhoods today." This resistance set his parents and many others "on a path from being peace activists, to militants, to committed revolutionaries."
Ayers Dohrn played a clip from the podcast he did with his mother: "Whenever white people have a choice, you can't make that choice without thinking about how easy it is to not stand up for Black people," said Bernardine Dohrn.
"The essential American dilemma," she continued, "is white people standing up not just once, but consistently over time against the apparatus of Black slavery. Yeah, that one's an easy choice for me. Not that complicated."
An audience member asked how we can meaningfully carry on the struggle against oppression, while deciding what to do differently.
"We're all choosing parts of the legacy that we think are important, that we can carry forward," Ayers Dohrn said. Others of his generation, the children of revolutionaries, have gone on to be artists, teachers, and social workers.
"It's so important to tell these stories," Joseph added. He recalled speaking to a class of kindergartners, where a little white boy, when asked who the Black Panthers were, responded, "We have breakfast because of them." The crowd audibly melted. 
Joseph said, "You never know when these stories are going to take root. But they will take root. So it's important for us not to let these stories die, and to make them human, and to make them accessible. That's what keeps the struggle for justice and freedom and humanity alive."
---
Emily Johnson is a student in the MFA Fiction Program at the School of the Arts, and will graduate in May.