President Obama Bestows National Humanities Medal on Wm. Theodore de Bary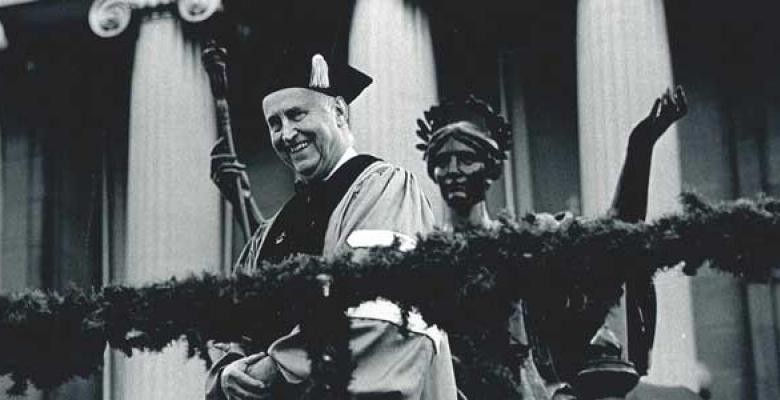 While Columbia has long revered Prof. Wm. Theodore de Bary (CC'41, GSAS'53) as one of its own, America now regards him as a national treasure.
On July 28, President Barack Obama (CC'83) presented the noted Columbia scholar, the John Mitchell Mason Professor Emeritus and Provost Emeritus, with a 2013 National Humanities Medal celebrating his lifetime's work. The awards, bestowed on 10 recipients this year, honor extraordinary achievement in the humanities.
The White House announcement cites how de Bary's "efforts to foster a global conversation have underscored how the common values and experiences shared by Eastern and Western cultures can be used to bridge our differences and build trust."
In an interview before he went to Washington, de Bary said, "I suppose the main feeling I have upon receiving this medal is that it is something I can share with my family, friends and colleagues in recognition of how much I owe to them."
At the age of 94, de Bary continues to teach Columbia students and publish a steady stream of books, the most recent one last year. Come fall, he will offer Asian Humanities to undergraduates, and he will also teach an upper level course on "Nobility and Civility." Based on classics of the East and West, it will discuss key values of leadership, raising questions such as "What does it mean to be a true leader?" and "What is nobility?"
"Ted de Bary is a Columbia icon," said Columbia University President Lee C. Bollinger. "As a scholar, teacher, mentor and citizen his influence has been felt not only on our own campus and in his field of East Asian studies, but across higher education and our society at large. For many decades, there's been no more compelling voice for the transformative power of the liberal arts and humanities as a guide to meaningful life than Ted. So it is entirely appropriate that he be honored by our nation, and by our Columbia-educated president, with the National Humanities Medal."
The ceremony with President Obama marks a return for de Bary to the White House after seven decades. The year was 1941, and Franklin Roosevelt had sought to marshal support from those who backed neutrality or peace. First Lady Eleanor Roosevelt invited a group of student leaders to the White House that included the young de Bary, who had been chair of Columbia College's Student Governing Board.
"She sent one of her lieutenants to Columbia, who knew that I had been active in the neutrality movement," de Bary recalled. "The First Lady knew that I could possibly be persuaded to join in a student effort that would support Britain undergoing attack from Hitler."
During World War II, De Bary was engaged in intelligence work with the Marines and Army on combat missions in the Aleutians and Okinawa. A future at the State Department lay before him, yet he has no regrets in bypassing the diplomatic field. "I'm fully satisfied that I returned to Columbia."
Today, De Bary still has something to offer Washington. Foreign policy experts might be well advised to read his 2013 book, "The Great Civilized Conversation – Education for a World Community" (Columbia University Press).
"For peace, you have to find common ground. This depends on being able to converse and exchange views with each other," he said. "One way to do that is through direct conversation or discussion. But if you consider that you have to bridge traditions and cross cultures, then it means not only having a common language like English, but means also understanding where others are coming from."
De Bary has served Columbia in a number of capacities: chair of Columbia's Department of East Asian Languages and Cultures from 1960 to 1966; as the first to chair the executive committee to the newly created University Senate in 1969, and then as University Provost in 1971, a position he held until 1978. He also established the Heyman Center for the Humanities, the Society of Senior Scholars and Society of Fellows in the Humanities.
The Humanities Medal joins de Bary's many other honors: he is an honorary member of the Japan Academy and a member of the American Academy of Arts and Sciences. He has also garnered just about every award Columbia can offer: Honorary Doctor of Letters (1994), Award of Excellence, by Graduate Faculties Alumni (1983), John Jay Award, Columbia College (1971) Lionel Trilling Book Award (1983), Mark Van Doren Prize (1987), and Great Teacher Award (1969). He twice won the Alexander Hamilton Medal, in 1994 and 1999.
For all his accolades, De Bary would like to be known most for his early work in introducing Asia to the Core Curriculum. The coming 2014-2015 academic year will be de Bary's 78th at Columbia and his 62nd on the faculty.
De Bary told those assembled at the White House, "Now, at the age of almost 95, I thank God that I am still able to teach Core courses myself, and participate in many activities supportive of the Core. And now, finally, to receive this wonderful award from NEH and President Obama."