Prof. David Henry Hwang Teaches Playwriting and Revives 'M. Butterfly' on Broadway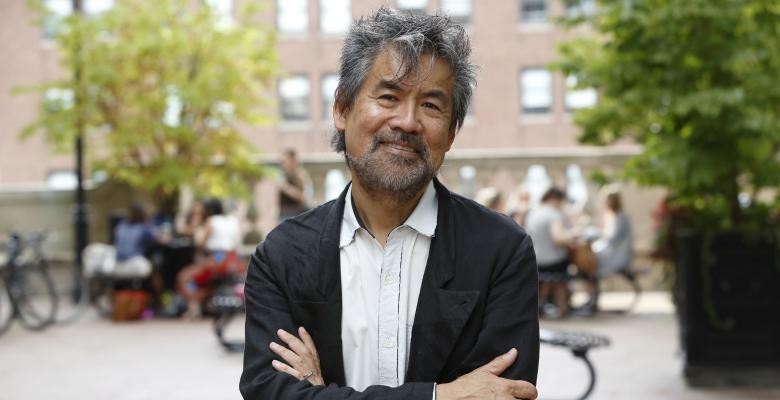 David Henry Hwang has an illustrious career: he's a dramatist whose work has won Tony, Obie and Grammy awards and is also America's most-produced living opera librettist. But he had never taught formally before joining the School of the Arts Theater program in 2014 as head of its playwriting concentration. He had long mentored budding playwrights and run workshops because "that's part of what you do as a dramatist," he said. "Playwriting is one of those fields that hasn't changed much in hundreds of years. It's like being a cobbler, a craft where you have apprentices."
Since arriving at Columbia, Hwang has raised the profile of the three-year MFA playwriting program and refocused its curriculum. He's had help from playwrighting faculty members Charles Mee, an Obie winner, and Lynn Nottage, a two-time Pulitzer Prize winner for drama, who also joined the school in 2014.
Hwang's approach to teaching involves offering courses and experience in the full range of dramatic writing, including television, film and musical theater. He believes that playwrights need to hear their work and see it staged, so workshop productions supplement the reading and critiquing of student pieces in the first two years of the program. In the third year, students see a full production of their thesis plays, mentored by a theater professional.
"David Henry Hwang is one of the most versatile dramatic writers working today," said Carol Becker, dean of the School of the Arts. "Somewhere in the midst of all this creativity, he enthusiastically works with his colleagues to build Columbia's playwriting concentration. It's rare to find someone so talented and successfully engaged in his own work who also wants to give so much to the next generation of theater practitioners. His range of interests and productivity are an inspiration to his students, and really to all of us.\"
When interviewed in late summer, Hwang was about to start rehearsals for the revival of what he deemed his "most successful play," M. Butterfly. Based on the true story of a French diplomat who engages in a 20-year clandestine romance with a Chinese opera singer, it opened on Broadway in 1988 and ran for nearly two years. In a review for The New York Times, Frank Rich wrote: "Hwang cracks open a liaison to reveal a sweeping universal meditation on two of the most heated conflicts—men versus women, East versus West—of this or any other time."
The new version opens Oct. 26 and stars Clive Owen as the diplomat and Jin Ha (CC'13) as his lover. It is directed by Julie Taymor, who also directed The Lion King, now the third longest-running musical play on Broadway. Hwang and Taymor will discuss their collaboration on M. Butterfly at Columbia's Lenfest Center for the Arts on Nov. 2.
Q. Why revive M. Butterfly now?
A. In retrospect, I was looking for a way to re-approach the show that would open up the possibility of it being as impactful as it was 30 years ago. That requires two things: first, the original production was directed by John Dexter, and a lot of his shows are hard to revive because of his strong visual sense and grasp of theatricality. Then I found a similar sort of director in Julie Taymor. Second, it's unusual to rewrite a hit, but because so much more information about the actual relationship between Bernard Boursicot and Shi Pei Pu has come out since the show originally opened, the time seemed ripe. There are certain aspects of the actual story that are more ambiguous and nuanced, which make the material feel very relevant to the gender fluidity discussion we're having today.
Q. How has it been to work with Clive and Julie?
A. Clive has been incredibly dedicated and hardworking. Before rehearsals started, he wanted to have table meetings about the script and go through it. So we had several of those over the past year, then a four-day workshop. Although I've known Julie for several decades, and we'd always talked about working together, this is the first time. Of course, she's visual and theatrical, but what has been extraordinary to me is the degree to which she focused on story and character and how that drives everything else. Her questions are not all about how things are going to look, how she can create a better visual effect, but also about what the characters are feeling. For instance, she found that a minor female character in the original script didn't feel very three-dimensional, and she was right. That's been a great thing as a writer because you want the visual bells and whistles in this particular play, but, fundamentally, you want a director who understands the heart of the drama.
Q. How much of the original script did you rewrite?
A. There was a certain amount of rewriting that I have done and will probably continue to do, but it will be up to people to decide how much they feel the play is different from the original.
Q. Have you been able to incorporate the rewriting process into your teaching at Columbia?
A. When I came here, the first class I wanted to teach was one on rewriting. As a young writer, if you're able to get a first draft out that's a big achievement, and then it often can be scary in terms of what you do from there— this fear that when you start to take things apart, you're not going to be able to put them back together. In every class session, we look at students' work, and we invite professional playwrights in to talk, and we read their work and they discuss the rewriting process. So in last year's and this year's rewriting class, we've been looking at M. Butterfly.
Q. Can you explain the changes you have made to the School of the Arts' playwriting concentration?
A. I have tried to make the program more careerist. The whole thing about being a playwright is survival, which is a huge component of what we need to teach. Basically, you can't make a living as a playwright. Even Tony Kushner essentially makes his living as a screenwriter. But that doesn't mean you can't have a wonderful life as a playwright; you just have to figure out how to put together enough pieces so that you can live, because you have to live in order to work. I like the word "careerist"—it takes away any potential shame from the idea that we need to be practical about this. We happen to be in a moment when playwrights are in great demand, and the ability to tell a story is an extremely marketable, monetizable skill because of television.
Q. You have added TV writing classes to the curriculum?
A. The program is still being developed, but our TV writing classes are expanding and we're formalizing a TV writing track that is open to both theater and film students in the School of the Arts. We're now living in a golden age of television, with 455 scripted TV shows on the air this year—on all platforms including, for example, YouTube Red—and there is a lot of interesting work. Instead of doing 22 shows per season, you can do 10 or 12 shows over six or seven months, make quite a bit of money and then still have time to do your plays. It's not easy, but it's doable. I felt it was key to expand the dramatic writing options in the playwriting concentration.
Q. What other new writing courses are you offering?
A. We have always offered screenwriting, and now there are also more musical theater courses. It's a fertile time and there's great work to be done, and the Broadway musical is now closer to the heart of American popular culture than it has been at any point since the 1950s. The notion that Broadway created a mass culture star in the form of Lin-Manuel Miranda has not happened since Ethel Merman [a musical theater actress who starting in the 1930s starred in 15 shows written by Cole Porter, Irving Berlin and the Gershwins. Merman originated the iconic roles of Mama Rose and Reno Sweeney].
Q. Are you still writing for The Affair on Showtime?
A. I've been a consulting producer and writer for three seasons. We're working on season four now, and because of my other commitments—M. Butterfly, Columbia, plus I'm doing a new show called Soft Power with Jeanine Tesori (BC'83) that is opening in Los Angeles in the spring—I've written only half an episode, but I helped shape the story arcs for the season.
Q. In addition to plays and TV, you've also written songs, screenplays and musicals. Do these different forms exercise different parts of the writing muscle?
A. They're all like related muscles with overlapping scales. For a play or a movie, it takes three or four years to get produced—if you're lucky—but it happens really quickly with TV. You write an episode of a television show, and you're lucky if you have four or five weeks before it goes into production. It's incredibly satisfying to see the work go up that quickly, but that comes with a lot of stress and a lot of real deadlines, as opposed to writing a movie, where if you're two months late finishing it, it's not going to make much difference.
Q. Do you prefer playwriting?
A. It's the form that's most mine, that I have the most control of. In other dramatic writing formats, you come in as a craftsperson where you make a contribution, but it's not your own thing.
Q. You studied playwriting with Sam Shepard. What was that experience like?
A. Before my senior year in college, during the summer of 1978, I was at home in Los Angeles, and I saw an ad that said, "Study playwriting with Sam Shepard." So I clipped it and sent it in. It was the first year of what eventually became a prominent event in southern California, the Padua Hills Playwrights Festival. The program emphasized writing more using our subconscious, and that was when I feel I learned how to start bringing characters to life. That summer I began writing my first play, FOB, which got produced in the dorm at Stanford and then opened at the Public Theater in New York about 14 months later. I was fortunate to get out of the starting gate early, with Sam as a key influence.
Q. What is it like to feel you might be influencing your students in a similar way?
A. Ultimately, that's the reason I'm here at Columbia. I go through the admissions process, so I see the students when they first come in. They're all different, and they all have different things they want to say and they all think about theater slightly differently. But they share a great passion and have a deep need to say something through dramatic writing. And you want to help that along.