Professor Rivka Galchen on Writing for Kids Versus Adults
Children bring more magic to the page, she finds.
September 24, 2019
Fred and her math-teacher mother are always on the move, and Fred is getting sick of it. She's about to have yet another birthday in a new place without friends. Right before turning 13, Fred sees something strange in the living room: her mother, dressed for a party, standing in front of an enormous paper lantern—into which she steps and disappears.
In her new book, Rat Rule 79, her first for children, Rivka Galchen, a professor in the writing program at the School of the Arts, traces Fred's journey as she follows her mother to the Land of Impossibility—a place where time is outlawed, words carry dire consequences and her unlikely allies are a depressed white elephant and a pugnacious mongoose mother of 17.
Columbia News caught up with Galchen recently to discuss her first book for kids.
Q. Why did you take the plunge into children's literature now?
A. I've spent so much time telling and reading stories to my daughter over the past few years that writing a novel for kids came naturally. It's writing for adults that has at times felt a bit like putting on a bear costume for a spell. 
Q. What was your favorite book when you were a child?
A. Some of my most beloved reading as a kid was on the boxes of Celestial Seasonings tea that my parents bought. There were little quotes and poems and italics hiding in different places: on the inner flaps, on the bottom, on the tea bags themselves. And even the names of teas seemed magical: my favorite was Red Zinger. Of course, eventually, I graduated to the books you could check out at school—The Phantom Tollbooth meant the most to me. I remember the librarian recommending a book about creatures who lived in the woods, each with their doors painted significant colors. I wish I could remember now what that book was. I still think about it.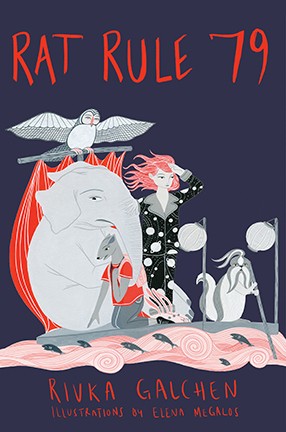 Q. Has your daughter read Rat Rule 79?
A. Many of the bits in the book came from serial bedtime stories I taught her. She's sort of annoyed that the book isn't only hers.
Q. What is the biggest difference between writing for children and writing for adults?
A. I found it difficult to write for kids, but somehow it was the same kind of difficult as for a grown-up book. But one thing that I noticed about the way kids experience stories is that they bring more magic to the page than grown-ups do; what's interesting is already inside their own mind, so a kids' book is more like setting up a playground. It's almost as if adults—maybe this is my warped perspective—are less smart, and bring less to the books they read. If you look back at some of the books you loved from childhood, you might find them to be more spare than your recollection of them. I think books for children need to leave more space between the pages. It's like how a talking, walking doll is somehow less engaging than a sock puppet with eyes drawn on with a Sharpie pen.
Q. When did you teach a course on childrens' literature? Do you have any plans to teach it again soon?
A. I taught a course on children's literature in 2018. We interpreted what kids' lit might mean pretty broadly, so we covered ancient myths, Moomin stories, William Steig books, some Shirley Jackson and even True Grit by Charles Portis, since its protagonist is 14 for most of the book. I'd love to teach the course again.
Q. You're hosting a dinner party of authors, dead and/or alive. Who would you invite and why?
A. I think I'd mostly like to have cartoonists there. Is that fair? They seem the wisest and the most childlike.