Professor Michael Shapiro on the Journalism School's New Nonfiction Magazine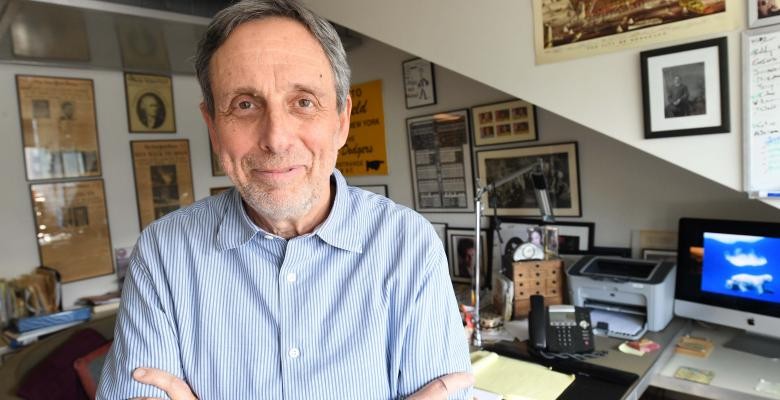 In-depth long-form narrative nonfiction pieces and the stories behind those stories populate The Delacorte Review, Columbia Journalism School's latest publishing venture. Created by Michael Shapiro, a longtime professor at the school, and Mike Hoyt, former executive editor of Columbia Journalism Review and currently an adjunct professor there, the review aims to publish high quality nonfiction writing accompanied by entertaining and informative podcasts that focus on how to write nonfiction narrative. The inaugural issue, published on Jan. 28, focuses on the topic of home and features the work of Columbia Journalism School alumni.
Readers can access the journal for free at delacortereview.org or purchase an e-book with all the articles. It will be published three times a year and each issue contains five stories, which will be released one-by-one on a weekly basis beginning January 28.
Shapiro teaches digital media, entrepreneurship and writing at the journalism school. He worked at newspapers in New Jersey and Chicago for five years before becoming a magazine writer. His work has appeared in such publications as The New Yorker, Esquire, and The New York Times Magazine and he is the author of six nonfiction books.
While fiction is propelled by imagination, narrative nonfiction is propelled by the essential task of journalism: reporting.
Q. What sets The Delacorte Review apart from other nonfiction journals?
A. Proud as we are of our stories, we felt strongly that a publication whose home is the Columbia Journalism School had to offer a teaching component in the form of a podcast to go along with publishing great works of ambitious narrative nonfiction. But the teaching couldn't be heavy handed—"use active verbs!" Instead we wanted the review to be a place where serious writers—and by serious we mean people who work hard at the stories they need to tell, even if they are not yet published—can come to learn what writers do when things go wrong. Because things always go wrong when you're trying to tell a story.
Q. Why did you decide to include podcasts telling the "story behind the story" to accompany the written pieces?
A. The podcasts are an extension of that mission: by taking listeners through the story of the creation of a story they could learn why writers needed to tell their stories, what obstacles they encountered, and how they overcame them. It's often the case that when bad things happen to good stories, there is often a clear reason why—meaning something that a writer can see and fix. This work is hard enough without making it harder by anxiety and fear of failure. 
Q. What do you hope your audience will gain from The Delacorte Review?
A. The key word for us is discovery. By which we mean readers discovering stories that surprise them and writers who are new to them. It also means that writers can discover new ways to think about and tell their stories. We believe that nonfiction can be as compelling and transporting as fiction. The difference is that while fiction is propelled by imagination, narrative nonfiction is propelled by the essential task of journalism: reporting. 
Q. How can you tell which stories will become great nonfiction narratives?
A. The Review is an outgrowth of a project my colleague Mike Hoyt and I launched in 2013 called The Big Roundtable. We published some 70 works of original narrative nonfiction—enough of a sample to be able to draw some conclusions about what gets read. The answer: the stories that drew the largest audiences were ones that the writers clearly needed to tell. We all know the experience of reading those kinds of stories, in fiction and nonfiction. The writer never even has to say it. We feel it. And we cannot put it down.
Q. What is in the first line-up, and why did you choose the topic of home?
A. The theme came not by design—you really want writers to come to you with their stories, and not impose a conceit on them—but by looking at what was in our inventory and seeing a link between five of them. One writer tells the story of an English town she could not wait to leave, but cannot bear to be apart from. Another writes of his father, alone, on a remote French mountaintop where he has taken refuge after a lifetime running from memories of wartime betrayals and everyone close to him. A third is about a girl from the Bronx who finally found happiness, fleetingly, on a longboard. Yet another of being a middle-aged surfer in landlocked London, daydreaming of the days when he can once again ride wave after wave. And then there is a tale of the tens of thousands of Eritrean asylum seekers who thought they had found a refuge in Israel only to discover that they need to go. Home, these stories remind us, is where you need to be.