Professor Richard Ford's New Memoir Is His First Nonfiction Book
Editor's note:
School of the Arts professor Richard Ford will receive the Library of Congress Prize for American Fiction during its 2019 National Book Festival on August 31. One of the Library's most prestigious awards, it honors an American literary writer whose body of work is distinguished not only for its mastery of the art but also for its originality of thought and imagination. 
"The good fortune of being given this prize – even apart from its private encouragement – is to be allowed to participate in what I've always taken to be the Library's great achievement: to encourage literacy, to advocate for the primacy of the literary arts and to draw closer to the needs of readers," Ford said. "The Library of Congress' Prize for American Fiction makes me feel – accurately or not – what most novelists would like to feel, which is useful to our country's conversation with the world."
In a 2017 Q&A with Ford, he discussed his memoir "Between Them: Remembering My Parents."
May 16, 2017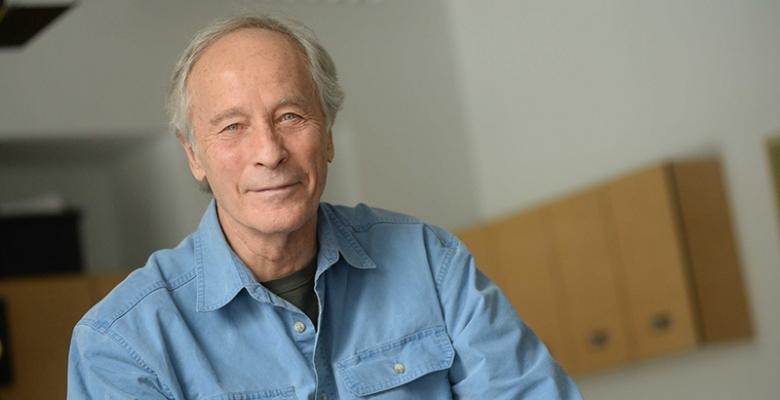 Now, after more than 30 years of note taking, Ford has found a way to bring the subject of his father to shore. His memoir, Between Them: Remembering My Parents, was published on May 2. It is the first nonfiction book for Ford, the Emmanuel Roman and Barrie Sardoff Roman Professor of the Humanities, who has been teaching at the School of the Arts since he arrived at Columbia in 2012.
"Richard Ford is uniquely gifted as a writer, that is indisputable, but he is also completely gifted as a human being— clever and witty, straight-talking, tough when necessary, extremely charming (most of the time), and big of heart," said Carol Becker, dean of the School of the Arts. "Few artists of his stature would ever give so much to young writers as he does. For this we are all extremely grateful."
Ford's 1995 novel, Independence Day, was the first book to receive both the Pulitzer Prize and the PEN/Faulkner Award. The book was the second in his critically acclaimed Bascombe Trilogy, which began with The Sportswriter in 1986, a work that introduced readers to Frank Bascombe, novelist-turned-sports-writer-turned-realtor.
He completed the trilogy in 2006 with The Lay of the Land—or so Ford's readers thought until 2014, when he published Let Me Be Frank with You, four linked novellas that further chronicled Bascombe's life and was a Pulitzer finalist.
His other works include the novels A Piece of My Heart, The Ultimate Good Luck and Wildlife, as well as the short fiction collections Rock Springs and Women with Men. He has edited several collections of fiction, including Best American Short Stories 1990 and Blue Collar, White Collar, No Collar: Stories of Work. His latest novel, Canada, was published in 2012 and was a best-seller.
Q. Why did you decide to write a memoir about your parents at this point in your life?
A. I looked around at the notes that I had accumulated over 30-plus years and there were a lot of them, hundreds. And I thought, well, the least I can do is go back through them and see what happens. I knew that I was going to have to take the point of view that my father's absence was a kind of presence. It made a kind of metaphorical sense, but not necessarily literal, practicable sense. What I found, though, was that I had a lot of memories that I didn't know I had until I started writing them down. But why, beyond those logistical or technical considerations, did I write about my parents? I simply missed them. I got to be 70-plus years old and I realized I was a man who missed his parents. I missed them for sentimental reasons and I missed them because I wanted to be able to affiliate with them again. Writing about them would affiliate me with them, and writing about them in a memoiristic way, which is to say, based on fact, was a way that I could testify that they actually existed—even though they were not people of obvious consequence in the wider world.
Q. Was writing your first book-length piece of nonfiction different than writing a book of fiction?
A. No. I just adhered to the requirement that everything I averred about my parents had to be factual. And anything that wasn't factual, such as certain aspects of my parents growing up, I had to frame clearly as supposition—by me. Therefore, when I said something was true about them, such as when they were born and where they were born and where my grandmother came from, all of those things had to be factual, because fact was my ultimate certifier. It's important to me to retain the now rather quaint idea that "things actually happen."
Q. Did the language—word usage, sentence structure—strike you as different than when you write fiction?
A. I had to develop a style and a syntax and a diction which was apposite to the essay I wrote about my mother. I don't know if the fact that one was written in 1986 and one was written in 2016 has made any stylistic difference. I adjusted the first essay about my mother—at least in its content—to more aptly reside in a book also about my father. For instance, there were repetitions from the first to the second which I eliminated, some that I rationalized. But as far as drawing upon some different literary muscle, I don't think I did.
Q. So the subject you are writing about determines the style of your writing?
A. Yes. I have no investment in making my so-to-speak writing style be consistent project to project. Sometimes people will say to me, "You know, I can recognize a sentence of yours anywhere." I say: "Oh bullshit, you cannot. Because I can't, so why should you be able to?" There's a kind of faux caché associated with the faux notion of a writer's voice being always consistent. A writer has many voices. All of us do. If you're trying to maintain stylistic consistency, you're probably cutting off something that you should have access to—language, subject matter, tone, humor. Everything. You want to invent a style that gives you access to everything you can say about whatever subject you're undertaking. A lot of crap gets purveyed about "voice." Most people, including many writers and teachers of writing, don't understand the entire matter.
Q. What was it like to write something so personal?
A. My wife, Kristina, said she thought that I experienced a kind of emotional low when I was writing about my father in the winter of 2016. Probably revisiting his death and the bits of his life were telling on me. But if so, that was a little enough price to pay to be able to write about him. I don't like to overdramatize the experience of being a writer, or to glamorize it, or to make it seem more emotion-charged than it is. It's just something human beings do; lots of people are writers. I try to write about the most important things I know. That's what I'm emotionally attuned to do. So if something draws down on me a bit, good; that means I've probably hit on something that is worth doing.
Q. Did writing this book about your parents give you a new understanding about your relationship with them?
A. One of the things I think I learned was that in the relationship that existed among my two parents and myself, I was always third. They were the two people that mattered the most. They each mattered to the other more than I mattered to them. I liked that and like it now. I like being able to say it; to exonerate them from narrow, conventional thinking about such matters. They were married for 15 years before I was born, never thought they would have children. But then they suddenly had me, and I think I was a little bit of an intrusion in the serenity of their life. That's why I called the book Between Them. I came into the world from between them, I was raised literally between them, and I came between them, and it was always the case that what was most important to each of them was what was between them.
Q. You're not saying that you didn't feel loved by them?
A. I felt immensely loved by both of them all the time.
Q. Some writers say they're not in control when they're writing, that their characters drive the process. Who was in control when you were writing Between Them?
A. Well, the facts were paramount. They did what they did. I didn't determine or control that my father was born in Atkins, Arkansas, or that my parents were married in 1928, etc. In a piece of fiction I would control such things absolutely. But in a memoir the facts run the show. What I had to decide was what difference it all made.
Q. What are you teaching this spring?
A. A course in memoirs about death, seven memoirs that I chose, all quite different—and I chose to teach this course not because I was publishing a memoir this spring, although that's not inconvenient. The intellectual premise for the course issues from a remark that Walter Benjamin made in an essay called "The Storyteller," in which he says, "The storyteller takes his authority from death." One of the questions that I ask is, "How does death sanction this book and all its formal parts?" It's the sort of question—in my view—a writer will inevitably ask about his or her work. So it has a practical application.
Q. What is the focus of the master class you are teaching this semester?
A. I used one book, Colm Toibin's Nora Webster, a wonderful novel. We just went through it page by page, patiently and carefully. I may use James Salter's novel All That Is for a master class next year and do the same thing. These rich, accessible books are my models. I want to write rich, complex books that are also accessible. If you can't read to the end of my book, my book has failed. But a book like Salter's, his last book before he died, is so full, it's so full of teachable moments, of pleasurable moments, of new intelligence. And yet you can sit down and read it, you don't have to study it, it's not a professor's book.
Q. How does the intersection of writing and teaching affect you?
A. I always put my own work first. That's what I advise my students to do. My work's much more challenging than the work I do for them. Classes are a great pleasure for me because I love to read the books, love to be in class with my students. I take seriously the fact that they're trying to enter an estimable, difficult, almost impossible vocation. I respect their lives, their intellects. To get them along toward a writing vocation is a privilege.
Q. What are you working on now?
A. I wrote a couple of short stories and several essays this winter. I guess you could say I'm concentrating on things that fit more tidily into the teaching schedule. I've got a couple of novels that are sort of lurking out there. I can occasionally see through the fog, but I'm not that eager to bring them in any closer right now.
Q. Are we going to hear any more from Frank Bascombe?
A. One of those novels that's out there in the fog is called Be Mine. It's about Frank and his son Paul. I've been collecting material for it in my little notebooks for about two years. I haven't had the moxie to embark on three-plus years of writing and another year of editing and getting it into print. So if some spirit, which I now can't identify, moves me, I'll do that.  Who knows?