What Is Ranked-Choice Voting and Why Is New York City Using It?
For the first time, New York City will be using ranked-choice voting in a mayoral primary. Studies show it makes government more representative and cuts down on negative campaigning.
May 27, 2021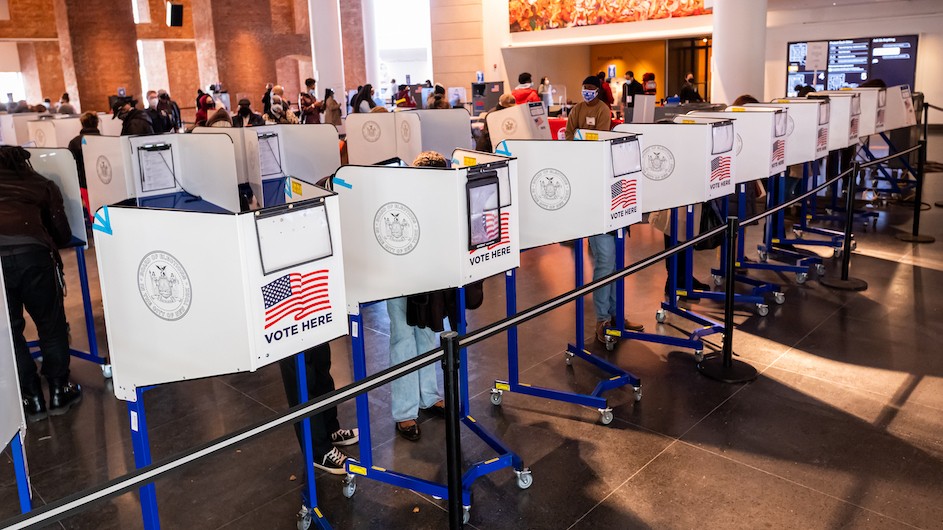 On June 22, 2021, registered voters in the Democratic and Republican parties will participate in one of the most important primary elections in New York City's history—with an entirely new voting system. These elections for mayor, comptroller, public advocate, borough presidents, and city council will be the city's first major test of ranked-choice voting. Rather than voting for one candidate to win the party nomination, voters will rank up to five candidates on the ballot in order of preference.
Ranked-choice voting is not inherently complicated, but any change to the electoral process can confound and dispirit voters. To avoid confusion at the polls, here's what you need to know.
How does ranked-choice voting work under New York City's system?
Voters receive a ballot where they can rank up to five candidates in order of preference, instead of voting for just one candidate. You must choose different candidates for each rank. Voters can still vote for just one candidate for each office if they prefer. Ranking other candidates does not harm a voter's first choice.
To determine the winner, all the first-choice votes for each candidate are added up. If one candidate receives more than 50 percent of the first-choice votes, they win the election outright. But if no candidate gets more than 50 percent of the first-choice votes, then counting continues in rounds. In each round, the candidate with the fewest votes is eliminated.
If your first-choice candidate is eliminated because that candidate had the fewest votes, your second-choice candidate moves up and counts as your vote in the next round. And if your second choice is then eliminated in the next round, your vote is transferred to your third choice, and so on. In other words, in each round, your vote will count once, and it will count for the highest-ranked candidate on your ballot who has not been eliminated, whether that's your first choice or your fifth choice.
This round-by-round process continues until only two candidates remain. The candidate with the most votes in the final matchup wins the primary election.
Why did New York City implement ranked-choice voting?
New York City has been suffering, like the rest of the country, from low turnout at elections, negative campaigning, and candidates winning by pluralities that represent small percentages of the electorate. Ranked-choice voting was implemented to improve the representativeness of the voting system. New York City has been considering ranked-choice voting for decades. A ballot measure was finally proposed by the 2019 Charter Revision Commission and approved by 73 percent of voters.
Ranked-choice voting addresses the problems presented by both the plurality system, which has been used to nominate and elect city council members, and the hybrid plurality/runoff system, which has been used in election of mayor, comptroller, and public advocate, especially in races where there are three or more candidates. In a city with an already low turnout rate, forcing voters to come to the polls a second time for a primary runoff, and then, a third time for the general election has hurt our precarious system of representative government. With ranked-choice voting, there is no runoff,  so we do not risk a decline in turnout. And, by not having a primary election runoff, the city also avoids the expense of a runoff.
Most important for democracy, ranked-choice voting gives voters more say in who gets elected by giving them the opportunity to express more preferences on their ballot. Voters can cast a vote for another candidate that would best represent them if their first-choice candidate turns out to have little support among other voters. Even if a voter's first-choice candidate does not win, their vote remains important in choosing the winner by ranking other candidates.
Ranked-choice voting has also led to more diverse and representative candidates running in and winning elections. In studies of four California cities—San Francisco, Berkeley, Oakland, and San Leandro—ranked-choice voting did not have a negative impact on the candidacy rates for women and people of color and it increased the probability that candidates in these groups would win elections, compared to plurality elections. In another study, researchers from several universities analyzed voting behavior in four jurisdictions—Terrebonne Parish, Louisiana;  Cincinnati, Ohio; Pasadena, Texas; and Jones County, North Carolina—and found that ranked-choice voting "consistently" provides "slightly better" representation for minority groups.
This system of voting can also change the dynamic of a campaign and lead to more civility and less negative campaigning. Candidates are encouraged to build broader coalitions of voters during the campaign because candidates who are not your top choice may still need your support to win. In city-wide elections with multiple candidates, it will be difficult for a candidate to hit the 50 percent threshold in the first round of voting. A winning campaign will recognize the perils of negative campaigning in an election where the margin of victory could very well depend on a voter's second or third choice.
The legitimacy of democratic systems of governance depend on the consent of the governed through voting. When large numbers of people do not vote, as has been the case in New York for decades, we are putting our democracy at risk. Ranked-choice voting simply gives us a greater voice in our democracy.
To learn more about ranked-choice voting visit the New York City Campaign Finance Board and NYC Civic Engagement Commission, the NYC Board of Elections, WhosOnTheBallot.org, or Ranked Choice NY.
---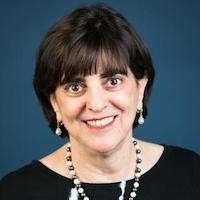 Ester R. Fuchs is a professor of international and public affairs and political science at Columbia University's School of International and Public Affairs, the director of the Urban and Social Policy Program, and the director of WhosOnTheBallot.org.
---
This column is editorially independent of Columbia News.