How Do Writers Create a Just World in the Face of Climate Change?
In a recent online event, panelists discussed how authors can envision a future of hope and climate progress.
October 07, 2021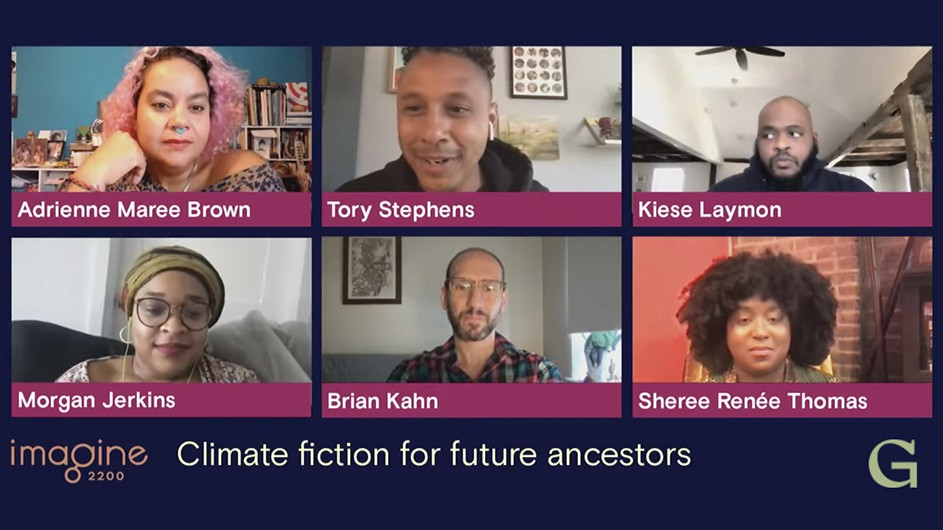 On September 20, 2021, the Columbia Climate School's M.A. in Climate and Society Program partnered with Grist, Orion Magazine, and the Natural Resources Defense Council to host the virtual event, Imagine 2200: Climate Fiction for Future Ancestors. The event was the culmination of the climate fiction contest of the same name, organized by Grist's Fix Solutions Lab. The contest asked entrants to "envision the next 180 years of climate progress," with a view toward centering the perspectives of those most affected by climate change, and drawing inspiration from Afrofuturism, Hopepunk, and Solarpunk to imagine our future planet.
Imagine 2200 judges Adrienne Maree Brown, Morgan Jerkins (who teaches writing at Columbia's School of the Arts), Kiese Laymon, and Sheree Renée Thomas joined Fix's Tory Stephens and Columbia's Brian Kahn to discuss justice, race, and hope in storytelling.
Climate change does not impact all people equally: The most socially and economically vulnerable populations have the highest risk of experiencing negative climate effects. Addressing this crisis requires innovation and imagination not only in scientific observation and modeling, but also in integrating environmental justice and the viewpoints of people whose voices often remain unheard. Speculative fiction, including climate fiction (or "cli-fi"), can provide a platform for the perspectives of those whose lives will be most radically altered, and it can also be used to imagine what a just future might look like.
How Do You Create a Different World?
When building a new world as a writer, Brown asked: "How do you create one that has a different relationship to justice?" In the fiction contest, some authors imagined a future where such changes had already taken place, and others focused on characters making transformative decisions. Either way, the panelists acknowledged, our current reality influences our narratives and storytelling.
Creating intersectional worlds involves more than including diverse characters and situations; writers must interrogate the here and now. Too often, when BIPOC characters appear in fiction, "That person could be changed out. The character's a Black chef, but that's it. You don't learn too much more, other than that they filled this slot," Stephens said. "Why do we not see more robust storytelling where culture is infused into the story?"
In these cases, rather than successfully diversifying storytelling, fiction merely reinforces existing power dynamics and narratives. "The scary part about it to me is that everyone who ever writes a story in this nation is writing a racialized story," Laymon said. "What's important for me in reading these stories is that unless you're thinking about the way ability, space, place, sexuality, and gender inflect and create racial legends, you're not doing honest, just racial work. As writers, we have to pinpoint the way we often engage in abuse of people we purport to love through writing these narratives that erase or re-ascribe the same racial legend that we're born into."
Words Have Power, Words Have Alchemy
Panelists then considered to what extent imagination can help us move beyond this world. "Words have so much power, words have so much alchemy," Jerkins said. "I believe that fiction is a place where we not just should go, not just can go, but must go, because most of the things we see nowadays in terms of invention and innovation all started with someone's imagination."
Despite the panic that one might feel in the face of all the planet's turmoil, creators have the ability to bring hope. So the conversation turned to the pervasiveness of dystopian climate fiction over hopeful narratives, with Stephens acknowledging his love for the genre, but expressing concern that we may need to choose between one path "that's filled with dystopian, anger-filled, violent images and media," and another that's "full of hope and optimism and solutions." If we want to imagine a more hopeful future, do we need to break away from dystopia?
Thomas suggested that there is hope in dystopian narratives because they depict difficult worlds full of people who have experienced trauma and need to find a way to survive. "Usually, they have to collaborate in order to endure, and that's the point I tap into, that part of hope," she said. The key is to expand how we think of hope, and how we choose to tell stories. "Why do you have to start from a broken world?" Thomas asked. "Let readers know we are starting from a place of abundance, where each life is treated like it matters."
Climate Is a Language
"The language of nature is abundant and constantly creating," Brown said. "Every building that has started to fall down, nature reclaims it, and she's telling a different story, where the building was the temporary thing, and she is the permanent thing. Climate is a language—hurricanes, wildfires—the planet is telling us, 'Y'all are doing some stuff that's not aligned with our future.'"
Brown pointed out that telling stories about the entire planet, and not just its human inhabitants, may open people up to new languages and collective mindedness.
Other panelists echoed the importance of collective thinking. "We need to shift away from that individualist mindset, because if we allow ourselves to be hardened by the world, we'll never move forward," Jerkins said. In the face of climate disasters, "you're realizing that no one is safe, and if no one is safe, then this is a time to band together. Even if I can't be near you physically, whether because of distance or COVID restrictions, words can be the bloodline, which is what is most important with writing and documentation."
Achieving Climate Fiction Dreams in the Real World
Is there a way to use storytelling techniques to bridge the gap between those experiencing the effects of climate change and those making the top-down decisions? How can we spur action by changing the real-world narrative on climate?
"The thing that we love so much in science fiction is technology, but we're going to have to let some of those things go if we want to achieve some of the climate fiction dreams that are being created on the page," Brown said. "We're going to have to change for real, in the real world, in terms of our global economic relationships."
Brown added: "Part of a writer's work is research, doing that due diligence. Go and find out where the silences are in your knowledge. You can't write what you don't know, to some extent. You have to fill the well with something."
---
Adrienne Kenyon is the associate director of communications and events at Columbia's Earth Institute.