School of Arts Professor Donald Antrim and Two Alumni Named MacArthur 'Genius' Fellows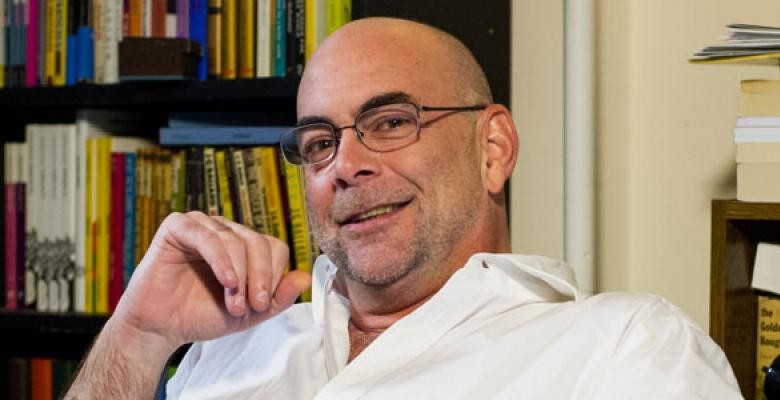 With a nod to his "tightly crafted works of fiction and nonfiction," the MacArthur Foundation today announced that Donald Antrim, associate professor in the Writing Program at the School of the Arts, will be among the 24 "genius" fellows it named for 2013.
Antrim is the author of the novels "Elect Mr. Robinson for a Better World," "The Hundred Brothers" and "The Verificationist," as well as a memoir, "The Afterlife." He contributes fiction and nonfiction to "The New Yorker," and his work has appeared in "The Paris Review" and "Harper's." In describing his work, the MacArthur Foundation highlighted "a contrast between elegant, concise language and the disorienting chaos in which his characters find themselves," also noting that Antrim "creates fictional worlds that are both commonplace and yet surreal, combining close observations of the banality of everyday life with the absurd."
MacArthur winners are all nominated anonymously by colleagues and receive $625,000 grants (paid over five years) from the John D. and Catherine T. MacArthur Foundation. A new cohort of winners is named each year for the no-strings-attached grants. The only criteria is that they go to "talented individuals who have shown extraordinary originality and dedication in their creative pursuits and a marked capacity for self-direction," according to the foundation.
"Donald Antrim is an extraordinary writer known for his wit, unique style and approach. Those inside the literary world will not be surprised that he has been honored with this prestigious award. We are delighted to have him on our writing faculty," said Carol Becker, Dean of Columbia's School of the Arts.
"We are incredibly excited about this news, as it reaffirms our belief in the excellence of our faculty and our program," said Sam Lipsyte, chair of the School of the Arts Writing Program and an associate professor. "We have prizewinners, laureates and geniuses of all kinds around here, but the really inspiring part is their dedication to teaching, with Donald as a wonderful example."
Also among the winners were two Columbia alums: writer Karen Russell (SOA'06) and physicist Carl Haber (GSAS'85 and CC'80).
Russell is the author of "Swamplandia," a finalist for the Pulitzer Prize in fiction in 2012. Her collection of stories, "Vampires in the Lemon Grove," came out earlier this year to strong reviews. The MacArthur Foundation paid tribute to her "haunting yet comic tales [that] blend fantastical elements with psychological realism and classic themes of transformation and redemption."
"Karen Russell is an enormous talent, bursting with ideas," said Becker. "This award will give her time and space to write—what could be more ideal for a young and already wildly successful writer?"
"I am overwhelmed with gratitude for my Columbia peers and professors," said Russell. "My teachers have opened doors and worlds for me, and I met some of my favorite writers in our workshops. The gift of the MacArthur is a game-changer for me in every way, and I want to try and 'fail better,' as per the old Samuel Beckett bumper sticker—to make good on this wildest gift."
Haber, an experimental physicist at Lawrence Berkeley National Laboratory in California, is developing new technologies for audio preservation. The MacArthur Foundation notes that he is "poised to revolutionize the preservation of rare, damaged, and deteriorating sound recordings of immense value to our cultural heritage."
"Carl is one of these unique individuals that blends artistic, scientific and technical abilities," said Michael Shaevitz, physics professor and Haber's faculty advisor. "He's a wonderful person and we have continued to keep in close touch and interact on our science work since he graduated."