From Science Kits to Salted Nuts, Sara Sakowitz Minds Her Business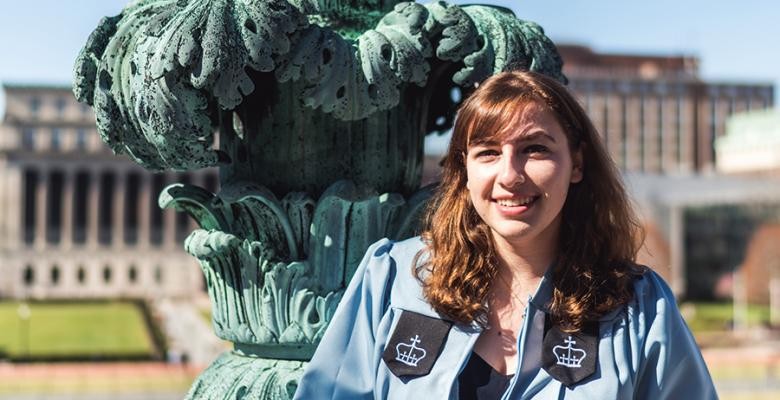 Step inside most freshman dorm rooms and you'll find stacks of books, piles of laundry, and maybe a Bob Dylan poster or two. Those who entered Sara Sakowitz's 100-square-foot room in Furnald Hall, however, were more likely to find a small erupting volcano or an assemblage of weird smells.
"Any one day someone could walk in and I would be trying to prototype a science experiment or working on box designs," said Sakowitz (CC'18).
Within months of her first day at Columbia in 2014, Sakowitz, a double major in psychology and German, started her first business, Blue Moon Box, a monthly science kit subscription service that delivers experiments straight to children's homes.
She had the opportunity to pitch it to Shark Tank founder Kevin O'Leary on Good Morning America, where he provided "some great feedback" from himas well as a trophy with a gold shark on it. In 2016, Blue Moon Box won first prize and $25,000 in the Columbia Venture Competition  #StartupColumbia Challenge.
"It was complete trial by fire," Sakowitz said. "And it was also one of the most formative experiences of my life."
As the child of two doctors in Melville, Long Island, Sakowitz was always drawn to science and encouraged to follow her interest. She loved anything that dealt with brainstorming and building things. In elementary school, she learned about Mendelian genetics and Punnett Squares, a grid used in genetics to predict breeding outcomes. She was 10.
"I remember making a very conscious decision I was going to become a geneticist," she said. "I was very proud of myself for deciding what I wanted to do with my future."
Sakowitz was originally admitted to Columbia Engineering and planned to major in biomedical engineering. The reason was personal; she had lost family members to breast cancer and wanted to contribute to the fight against it. After her first year she transferred to Columbia College, where she combined her interest in the sciences with the humanities.
"I was able to study the intricacies of decision-making psychology and uncover the mysteries of the brain through neuroscience," she said. "I also immersed myself in literature and studied Western philosophy."
She also found her way to the Columbia Organization of Rising Entrepreneurs (CORE) where she went on to become the first female student in the club's 20-year history to be named president. And she became a leader in organizing the #StartupColumbia Entrepreneurship Festival.
Founded in 2014, the #StartupColumbia festival brings innovation-savvy students and alumni together to discuss emerging trends and contribute to the steady growth of entrepreneurship at Columbia and in New York City. Its annual Venture Competition brings students and alumni together to compete head-to-head for funding.
Sakowitz's win for Blue Moon Box in her sophomore year made her the competition's youngest-ever winner. While the company was profitable, she realized the market was small and has outsourced its management over the last year. She hopes to transition it into a non-profit this summer.
"From day one Sara just struck me—and everyone—as being unbelievably mature and complete for a 17-year-old," said Richard Witten (CC'75), founder of Columbia Entrepreneurship, Innovation and Design and a special advisor to Columbia University President Lee C. Bollinger.
Witten said it was hard to imagine Columbia's startup culture or CORE without Sara.
Her latest entrepreneurial endeavor is BITE, a subscription-based healthy snack company. She hopes to eliminate the barrier to healthy snacking by giving people tasty and healthy options. And while she's competing with other trail mixes and crisps, Sakowitz says BITE's model combines single-sized, tasty snack servings with different themes, delivered to one's home.
"If I were starting a new business, an academic enterprise, starting a venture fund, whatever it is, and I could draft people—like do the old little league thing—and I could draft anyone," Witten says. "I would draft Sara first."
The judges of this year's Venture Competition were as impressed as Witten. They awarded Sakowitz third place and $10,000 in seed money. BITE will start shipping in June, weeks after Sakowitz graduates. She'll be spending the summer in a commercial kitchen, packing snacks.
"It's been a total whirlwind," she said. "Either I don't learn from my mistakes, or I just really love trial by fire. Or both."