Sloan Research Fellowships, CAREER Awards, and PROSE Awards Go to Columbians
From science to engineering, writing to social sciences, here are the Columbians who received awards recently.
February 23, 2022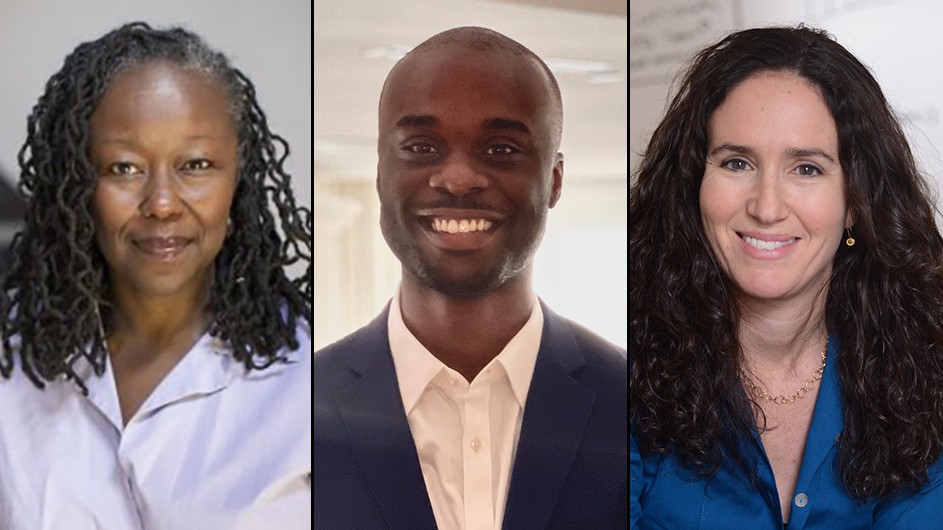 Columbia News produces a biweekly newsletter (subscribe here!) and article series featuring a roundup of awards and milestones that Columbia faculty, staff, and students have received in recent days. In this edition, you'll find awards and milestones from February 11-24, 2022.
Have an award or milestone you'd like to have featured in the newsletter or article online? Please send an email to [email protected]. Note that we'll be running this series every other week. 
You can take a look at past accomplishments on our Awards & Milestones page. And you can subscribe to receive the newsletter in your inbox. 
ARTS & HUMANITIES
Farah Jasmine Griffin, William B. Ransford Professor of English and Comparative Literature and African American Studies and Professor of African American and African Diaspora Studies, has been named the winner of the 2022 PROSE Award in Literature, given by the Association of American Publishers. 
Mallika Rao, an adjunct assistant professor in the School of the Arts writing program, was nominated for an Ambie Award, the "Oscars of Podcasting," in the category of Best Scriptwriting, Nonfiction, for HiberNation. 
Nancy Worman, professor of classics and comparative literature at Barnard College, won the Association of American Publishers' PROSE Award in Classics for Tragic Bodies: Edges of the Human in Greek Drama.
SCIENCE & MEDICINE
Billy Caceres, assistant professor of nursing, received the 2021 Nurse of the Year award from the National Association of Hispanic Nurses, New York chapter.
Five Columbia faculty members have won 2022 Sloan Research Fellowships for achievements early in their careers that mark them as leaders among the next generation of scientists: J. Colin Hill, assistant professor of physics, Georgia Karagiorgi, associate professor of physics, Karen Kasza, assistant professor of mechanical engineering, Shuran Song, assistant professor of computer science, and Henry Yuen, assistant professor of computer science.
Daphna Shohamy, the Kavli Professor of Brain Science and a researcher at Columbia's Zuckerman Institute, has been named Associate Director of the Institute.
Markus D. Siegelin, Anne-Catrin Uhlemann, and Shan Zha are among 95 physician-scientists elected to the American Society for Clinical Investigation for their contributions, at a relatively young age, to the understanding of human disease.
Myrna Weissman, Diane Goldman Kemper Family Professor of Epidemiology (in Psychiatry), won the 2021 American Psychiatric Association's Research Prize and the 2020 Pardes Humanitarian prize from Brain and Behavior Foundation.
ENGINEERING
Lauren Marbella, an assistant professor of chemical engineering, has been named a Cottrell Scholar by the Research Corporation for Science Advancement for her project, "Tracking (Elecro)Chemical Reduction at Electrode/Electrolyte Interfaces with Operando NMR."
Martin Reiman, professor of industrial engineering and operations research, has been elected to the U.S. National Academy of Engineering.
James Anderson, assistant professor of electrical engineering, Elham Azizi, assistant professor of biomedical engineering and Herbert and Florence Irving Assistant Professor of Cancer Data Research, Chris Boyce, assistant professor of chemical engineering, Asaf Cidon, assistant professor of electrical engineering and computer science, David Knowles, assistant professor of computer science, and Henry Yuen, assistant professor of computer science, have each received a National Science Foundation CAREER Award. 
SOCIAL SCIENCES
Amy Chazkel, Bernard Hirschhorn Associate Professor of Urban Studies, has received the Berkshire Conference of Women Historian prize for her article, "Toward a History of Rights in the City at Night: Making and Breaking the Nightly Curfew in Nineteenth-Century Rio de Janeiro."
Melanie Petsch, adjunct associate professor at the School of International and Public Affairs, was honored by Purdue University as a Distinguished Engineering Alumna in February.
STUDENTS
Kevin Covarrubias (GSAS'22), a master's student in political science, has been named a 2022-2023 American Political Science Association Diversity Fellowship Program Fellow.
Damonta Morgan (TC'19, LAW'22) was named one of only two law students in the nation to receive the prestigious Phillips Fellowship in the Office of the Solicitor General.