Social Media Reacts to Naming of Minouche Shafik as Columbia's Next President
The news of this historic appointment reverberated across Twitter.
January 19, 2023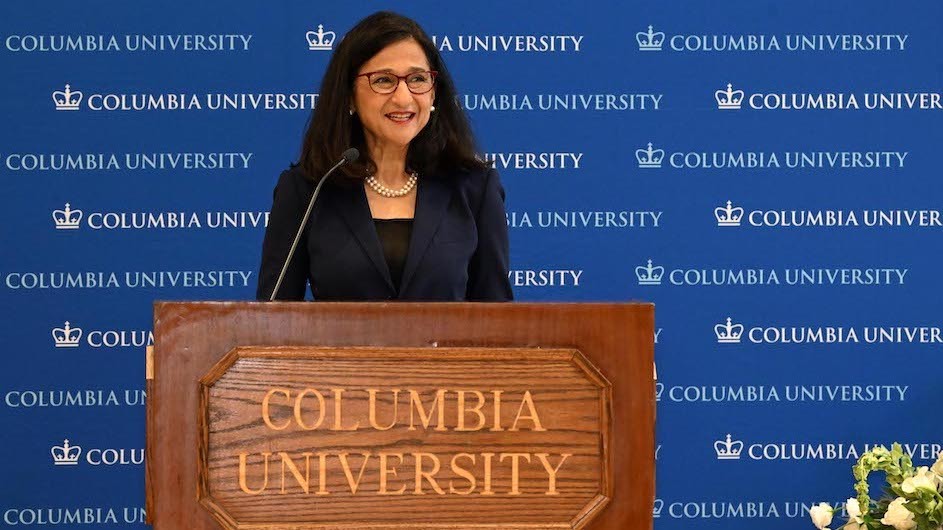 On January 18, 2023, Columbia's Board of Trustees chair, Jonathan Lavine, announced that Nemat "Minouche" Shafik, leading economist and current president of the London School of Economics and Political Science, will succeed Lee C. Bollinger. The news was greeted with excitement not just on campus but around the world. See what people are saying about Shafik's appointment as the University's 20th president.
This article will be updated as more social media posts are published.
U.S. Politicians Welcome Minouche
Congratulations to @Columbia's next president, Minouche Shafik! She will do an excellent job as president. There's a bright future ahead for @Columbia, one of our preeminent academic institutions not only in New York but in the entire world. Go Lions!https://t.co/5JScA5umds

— Chuck Schumer (@SenSchumer) January 18, 2023
Congratulations Nemat "Minouche" Shafik on being named the president of @Columbia — and the first woman to lead the university in its 268-year history.

I look forward to working with you during your tenure. pic.twitter.com/qfZoHpswoE

— Adriano Espaillat (@RepEspaillat) January 18, 2023
Columbians Share Their Joy
Excited to welcome Minouche Shafik to @Columbia later this year. Her exceptional contributions as an economist & leader will build on the critical work of President Bollinger as we continue our work to better the world through our research, students & alumni.

— Thomas Bailey (@TomBaileyTC) January 18, 2023
Very happy that Columbia named an economist as its next president - Minouche Shafik who will join us from the LSE. Welcome!

— Stijn Van Nieuwerbur (@SVNieuwerburgh) January 18, 2023
International Leaders Weigh In
My dear Minouche, I am thrilled that you have been named @Columbia University's first female president. Your inclusive leadership and your dedication to education as a global good and means for progress set you apart. My warmest congratulations on your appointment. pic.twitter.com/uaseads1yu

— Christine Lagarde (@Lagarde) January 19, 2023
Congratulations to Nemat Shafik on her appointment as president of @Columbia! I've long admired her dedication to free speech and open discourse, and look forward to seeing her write the next chapter of such a storied institution. Welcome to New York!

— Asaf Zamir (@AmbAsafZamir) January 18, 2023
Congratulations to my dear friend Minouche Shafik on her appointment as the first woman President of @Columbia University.

This prestigious institution will benefit greatly from your experience and wisdom. pic.twitter.com/oFNUSIOG5G

— Kristalina Georgieva (@KGeorgieva) January 18, 2023