Sociologist Carla Shedd Gives Voice to Young People Navigating Enduring Inequality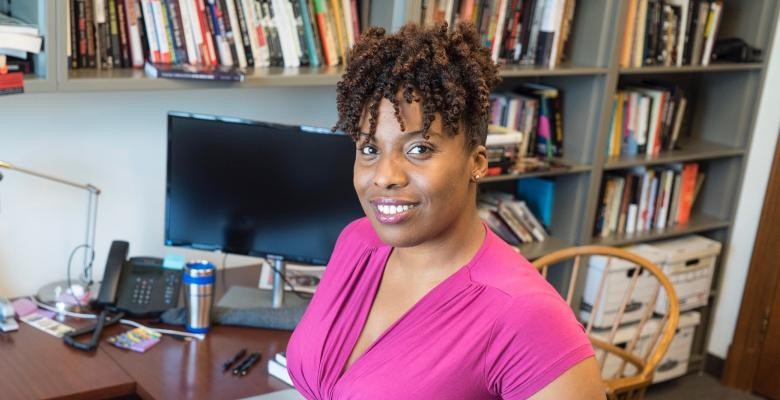 Unequal City draws on survey data from some 18,000 Chicago public school students. It intently focuses on four public schools in Chicago, one more than 99% African American; one predominantly minority, that is 92% black and Latino; a third she calls mixed-race – 55% black and Latino and 29% white, and an integrated school that is 40% white, about 28% black and 23% Latino. Ninth and tenth grade students answered detailed questions about their backgrounds, their school experience, and their interactions with police. With clearance from the Chicago Department of Education and parental consent, Shedd then interviewed 10 students from each school based on their responses.
"Ninth and tenth grades are when their lives start to diverge," Shedd said in an interview in her Knox Hall office. The students opened up to her, perhaps because she wasn't that much older when she began her research. "I was giving them a voice," she said.
Many of the students in segregated schools voiced their frustrations about limited options for the future. Students who "cross boundaries" and travel outside their neighborhoods for school become more aware of social inequality and injustice, but the chance to meet different kinds of people also gives them skills needed to navigate different worlds, she said. "They may become the people who can broker this nation's racial divide."
The book has won two awards since it was published late last year, the C. Wright Mills Award from the Society for the Study of Social Problems in Pursuit of Social Justice and the Distinguished Contribution to Scholarship book award from the American Sociological Association section on race, gender and class.
Shedd's interest in how institutions shape lives grew out of her experience at Mississippi's academically rigorous Piney Woods School, a historically black boarding school founded in 1909. Both her parents and a grandfather were graduates. Her father went on to earn a degree in electrical engineering from Tuskegee Institute in Alabama, and her mother was for many years a librarian at Tougaloo College in Jackson, Miss. "Everyone should be as protected and nurtured as I was getting an education," said Shedd about her experience at Piney Woods. "It was a privilege and I see how it motivated me."
She came to Columbia in 2007, excited to join a faculty that included Manning Marable, the history professor who in 1993 founded Columbia's Institute for Research in African American Studies. His book How Capitalism Underdeveloped Black America influenced her senior thesis as an undergraduate economics major at Smith, she said. (Marable died in 2011, just days after the publication of his acclaimed biography of Malcolm X.)
Shedd's current research is focused on the juvenile justice system in New York City and how social factors influence legal outcomes for young people. "New York is an understudied urban laboratory," she said. "It is always, always changing."
She is critical of the increased police presence in many urban schools, noting that police officers have replaced traditional security guards. Every public high school in Chicago, for example, has metal detectors and students may be patted down when they enter, a process she likens to going through airport security every day.
The police typically don't have training in adolescent behavior, she said, and the consequences of teenagers' actions that in the past meant a trip to the principal's office can lead to arrest. "Police are going to do what they know how to do, which is surveillance and control," she added, "We need counselors, social workers and teachers who know how to de-escalate these situations."
Shedd says she focuses her research on young people because their voices are missing from much sociological research. "I want to make visible the people who are most affected by policy. Young people have a sense of what works."