Student Entrepreneurs Gain Support through Venture Competition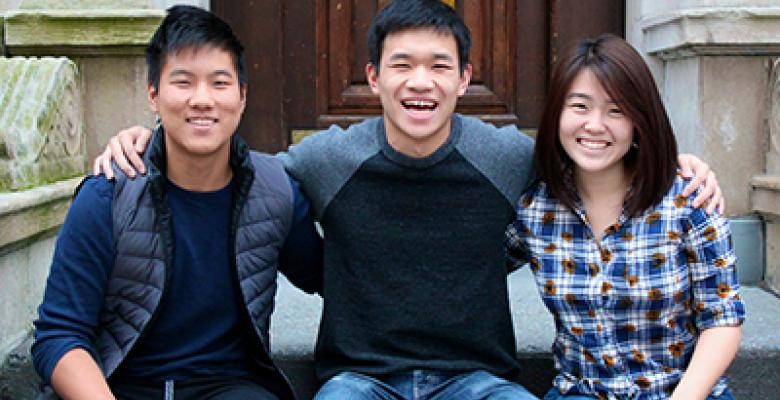 The Fire Department of New York's emergency vehicles have a new, potentially life-saving tool on board: a powdered additive for bleach solutions that protects first responders in the field by telling them whether disinfectants are working against infectious disease.
The inventors? A group of Columbia undergraduates studying biology and computer science who were one of 14 teams selected from 250 entrants in this year's university-wide Columbia Venture Competition.
Now in its second year, the competition helps would-be entrepreneurs turn their ideas into reality. "But the competition is not just about starting commercial businesses," said Richard Witten, special adviser to University President Lee C. Bollinger and founder of Columbia Entrepreneurship. "Many of the winners are creating innovative products and services that address a societal problem."
Team Kinnos, the group that invented the compound used by New York firefighters, has their sights set on a much broader application. "One out of five lives lost in the recent Ebola crisis was a first responder," said Kinnos co-founder Katherine Jin (CC'16).
The powder, Highlight, causes normally transparent bleach to turn blue, making it easier to see which contaminated areas have been sprayed. It also fades to clear when decontamination is complete, signaling to health workers that their equipment is safe. Explains Jason Kang (SEAS'16), "People were dying, for example, because they didn't know when it was safe to take off the hazmat suit."
Team Kinnos took home $10,000 from a pool of $250,000 in cash grants. The prizes were sponsored by the School of Engineering, the Business School, the School of International and Public Affairs and Columbia College. The competition was open to all Columbia students and to alumni who received their degrees within the last five years.
"The benefit of this program goes far beyond splitting $250,000 between 14 teams," said Chris McGarry, co-director of Columbia Entrepreneurship. "All the competitors were able to hone their presentation skills, think through their value propositions, and get much-needed feedback from experts."
The business models proposed solutions to everything from ordinary consumer gripes to serious global dilemmas. For example, Matt Bachmann (BUS'15) and Ben Gordon (BUS'15), co-founders of Wandering Bear Coffee, are bringing café-quality, ready-to-drink iced coffee in boxes to offices and homes.
Team Hyliion, co-founded by Mario Avila (SEAS'10), developed a product that promises a 31 percent reduction in fuel costs for long-haul tractor-trailers. The hybrid technology uses electric energy to capture power when the vehicle is slowing down and reuses it to accelerate.
"As an institution that fosters entrepreneurship, it's imperative that we share these creative ideas and bring breakthrough research to market to fully realize its value to society and its impact on the world," said Mary Boyce, dean of the Engineering School.
Team Inject-a-Flow, from Columbia Engineering's biomedical engineering department, won a $15,000 prize. Post-doc Ninna Rossen and two masters of science candidates, Wenjie Luo (SEAS'15) and Jen Goldenberg (SEAS'15), tackled a serious form of peripheral arterial disease called critical limb ischemia.
CLI, a common condition among diabetes patients, is a severe obstruction of the arteries that reduces blood flow to the lower extremities. Since half of CLI patients face amputation, their idea was to offer an alternative to that drastic measure, said Rossen. "Instead of losing an entire limb, patients would have the opportunity to regain function and use of the extremity."
Spokey Community Spaces, another winning team founded by David Santos de Padua and George Hampton (both SIPA'15), helps nonprofit venues such as churches and local meeting halls raise money by connecting them to people who want to rent their unused space.
"It is inspiring to see the creativity and drive that our students bring to entrepreneurial opportunities," said Dean Merit E. Janow. "The intersection of technology and policy is increasingly fertile territory. I'm confident that future students will address problems around the world in innovative ways."
Lauren Field (BC'16) and Shriya Samavai (CC'15), undergraduates studying fine arts, are making clothing and accessories inspired by famous works of art at their company, Academy Of.
Samavai credits Columbia Business School professor Mark A. Cohen (SEAS'69, BUS'71), for teaching her to find the balance between the entrepreneur's desires for the company and the consumer's needs.
The entries demonstrated the rich vein of talent at the College and the School of Engineering, said James J. Valentini, dean of the College. "Just as the Core Curriculum empowers every Columbia College student, we want the spirit of entrepreneurship to empower every one of them."
Valentini took the spirit of entrepreneurship to heart. Shortly after the competition was over, he took a prototype of Academy Of's art-inspired clothing, a raincoat incorporating the famous Japanese woodblock print, The Great Wave off Kanagawa by Hokusai, to an alumni event at Sotheby's. The dean came back with a number of orders.