A Student Graduates, a Professor Retires, but They Will Stay in Touch
Alethea Harnish (CC'23) and Mark Taylor are co-teaching a course this semester, the final one for both of them at Columbia.
April 18, 2023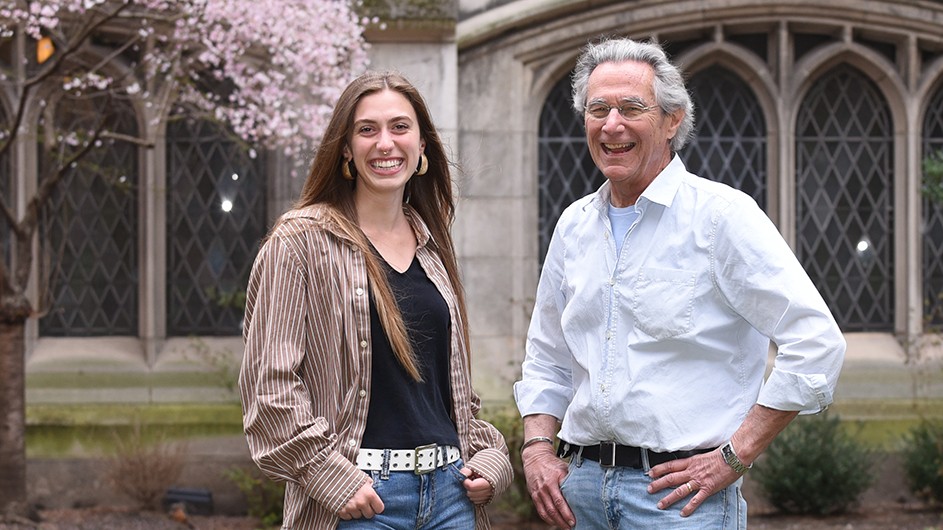 In a Columbia classroom, almost 20 students sit around a long table, helmed at one end by Mark Taylor, a religion professor casually dressed in worn jeans and a button-down blue shirt. Standing behind him, a tall, young woman also wearing jeans, quickly sketches a diagram on a chalkboard as the classic 1972 rock song Time by Pink Floyd reverberates through the room.
After hearing the lyrics, "The time is gone, the song is over, thought I'd something more to say," Taylor says, "It's impossible to convey the poignancy of these lyrics, about how life is short, the temporality of it."
Time is on Taylor's mind these days, as he is about to retire after 50 years of teaching. And Alethea Harnish, the woman standing behind him, a Columbia College senior about to graduate in May, is, Taylor says, "the most creative, committed, and intelligent student I've taught. Trust me, that's not hyperbolic."
In an unusual arrangement, Taylor and Harnish are co-teaching the course, "Hippie Physics, Counterculture, Cyberculture," which explores how today's technosphere grew out of the convergence of the post-World War II and Cold War military-industrial complex and the 1960s counterculture. Taylor teaches philosophy and physics on Mondays, and Harnish leads the Wednesday discussions that approach the era through art, music, and literature.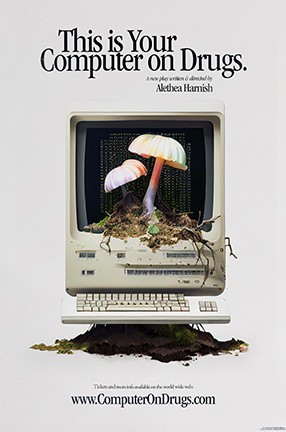 Taylor says that the course and Harnish's senior thesis, a play she wrote about the course material, This is Your Computer on Drugs—which she is also directing on April 29 and 30 at Columbia—represent the culmination of their three-year collaborative relationship.
Right When Covid Hit
Harnish took her first class with Taylor, "Philosophy of Religion," during the spring semester of her freshman year, after which she decided to become a religion major instead of the double major she had declared in philosophy and theater. This was also when COVID hit, right when Harnish was writing her midterm paper, so the course was completed over Zoom. She then enrolled in two more courses with Taylor during the fall 2020 semester, "Theory" and "Recovering Place," because he had hinted at retirement. Both classes were conducted virtually.
It was the depths of the pandemic, and Harnish, who had returned to Indiana, where she grew up, was having a hard time. She was living alone in a government-subsidized apartment for artists in Indianapolis, working two jobs, taking 16 course credit hours, and trying to cope with life during COVID.
Come midterms, she emailed Taylor to alert him that she was planning on withdrawing from Columbia for the rest of the semester because of her difficulty managing everything. He offered to Zoom with her later that day.
"He talked me into staying in school," said Harnish, "and it's a good thing he did, because my final project for 'Recovering Place' was my first full-length play, The Foundation of Roses."
"The 60-page script is a ghost story about her challenging childhood experiences," said Taylor. "It was so remarkable that I nominated it for the Religion Department's Peter Awn Award," which is given annually to the most outstanding undergraduate paper or project in the department. "My colleagues agreed with my assessment, and Alethea won the award in 2021."
An Off-Broadway Debut
Harnish has since written four more plays. One of them, Phantasmagoria, a one-person, autobiographical show, made its Off-Broadway debut in June 2022 when she performed it at the Downtown Urban Arts Festival, where it won second place for the Best Play Award. The work was about leaving her rural roots in Indiana to attend college in New York.
According to Harnish, she was the first person from her high school to get into an Ivy League university, and traveling halfway across the country to a big city was a culture shock. Meeting Taylor, who became a mentor, was very beneficial for her.
Over time, "the relationship has morphed from a mentor-mentee one into something more reciprocal," said Harnish.
Taylor, who started teaching at Williams College in 1973, and arrived full-time at Columbia in 2007, said that early on he "detected something very special about Alethea. It was not just her exceptional intelligence, interest, maturity, and determination, but also a rare imaginative creativity."
Once campus came back to life in fall 2021, at the start of Harnish's junior year, the two continued their conversations in person, and Harnish started sending Taylor examples of her writing. They met regularly during Taylor's office hours to discuss her work. One day, she asked him what he was working on for his next book. "Hegel and quantum mechanics," he said.
"In one of those strange moments the theoretical physicist Wolfgang Pauli and the psychologist Carl Jung labeled 'synchronicity,'" said Taylor, "Alethea said, 'That's weird because I want to write and produce a play for my senior thesis about quantum physics and New Age spirituality.'"
Out of that convergence came the course they're now co-teaching. They started by delving deeper into their shared interest in the material through reading and further discussion. "Few people realize that personal computers, the Internet, the World Wide Web, and the Metaverse all trace their origins to hippies and the drug culture of the 1960s," said Taylor.
"The more I thought about it, the clearer it became that this would be the perfect subject for my last course," he continued. "My professional career spanned precisely the half-century from the 1960s to the present."
When Taylor asked her to co-teach the course, Harnish was initially terrified. "We had spent almost two years in conversation by that point, and I knew that this would be the opportunity of a lifetime," she said. "His insisting that he was also learning from me gave me the confidence to take on such a role."
Although Harnish has fully embraced her leadership role with the course this semester, she is not sure if she will pursue a career in higher education. Her immediate plans after graduation are to travel to Greece this summer with a Brooklyn-based theater company, providing administrative support for its apprentice program. She then wants to spend a year in New York, completing the applications for various playwriting fellowships and other writing programs.
Stairway to Heaven
Back in the classroom, the next time Hippie Physics meets, Harnish, dressed in a jean shirt, long, pleated skirt, and cowboy boots, leads the discussion on the assigned readings from The Book by Alan Watts and Zen Mind, Beginner's Mind by Shunryu Suzuki. One of her touches has been to start every session spending a few moments listening to one of the era's classic rock songs, and then opening the floor to a parsing of the song's meaning. Today's selection is Led Zeppelin's Stairway to Heaven.
After she stops the music, she says, "What is the implication philosophically of there being a stairway to heaven for us? We're down here, and we have to get up there."
As he watches her effortlessly command the classroom, Taylor says, "Strangely, the success of this course makes it both easier and more difficult for me to stop teaching. We hear much, perhaps too much, today about the problems with higher education, and especially with the humanities. But as I watch Alethea teach and her fellow undergraduates respond to her, I have hope for the future."