'Sweat,' an Acclaimed Play by Prof. Lynn Nottage, Opens on Broadway
Six years ago, Lynn Nottage received an email from a friend who shared that staying afloat financially was a daily struggle. It made Nottage "think a lot about just how close on a day-to-day basis we are to poverty." Nottage's new play, Sweat, is about some of the truth she found while exploring that thought.
March 03, 2017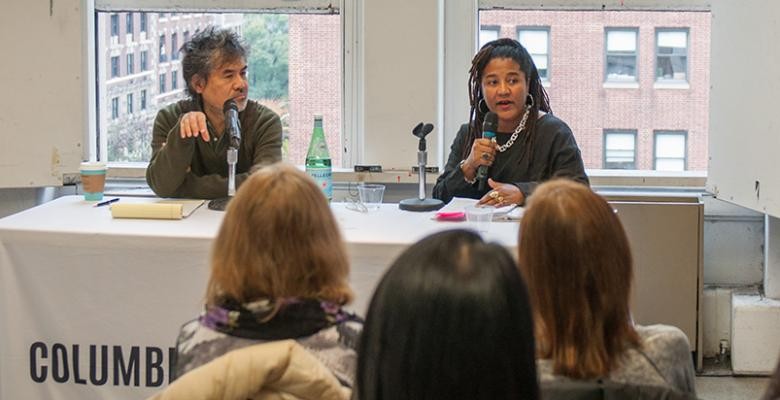 Sweat begins previews March 4 on Broadway after completing a sold-out run at the Public Theater in the fall. The play "follows the unraveling of a group of steelworkers in Reading, Pennsylvania, as they are confronted with the possibility of losing their jobs and, for many, their identity," said Nottage, associate professor of Theater Arts at the School of the Arts.
"I don't feel as an artist it's my job to come up with solutions. That's why we have politicians and social scientists. What artists can do is reflect and raise questions," said Nottage. "Art doesn't engage enough with what's happening in the culture right now. A lot of what we see is made to make people feel comfortable rather than the little pinpricks that force you to sit erect and ask the more difficult questions."
An award-winning playwright, screenwriter and MacArthur \"Genius," Nottage's plays include By the Way, Meet Vera Stark (Drama Desk nomination); Ruined (Pulitzer Prize, Obie, Lucille Lortel, New York Drama Critics' Circle, Audelco, Drama Desk and Outer Critics Circle awards); Intimate Apparel (American Theatre Critics and New York Drama Critics' Circle awards); and Fabulation, or The Re-Education of Undine (Obie Award).
Nottage and Associate Professor David Henry Hwang, the Tony-award winning head of the School of the Arts playwriting concentration, discussed Sweat on campus recently in a wide-ranging conversation that is excerpted here:
Q. David Henry Hwang: How did you have the idea to do this particular subject and focus on Reading, Pennsylvania?
A. Lynn Nottage: Sweat really began in 2011. I was coming back from Chad, having just done my play [Ruined] in Africa. My email box was inundated, but there's one that stood out. It was from one of my very close friends. A single mom who was struggling. She said, "I just need my dearest friends to understand that I'm suffering. I haven't worked in months. I'm having trouble feeding my children. I'm not asking for anything, but I just want you to know that when I'm smiling it's because I'm trying to stay afloat." I burst into tears because I see her every single day. I had no clue about the extent to which she was suffering.
This happened to coincide with the first week of Occupy Wall Street. I called her up the next day and said, "Why don't we go to Occupy Wall Street? I don't know what it is, but it seems as though there's a large group of people who are feeling similar to how you're feeling." We went down to Zuccotti Park and marched around the square and banged some drums. At the end of the day she said, "We really didn't accomplish anything, but I feel a lot better at least knowing that there are people who are in a similar predicament." I ended up going back to Occupy Wall Street and getting involved—doing the speakers' mike—but after a month I still felt this frustration. I felt as though I needed to understand very specifically the way in which poverty and economic stagnation was shifting the American narrative. I thought, I have to go find a city that I felt was representative of what was happening in the nation. We came across Reading, Pennsylvania, which in 2011 was declared the poorest city of its size in America.
In 2012, I began going to Reading, trying to interview everyone from the mayor to the police chief, to the homeless folks, to the social workers, to the entrepreneurs, trying to understand the narrative of this particular space. I didn't know what I was going to write about or how I was going to write until I sat in a room with a circle of steelworkers who'd been locked out of their factory for almost a year and a half. By and large, they were middle-aged white men, people who I'm not generally in dialogue with and suddenly we found ourselves in the circle. They were desperate. They were saying, "We worked the jobs for 30 years. We signed the social contract with America. We were deeply invested in the American dream and literally had the rug pulled out from under us in a day. We don't know what to do. We can't find work." The way in which they were speaking sounded very much like the experience as an African-American that I've had of struggling and being marginalized. When I was approaching the play, I thought I have to sustain the complexity of this circle in which all of us are here and we share a narrative.
Q. How did you initially get people to sit down with you? Were people anxious to talk to you as a playwright?
A. There was an incredible hunger because this is a city that's losing people at an incredible rate, that has no tax base, in which the infrastructures are struggling, the schools are struggling, and they feel completely invisible. And so the minute you sit someone down they're like, "Let me tell you my story." Not a single person said, "I don't want to talk to you." In fact, with the steelworkers we thought five people would talk to us. They're like no, a whole army showed up to tell their stories.
Q. How much research did you do and how did you translate it into a narrative?
A. I spent two and a half years in Reading, walking around homeless camps, really getting to know people very well. But the way in which I do my research is I absorb it and then never look at it. And so the things that stick with me are the things that become the play.
I create composites. This one guy in particular, Steve, worked in a baking factory for many years. He'd done something really horrible and then ended up in jail, and he was out and eager to talk to us because he felt that when we began he was going to resurrect his life. And after a year and a half of really getting to know Steve and building a great deal of empathy, we were there during the summer and we discovered that he had white supremacist tattoos on his legs and that was shocking. So I felt like this person needs to be in the play.
Q. Issues such as inequality and racial tension are presented in such a way that they become emotionally engaging and we're not aware of having them put in front of us explicitly. How do you do that?
A. I think you have to meet the characters where they are and inform their depths as human beings, because when we wake up in the morning the first thing we say to ourselves is, "Oh my God, it's going to be hard going out there as a black person, a Latino person, or a white person." We meet the world as who we are and then it's the context that unearths the experience that we have. I wanted to put them in the context and have them live their lives in that context. I think what happens is we see the way in which race is fracturing relationships and friendships.
Q. Once you started writing, did you have a sense of the structure?
A. I did. Usually I have an uber-structure when I begin writing. In this play, I wanted every person to have an aria. So the structure was that every scene is about a different character. It's an ensemble piece. Every scene focuses on a different person's relationship to that factory and to self.
Q. Do you see this play as coming out of a particular theatrical tradition?
A. I do. Arthur Miller is a playwright whose work I greatly admire because he was someone who was socially engaged. He was able to create work that has withstood the test of time, and that at times was very dangerous. He was invested in the lives of working people and people who had been marginalized. I'm very interested in Black Lives Matter, and I thought, that's all I've been doing in my career, proving that black lives matter by putting women of color, people of color and folks who don't get their stories told as often as they should be, on the stage. When Arthur Miller was writing, he certainly had that urgency of being from a marginalized group trying to give urgency to the voices of those people.