Tony Winners, NEH Advisory Board Member, and More Awards
From science to engineering, writing to social sciences, here are the Columbians who received awards recently.
June 15, 2022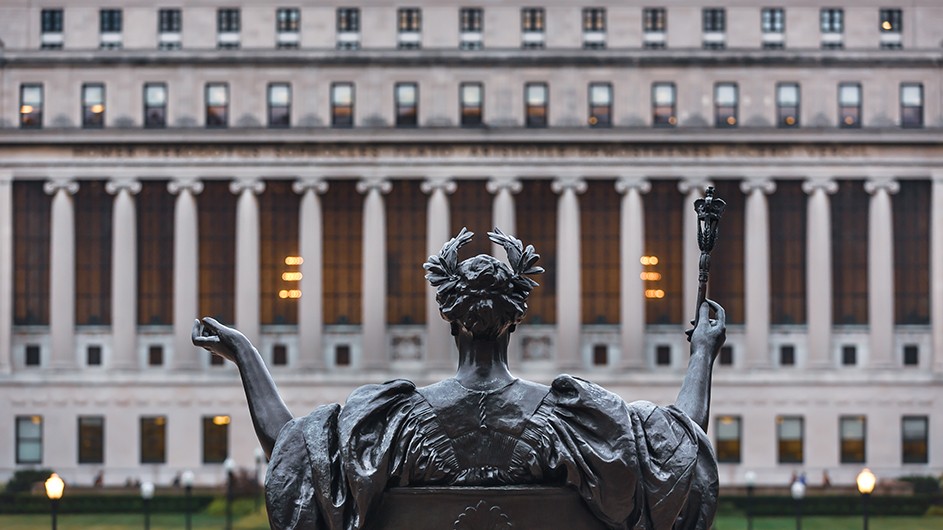 Columbia News produces a biweekly newsletter (subscribe here!) and article series featuring a roundup of awards and milestones that Columbia faculty, staff, and students have received in recent days. In this edition, you'll find awards and milestones from June 2 to June 16, 2022. 
Have an award or milestone you'd like to have featured in the newsletter or article online? Please send an email to [email protected]. Note that we'll be running this series every other week. 
You can take a look at past accomplishments on our Awards & Milestones page. And you can subscribe to receive the newsletter in your inbox. 
INSTITUTIONAL
On June 9, Rocco B. Commisso (SEAS'71, BUS'75) received the Samuel Johnson Medal for Distinguished Achievement in a Field Other Than Engineering from the ​​Columbia Engineering Alumni Association. This is given in honor of Samuel Johnson, who served as the first president of King's College, the predecessor of Columbia University, from 1754 to 1762. Johnson's vision for the college was for it to provide an exceptional, well-rounded education that included both the liberal arts and the applied sciences, as understood in his time. The medal, first awarded in 2007, recognizes distinguished achievement in fields other than engineering and applied science, such as education, law, public affairs, business, social sciences, architecture, and the arts. 
At the same ceremony, Jamey Barbas (BC'81, SEAS'83), project director for the Governor Mario M. Cuomo Bridge, was awarded the Thomas Egelston Medal for Distinguished Engineering Achievement. Alfred Aho, Lawrence Gussman Professor Emeritus of Computer Science, and Brian Greene, Professor of Physics and Mathematics, both received the Michael Pupin Medal for Service to the Nation in Engineering, Science, or Technology.
FACULTY
The American Philosophical Society recently announced new members, including Nicholas Lemann, Joseph Pulitzer II and Edith Pulitzer Moore Professor of Journalism, and Kathleen McKeown, Henry and Gertrude Rothschild Professor of Computer Science.
Jelani Cobb, incoming dean of Columbia Journalism School, and Gary Shteyngart, associate professor of writing at the School of the Arts, received inaugural Queens Public Library Awards from the Queens Public Library.
ARTS & HUMANITIES
A Strange Loop, produced by Barbara Whitman (SOA'05), won Best Musical and Best Book of a Musical at the 75th annual Tony Awards. MJ: The Musical, written by School of the Arts Theatre Professor Lynn Nottage, took home the awards for Best Leading Actor in a Musical, Best Lighting Design of a Musical, Best Sound Design of a Musical, and Best Choreography. You can find the full list of Columbia-affiliated winners here. 
School of the Arts Theatre Professor Lynn Nottage is an inaugural winner of the Black Women on Broadway Awards, co-established by School of the Arts alumna Jocelyn Bioh (SOA'08).
SCIENCE & MEDICINE
Timothy Berkelbach and Lorenzo Sironi have been selected to receive funding for research as part of the Department of Energy's Early Career Research Program.
Merlin Chowkwanyun, the Donald Gemson Assistant Professor of Sociomedical Sciences at the Mailman School of Public Health, is an Interdisciplinary Association for Population Health Science 2022 Award winner.
Dr. Olajide Williams, chief of staff of the Department of Neurology at the Vagelos College of Physicians and Surgeons, received a 2022 Rising Leaders Award from the New York Academy of Medicine in recognition of his work as co-founder and chair of Hip Hop Public Health.
Rebecca Muhle, MD, PhD; Jennifer Small-Saunders, MD, PhD; Neil Vasan, MD, PhD; and Peter Yim, MD, four physician-scientists at the Vagelos College of Physicians and Surgeons, were named 2022 Gerstner Scholars.
Stephen Ferrara, DNP, associate dean for clinical affairs at the School of Nursing, was elected president of the American Association of Nurse Practitioners, the largest professional membership organization for nurse practitioners.
SOCIAL SCIENCES
Eric Foner, DeWitt Clinton Professor Emeritus of History, was awarded the Tony Horwitz Prize honoring distinguished work in American history of wide appeal and enduring public significance.
David Hajdu, professor of journalism, was recently sworn in as one of the four new members of the National Endowment for the Humanities advisory board, the National Council on the Humanities.
Lien-Hang T. Nguyen, Dorothy Borg Associate Professor in the History of the United States and East Asia, was elected to the Board of Trustees of Fulbright University Vietnam.
STUDENTS
Willa Neubauer (BC'22) is the recipient of the ninth annual Donald E. Axinn Foundation/Anna Quindlen Award for Creative Writing. 
Emma Catherine Schillage's (SOA'23) play, The Purgatory for Women Who Commit Suicide, won first place at the Spectral Sisters' annual Ten-minute Play Festival. 
STAFF
Barnard College president Sian Beilock was appointed by New York City Mayor Eric Adams and New York Governor Kathy Hochul as one of 54 leaders on the "New" New York blue-ribbon panel, which will examine the future of New York City and the region's economy.