A Tour of Columbia with a University Staffer of 16 Years Who Knows Every Room on Campus
Henry Clemente, a head cleaner with Facilities and Operations, knows every nook and cranny of the Morningside campus. He shares the spots every newcomer should know.
September 12, 2023
When Henry Clemente, today a head cleaner with Columbia Facilities and Operations, first joined the University in 2007, he began his work as a casual employee in Buell Hall, the oldest building on the Morningside campus. 
"I was so enthusiastic about being at Columbia," Clemente said. "I always loved the campus because of the atmosphere being around intellectuals. I'm kind of a nerd, I love to be around books and the professors. I always got the sense that Columbia lets you see the past because it has such a deep history, but you can also see the future here because you are surrounded by the next generation, labs, robotics, and people working on AI."
A native of Harlem, a graduate of the Roger Lehecka Double Discovery Center at Columbia, and an Army veteran with a background in chemical operations and decontamination, Clemente went above and beyond in his day-to-day job duties in that very first role, asking to take on bigger and bigger jobs, and full-time staff in Buell Hall took note.
"There was a professor I would see quite often who said I was doing a great job and I would tell him how custodial or maintenance work, in my eyes, is the first step to the preservation of the University," Clemente said. "He said: 'Do you know who I am?' It turned out I was speaking with a head of preservation, who sent an email saying I should be hired full-time because I truly understood the spirit of Columbia. Here I am, 16 years later."
Today, Clemente works overnight to ensure the campus is clean and refreshed each morning. In his role as head cleaner, he assigns nightly work to a team of 16 and is responsible for keeping every single floor on the Morningside campus looking incredible. Working at night, Clemente and his team's work may not be as visible as that of those who interact with the University during the day, but its impact is tremendous. 
Clemente is also part of the Equity and Inclusion Council in Facilities and Operations, which helps promote an organizational culture in which all individuals are valued, have a sense of belonging and connection with one another and the organization, and feel empowered to do their best work.  
"One of the reasons I joined was to put a spotlight on people who work at night," Clemente said. "We don't get a lot of shine, but we are doing hard work. It is good to show people that you appreciate the work and the sacrifices it takes. I think my representation on the communications committee makes people on the night team proud and feel that they could do it too, to be a part of the greater Columbia community."
Custodial or maintenance work, in my eyes, is the first step to the preservation of the University.
It is hard to imagine a Columbia employee who is more active at the University, even while working from 10 p.m. to 6 a.m., and it is likewise hard to imagine anyone better suited to welcoming newcomers to campus both in terms of enthusiasm and sheer knowledge of the campus's spaces themselves.
"Almost every single building you know of at Columbia, I've been in just about every room," Clemente said.
We sat down with Clemente to learn more about his work, the top spots he'd show a newcomer, and how all Columbians can contribute to making campus a clean and sustainable place to be.
What do you remember about your first time on campus?
I grew up in Central Harlem and my father knew the Columbia basketball coach and he would bring us on campus so we could get exposed to the university life and see what was happening on the other side of our neighborhood.
I always loved Columbia because of the intellectual atmosphere and, in some ways, I always knew I wanted to work here. That only grew when I was part of the Double Discovery Center program as a kid.
Tell me a little bit about the path that led you back to Columbia. 
Well, I'm a jack of all trades. In college, I studied video arts and technology back when you were using an editing deck and videotapes. Before that, I went to the Army as a chemical operations specialist. We dealt with nuclear, biological, and chemical defense. I used to teach classes on how to do decontamination and how to react in a nuclear attack and that sort of thing. 
I've lived a life of service. I've been an auxiliary police officer and a Guardian Angel, walking the trains. I'm also an adventurer, I've run marathons, I study martial arts and compete in competitions, and I am member of the Coney Island Polar Bear Club. 
Share a little bit more about your work. To me, it seems so cool, like you get to experience campus at a time when no one else really gets to experience it. 
I'm the head cleaner for all the floor projects here, and we're the people who do all the floors all over campus. So we have access to just about everything on campus because everything has a floor: all the carpet, the upholstery, all the floors. My small team takes care of floors in labs, museum areas, Low Library, Butler Library, and really all over. Our team is about 16 people, but there are 70 night custodians, all of whom I represent as shop steward.
On a typical night, I come in and get the equipment ready for the team, and give out assignments and radios. Then I inspect the jobs that have come through, and we respond to just about everything. All the floods, if anyone gets hurt and cleanup is needed, we respond to that.
What do you wish people understood about the night shift and custodial work?
We are here to serve and we take pride in our chosen field. We really get joy out of the simplicity of seeing something dirty and making it clean again. There are a whole lot of people who are enthusiastic about cleaning, you'd be surprised.
If you were to meet a new student or staff member, what would you say are the top spots on campus that people should know?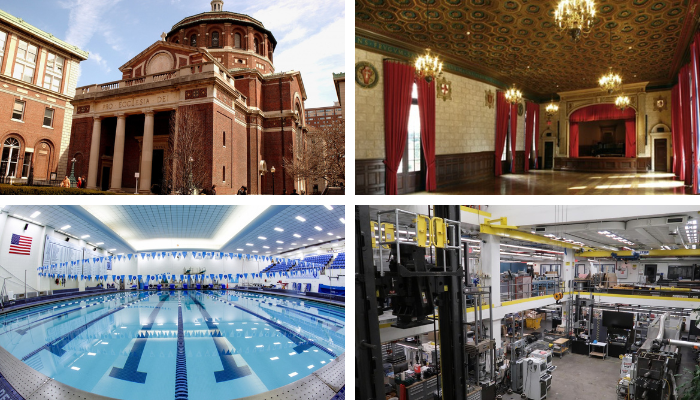 An obvious one, but it is great to walk around inside and see the design.
Inside, there is a beautiful library and a beautiful theater. You'd never know it is in there unless you walk in!
There's just something about bodies of water and the athletics we have here at Columbia. I'm a big wrestling fan, so any time the wrestling team is competing, I try to either work it or go spectate because the team is really great. 
Located on the first floor of Mudd Building, this lab does stress tests on the materials that are used for bridges. This place is huge! They used to build airplanes inside and it is just really, really cool to see the work they are up to today.
Here's how to apply for access to the lab. 
You know I have to ask. What would you say is the best floor on campus?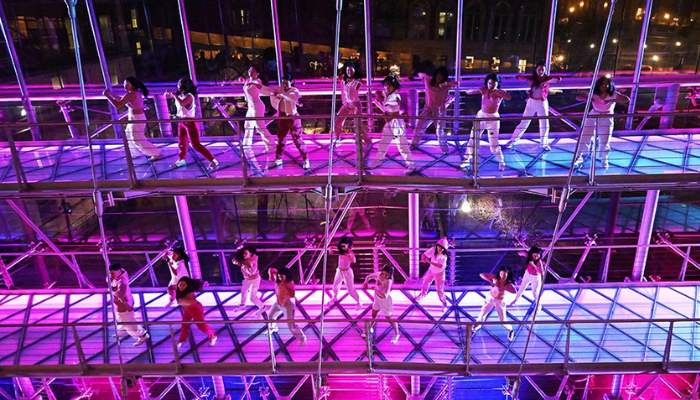 I love Lerner Hall. The glass floors and bridges have that wonderful futuristic look, especially when they put the different colored lights on. It is just too cool.
If you were introducing someone to campus for the very first time, what would you show them?
College Walk and the Alma Mater statue, definitely. Just iconic Columbia things. Standing on the Sundial, being able to see Butler and Low and all the other buildings and the grass, that's the first place you have to make the impression.
You're originally from Harlem, too. What spots surrounding campus would you recommend to someone coming to the area for the first time?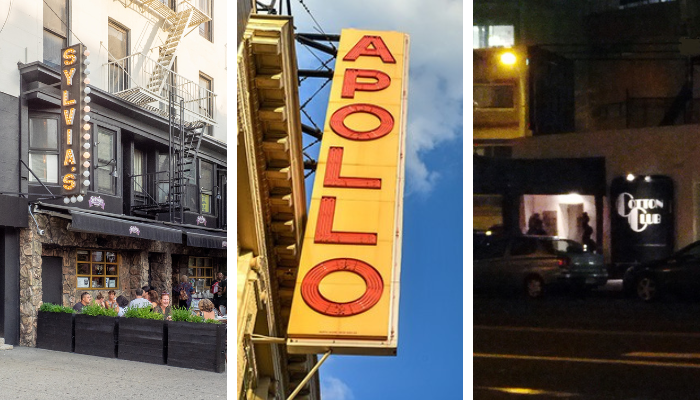 The Apollo first, of course. But then, all of the jazz and soul food places, like the Cotton Club and Sylvia's. All the soul food places are where you get a sense of real Harlem. I'm a vegetarian and I can't eat half the stuff, but I still love to go for the vibe.
What would you say is your favorite part of the job?
It would be the access to information and the intellectual atmosphere, having conversations with students and professors, and getting recommendations on books. I'm a book collector. If I see a sign for free books, I grab whatever I can! There are pretty frequent book giveaways on campus, so keep an eye out.
In what ways can Columbians contribute to keeping our campus in tip-top shape?
Columbians are pretty good at keeping the campus clean, but I'm a real environmentalist and I would love to see people keep recycling and getting rid of certain things the right way. I used to be a part of a group on campus called the Green Owls, where students and faculty, anybody, could join discussions on environmentalism, clean energy, and sustainability. I'd recommend people get involved with sustainability groups on campus.