Two Columbia Faculty Win Presidential Early Career Award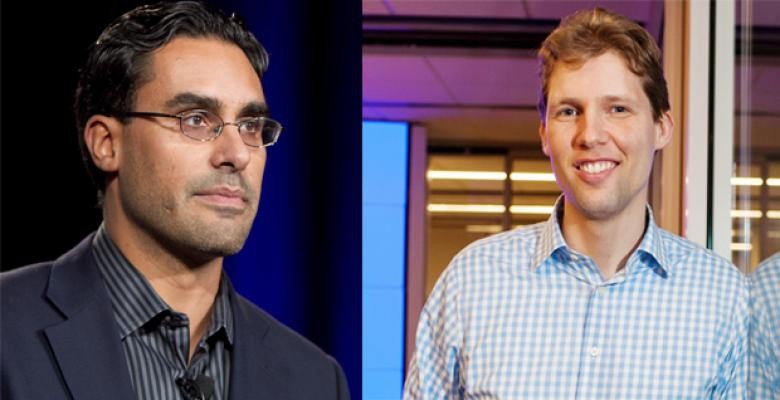 Marcel Agüeros, assistant professor of Astronomy, and Antonius "Ton" Dieker, associate professor of Industrial Engineering and Operations Research and a member of the Data Science Institute, were among 105 researchers from across the nation who received the 2016 Presidential Early Career Awards for Scientists and Engineers. The award is the highest honor the U.S. government gives to young researchers and includes a substantial five-year research grant.
"These early-career scientists are leading the way in our efforts to confront and understand challenges from climate change to our health and wellness," President Obama said in a statement. "We congratulate these accomplished individuals and encourage them to continue to serve as an example of the incredible promise and ingenuity of the American people."
Agüeros (CC'96) is an observational astronomer whose research focus involves using new datasets and technologies to address classic questions in stellar astrophysics, such as searching for isolated neutron stars. Agüeros, who seeks opportunities to develop outreach programs, has received several honors during his time at Columbia, including the University's Distinguished Faculty Award this year and a National Science Foundation CAREER award in 2013 for his outstanding research in the evolution of stars. One of his most unique honors, however, was having NASA name an asteroid after him in 2012.
"Many of the questions in stellar astrophysics that I find most interesting have been around for a long time. But we now have a suite of tools and datasets at our disposal that is completely changing the ways in which we can answer them. We are in a new golden age of stellar astrophysics," said Agüeros, who also directs the Bridge to Ph.D. Program in the Natural Sciences, which helps underrepresented minorities transition into graduate programs in the sciences. "I am thrilled by this completely unexpected honor. It's been wonderful to share my excitement about this news with my family and friends, and especially with my mentors.\"
One of them is Astronomy Professor David Helfand, who has been Marcel's advisor since he was an undergraduate at the College and who hired him into the astronomy department in 2010. \"Being able to share parts of Marcel's journey from uncertain college astronomy major, to Kellett Fellow at Cambridge, and finally back here as a research colleague and fellow faculty member has been one of the highlights of my Columbia career," Helfand said. "It is most gratifying to see his national leadership in diversifying the STEM disciplines and his superb work on the evolution of stars being recognized by the White House as exemplifying the best work our nation's young scientists have produced. He richly deserves this honor.\"
Dieker, who recently joined the Engineering School, is an expert in random processes and computer simulation algorithms, tools that allow researchers to run a model and predict future events. Such tools are useful to regulators in predicting how well banks respond to financial shocks, to scientists in predicting future climate under various carbon-emissions rates, and to engineers in predicting how factory layouts will boost performance. He is currently focused on finding ways to make simulation algorithms faster and more accurate. Dieker's previous honors include a National Science Foundation CAREER award.
"Ton is not afraid of working on some of the hardest problems in applied probability,\" said Garud Iyengar, chair of the Industrial Engineering and Operations Research department and a member of the Data Science Institute. "He has recently shown that optimal routing and scheduling of data packets in large communication networks can be achieved with local information decision rules only. This is significant as the size of networks continue to grow."
"This award brings a lot of visibility to the field of operations research, which focuses on decision making using quantitative tools. Many people are unaware that operations research methods are central to many engineering and business disciplines, and are quickly gaining prominence in an increasingly data-driven world," said Dieker. "It is an exciting time to work at the interface of computing, algorithms and mathematics. I like to think that my best work is yet to come. Time will tell!"
Agüeros and Dieker will be honored at a White House ceremony in the spring.