From the U.K. to Bangladesh, Libya, and the U.S., an Artist Crosses Boundaries in His Life and Work
Professor Naeem Mohaiemen combines video, film, photography, drawing, writing, and research to answer questions.
August 23, 2022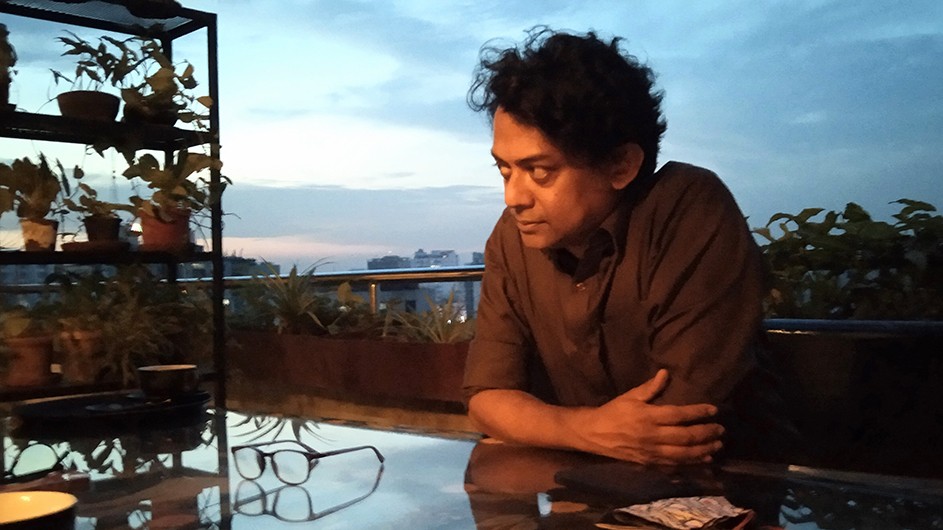 As an artist, Naeem Mohaiemen pushes against all boundaries, both literal and metaphorical, and embraces a polymathic approach. He heads the photography concentration in the Visual Arts Program at the School of the Arts and earned a PhD in anthropology from Columbia in 2019.
His work combines video, film, photography, drawing, and writing, along with archival and historical research. He makes no distinction or hierarchy between these overlapping genres. His boundless curiosity has resulted in such achievements as being a finalist in 2018 for the Turner Prize, Britain's most prestigious art award; and solo exhibitions worldwide, including at MoMA PS1 in New York, and the Kunsthalle in Basel, Switzerland. His work is in the permanent collections of major institutions such as the Museum of Modern Art in New York, the Tate Modern in London, and the Art Institute of Chicago. 
Recently, Mohaiemen sat down with Columbia News to reflect on the themes in his work, and how his art expresses concerns both personal and global, as well as the energy he receives from his students at the School of the Arts.
What is the single unifying thread that runs through your broad body of research?
I research the idea of utopia-dystopia slippage, also known as now promise, now danger, which has been the dilemma of most 20th-century liberation movements. This work began in the 1990s, starting with Bangladesh's two postcolonial markers: the 1947 partition of British India into India and Pakistan and the 1971 splitting of united Pakistan into two separate states, Bangladesh and Pakistan.
Gradually, my work radiated outward to transnational alliances and collisions within the global left (communism, socialism, centrist left) in the Muslim world after 1945. Relevant for the geographies of South Asia was the intersection of multiple liberation ideologies (language, ethnicity, and religion being primary movers), and the twilight moment for world socialism. When you expand outward from parts of Asia to the idea of a Muslim world, more problems come to the fore. Failed insurgencies, incomplete decolonization, redrawn borders, and atomized families were recurrent obsessions in my films of the last decade. 
I was born in England and grew up in Libya and Bangladesh during the dual collapse of the promises of decolonization and socialism. This experience of vanished utopias and shifting borders animates both my art practice and teaching. I focus on romantic yearning in the Global South and Eastern Europe–encompassing postwar decolonization, post-1950s left utopia, and post-1979 long decline.
I explore photography's role in shaping the perpetual human longing for change, and projecting hopeful futures. Drawing from Professor Susan Buck-Morss's idea of global history, I believe a generative history of revolution is in the unexpected links between South Asia, the Middle East, and Eastern Europe. Despite underlining a historic tendency toward misrecognition of allies, the hope for a future international left, as an alternative to current polarities of race and religion, is a basis for my work.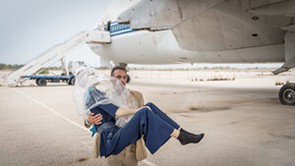 If you had to pick one of your many projects as being representative of your entire output, what would it be, and why?
I would like to point to the duo of films in the Abandoned series, although as fiction films, they diverge dramatically from the documentary and archive-based films I have made for the last decade.
The first film in the series, Tripoli Cancelled (2017), premiered at the art exhibition Documenta 14, and follows a man on his daily routine of smoking, writing letters, and reading from the dark children's classic Watership Down by Richard Adams. Is the man a prisoner or a solitary emperor? There are no guards or fences, only mannequins in Olympic Airlines uniforms, and Melina Mercouri songs. The script is loosely inspired by the experience of my father, who was trapped in the same airport—Hellinikon—in Athens, Greece, for nine days in 1977, after losing his passport in India.
The film blurs the line between prisoner and king, by merging our epoch of migration with the post-Holocaust concepts of "spectral human" (Hannah Arendt) and "Der Muselmänner" (Primo Levi, via Giorgio Agamben). The film was shot in Hellinikon's International Terminal, designed by Eero Saarinen from 1960 to 1969. Hellinikon, closed in 2001, was used recently as a temporary home for Syrian refugees, and is now the site of a luxury real estate project, as part of a privatization effort spurred by EU debt renegotiation conditions. Tripoli Cancelled can be seen as a monument to an airport, and an ambitious postwar architectural project, that in the future may not exist.
The sequel film was shot before the pandemic, but completed in 2020 during lockdown. Jole Dobe Na (Those Who Do Not Drown) was conceived in response to a prompt given by the curators of the Yokohama Triennale, the Delhi-based Raqs Media Collective. They asked us to think about modes of care, and the afterlife of caregivers. In an empty hospital in Kolkata, India, a man faces blood protocols, a subtly discriminatory office, and a vacant operating theater.
His mind is on a loop of the last months of his wife's life, when a quiet argument developed. When is the end of pharma-medical care? Whose life is it anyway? They were an estranged couple, thrown back into intimacy by an unknown illness. Even in a dreamworld of his making, the paranoia of infection is twinned with a hesitant intimacy. The film revisits themes from Tripoli Cancelled—the family unit as a locus for pain-beauty dyads, abandoned buildings as staging grounds for lost souls, and the necessity of small prevarications to keep on living. In Tripoli, the boredom of daily life is punctuated by letters to an invisible wife, and endless readings of Watership Down. In Jole, a memory of final days is kept alive by the partner, and the book readings are from Bengali writer Syed Mujtaba Ali's stories of Europe between the two world wars.
As an artist, you embrace a creative process that is open-ended, uncertain, and ambiguous, as opposed to one that provides all the answers. Why is that, and how is it manifested in your work?
My position is refracted through shifting borders of decolonizing Asia, which map uneasily and imperfectly onto fault lines of the diversity of America. My grandfather was a British Indian subject, who studied mathematics because of affirmative action quotas for Muslims inside the British colonial administration. My father was a Pakistani citizen, and then his portion of the country became Bangladesh. When he wanted to go to India for medical treatment in 2016, his visa was denied because of that old Pakistani identity. As I mentioned earlier, I was born in Britain, and grew up in Libya and Bangladesh because of where my father went to work as a military doctor.
Our racial position constantly changed with movement. In Britain, we were Pakis (a slur for Asians), and in Libya, we were miskeen (Arabic for beggar). But back in Bangladesh, we are Bengali Muslims from the majority racial-linguistic group, which has oppressed and crushed indigenous Adivasi communities, driving 10 local languages and peoples almost into extinction. So I am wary of Bengali majoritarianism as well.
Later, in America, we were initially Asian American, but after 9/11 became ethnicized into American Muslims. In our contemporary moment, when migration is at record levels and ethno-nationalist politics have new appeal, passport and class privilege overlap unpredictably with racial and religious identities. These dynamics become ever more germane as U.S. colleges host an increasingly global student body.

Because of my life experiences, I gravitate toward ambiguity and gray areas of research and artmaking. I am wary of certainty and absolute lines (not to be crossed) in my work. Almost a decade ago, I recall being heavily invested in the histories of certain forms of European ultra-left violence as a form of political action. I was in Stuttgart, Germany, and asked the curators of the museum hosting my visit if they would come with me to Stammheim Prison. Of course, they knew Stammheim as the site of the tragic-violent end of the militant Baader-Meinhof core group. But their next question stayed with me: "But why are you interested in a German movement? What's the connection with Bangladesh?" In my work, I try to push back against that stay-in-your-lane sense of world history.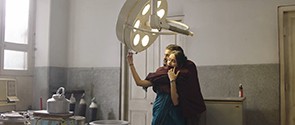 How does your recent doctorate in anthropology contribute to your work?
As an anthropologist, I often do not find what I am looking for. The state archives are in disrepair, and most of the photographic history of the Indian subcontinent is gone. But there is a possibility of writing about, thinking through, and making works with the residue. My core making and teaching concept is that in an era where we are overwhelmed by images (photographer Pedro Meyer's 2010 provocation, "Are too many people taking photographs?" misses the point, in some ways), a return to a quieter mode of working with fewer images can liberate the imaginations of artists.
My teaching method—in class and in MFA critique sessions—has been to spend long periods speaking about just a singular image with students. I am after a way of thinking through images that slows down modern life. Slow image making is a necessary antidote in this time of a global pandemic, which has been created by humanity's thirst for speed of travel, communication, and commerce.
What are you working on now?
A small project with K, who is the third person to apply for the right to a self-administered end under Maine's Right To Dignified Death Act. It is an idea I struggled with when the end came for members of my own family, and it appears in (lightly disguised) fiction form in Jole Dobe Na. K has a quality that I can only speak of with the word grace. I hope I can be that way when my final time comes. So I am spending time with her, and something will come out of that, which will go into a solo show at Colby College Museum of Art in Waterville, Maine, this winter.
What have you been doing this summer?
Picnics in the Brooklyn parks in July, and morning walks at Dhanmondi Lake, back in Dhaka, in August. 
What's the best part of teaching at the School of the Arts?
The students are always ahead of your ideas, as you step into their studio. It's a relentless dialogue, a generative back and forth; then, a few days after the studio visit or group crit, another aspect, angle, perspective, skew pops into your head. So you walk back to the studio, or you send an email, and say/write, "You know that way of looking at this work that we discussed? What if instead, you tried X?" Then you are in a completely different world. Four weeks later, when you see the new variation of the work, you realize that your suggestions and references may have given a spark, but the four weeks layered many things on top.
We live in a historic moment when the nature of truth is under questioning in an unprecedented way. The shimmering nature of images straddles these lines of fact and fiction and propaganda. Ambiguity as a concept has always been a generative space for my studio work; in line with that, open-ended dialogue with students' work makes me feel awake, alive.