University Senate Approves African American Studies Department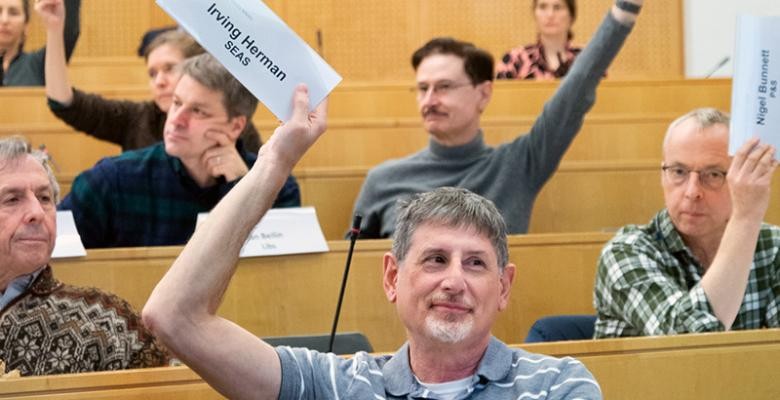 The University Senate achieved its biggest turnout in at least three decades for a vote on Sept. 28 to establish the Department of African American and African Diaspora Studies. Seventy-nine of 91 senators—87 percent of the body—turned up at a meeting held at the Jerome L. Greene Science Center on the Manhattanville campus.
Farah Jasmine Griffin, a professor of English and comparative literature who led the quest to found the department, traced the trajectory of black studies at Columbia since its emergence on college campuses in the late '60s. For some time, she said, Columbia lagged behind some peer institutions in strengthening its programs in this field. The discipline has flourished here since the establishment in 1993 of the Institute for Research in African-American Studies by the late Manning Marable, but Griffin stressed that continued growth now requires the autonomy that only an academic department can provide. After brief declarations of support from President Lee C. Bollinger, interim Arts & Sciences executive vice president Maya Tolstoy, and Suzanne Goldberg, the executive vice president for University Life, the Senate unanimously approved the program.
The Senate devoted the bulk of its first two meetings this year to pondering last year's work. It heard 2017-18 annual reports from its Research Officers, Housing Policy, External Relations, Alumni Relations, Information Technology and Libraries committees, as well as its Diversity Commission. At the second meeting, on October 19, it also heard the annual presentation of the coming year's benefits package for officers.
Last year was an unusually productive year for the Senate, with a successful resolution to establish a new type of degree—the Master of Professional Studies—for academic programs in the School of Professional Studies that overlap with existing programs in the Business, Engineering, Law, or other professional graduate schools, and a substantial report from the Commission on the Status of Women on stagnant tenure rates over the last decade for female faculty at the College of Physicians and Surgeons.
There were also substantial resolutions on academic freedom and freedom of expression, and another banning all consensual sexual or romantic relationships between faculty (or staff) and undergraduate students. All three initiatives required sustained collaboration between the student and faculty caucuses, including patient searches for common ground.
The sequels to these efforts remain to be written: Senate committees have yet to follow up on plans to decide how to apply the consensual relations policy to graduate students—a task that has become more complex with the recent adoption of new city and state laws to combat sexual harassment. And last year's resolution on freedom of expression envisioned a Senate board, still to be created, to organize town hall debates that would shed light on issues of the day involving race, immigration or guns that have sometimes been obscured during the visits of controversial outside speakers.
The Senate meets next on Friday, December 7 at 1:15 p.m. in 1501 International Affairs Building. Anyone with CUID is welcome. Most plenary documents are available at senate.columbia.edu.
This column is editorially independent of Columbia News.