U.S. Supreme Court Justice Ruth Bader Ginsburg '59 Feted at Columbia Law School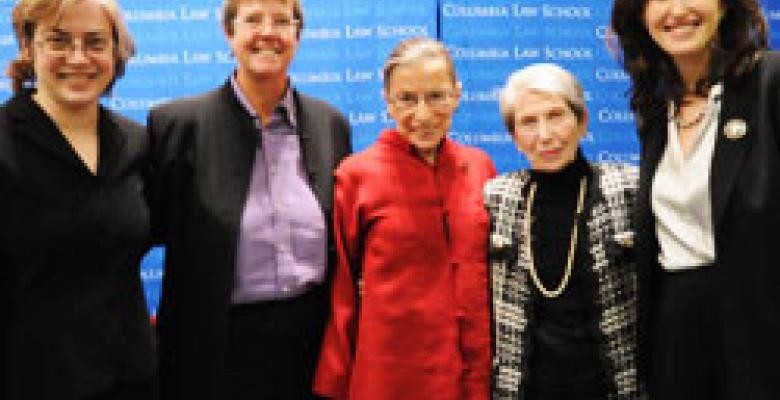 Columbia Law School's Center for Gender and Sexuality Law welcomed U.S. Supreme Court Justice Ruth Bader Ginsburg '59 to a conference in her honor on Feb. 10. The daylong symposium commemorated the 40th anniversary of Ginsburg joining the Columbia Law School faculty as its first tenured female professor and celebrated her contributions to the law of gender-based justice and equality.
David M. Schizer, Dean and the Lucy G. Moses Professor of Law at Columbia Law School, who clerked for Ginsburg during the 1994–1995 term, introduced her to an audience of students, advocates, faculty members, alumni, and other guests.
"It is a great honor to have Justice Ginsburg here with us today," Dean Schizer said. "Justice Ginsburg has helped make Columbia Law School what we are today. She is one of our most distinguished graduates and while she was here, she successfully litigated some of the most important cases of our time. She exemplifies the values and aspirations of our school."
Katherine M. Franke, the Isidor and Seville Sulzbacher Professor of Law and director of the Center for Gender and Sexuality Law, said that when Ginsburg joined the Law School faculty in 1972, "The New York Times congratulated Columbia for having 'snared a prize.'"
For eight years, Ginsburg taught courses on sexual discrimination and the law, collaborated on a casebook on the subject, agitated for women's rights on campus, helped found the Women's Rights Project of the American Civil Liberties Union (ACLU), and worked on some of the most important gender equality cases in the modern era—arguing six cases before the U.S. Supreme Court and winning all bu
In 1980, Ginsburg became a judge at the U.S. Court of Appeals for the District of Columbia Circuit, and in 1993, she was appointed to the U.S. Supreme Court.
The highlight of the Columbia Law School event was an informal conversation between Ginsburg and two of her former clerks: Gillian E. Metzger, the Stanley H. Fuld Professor of Law and vice dean; and Professor Abbe R. Gluck. The trio discussed highlights of Ginsburg's career as a professor, advocate, judge, and justice.
Ginsburg described the differences between writing a majority opinion and a dissent. Writing a majority opinion sometimes requires negotiation to persuade a colleague to join the opinion, she noted, while when writing a dissent, "you can let out all the stops."
Ginsburg also recalled the triumph she felt in writing the majority opinion for United States v. Virginia, a 1996 case that struck down the Virginia Military Institute's long-standing male-only admission policy.
"VMI was a very special case for me," she said. "In a sign of the changing times, it was the U.S. that brought the case. We were no longer the opponent, but the proponent."
The first panel discussion of the afternoon, titled "Sex Discrimination Litigation in the 1970s," was moderated by Ariela Migdal, senior staff attorney at the ACLU's Women's Rights Project.
During that discussion, Harriet S. Rabb, vice president and general counsel of Rockefeller University and a former professor and assistant dean at Columbia Law School, recalled a series of class-action lawsuits filed by the Law School's employment rights clinic in the 1970s with the goal of promoting gender equality in the workplace.
For all the pride the conference panelists took in their past accomplishments, they also showed an awareness of the work that lies ahead.
During a Q&A session at the end of the panel, Ginsburg was asked how she feels about the current status of the gender equality movement, given that the U.S. has yet to pass an equal rights amendment.
The Supreme Court's current standard of review for sex discrimination requires an "exceedingly persuasive justification," Ginsburg replied. She then noted that there are now three women on the bench.
"My new colleagues are no shrinking violets," she said. "Sotomayor is giving Scalia a run for who asks the most questions. And with Kagan on one end and Sotomayor on the other, it looks like women are there to stay."
The final panel of the day, titled "Transnational/International Perspectives on Gender Justice," featured current and former women justices from Canada, Germany, and South Africa. The conversation was moderated by Judith Resnik, who teaches at Yale Law School and is a Scholar in Residence at Columbia Law School this semester.
"Justice Ginsburg has made a tremendous contribution to gender justice, both as a litigator and as a justice," said Claire L'Heureux-Dubé, a former justice of the Supreme Court of Canada. Later, Kate O'Regan, a former justice of the Constitutional Court of South Africa, spoke about the global influence of U.S. legal scholarship.
In her closing remarks, Ginsburg applauded the international perspective on jurisprudence.
"This day has been a tremendous feast for me," she said. "I enjoyed listening to all the speakers. And listening to the women on this panel is going to encourage me to remind my colleagues that there are jurists in other lands that are as smart as we are, and that we should listen to them."
The conference was organized and hosted by the Center for Gender and Sexuality Law, which offers law students a unique opportunity to study and specialize in the practice, theory, and politics of gender and sexuality.
# # #
Columbia Law School, founded in 1858, stands at the forefront of legal education and of the law in a global society. Columbia Law School combines traditional strengths in corporate law and financial regulation, international and comparative law, property, contracts, constitutional law, and administrative law with pioneering work in intellectual property, digital technology, tax law and policy, national security, human rights, sexuality and gender, and environmental law.