Why Academia Should Focus Research on the Asian American and Pacific Islander Experience
Five Columbia faculty members from English and comparative literature, global studies, sociology, creative writing, and history explain why it is important that their disciplines concentrate on Asian American and Pacific Islander issues.
May 05, 2022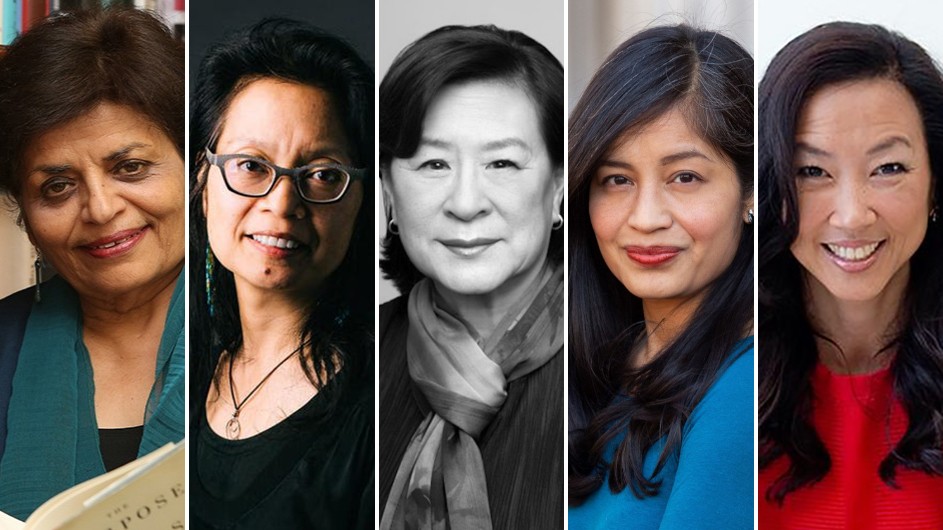 In honor of Asian American Pacific Islander (AAPI) Heritage Month, Columbia News reached out to five faculty members to find out why Columbia needs to center its research and curricula on AAPI issues, why representation in an institution like Columbia matters, and how our whole society benefits from understanding the Asian American Pacific Islander experience.
---
Denise Cruz, Professor of English and Comparative Literature
The pandemic and the surge in anti-Asian violence creates an especially timely moment, but there has been a longstanding demand for courses and research support in the field of Asian American studies. We're at an important critical moment—for the scholarly community at Columbia, Asian American studies, the Center for the Study of Ethnicity and Race, the English and Comparative Literature department, and for Asians and Asian Americans. It's a privilege for me to be part of a community on campus that includes scholars and writers whose work has been so formative for the field at large and for my own work. Mae Ngai and Jennifer Lee's research has been ground-breaking in Asian American studies. Writers such as Marie Myung-Ok Lee, David Henry Hwang (and soon, Jhumpa Lahiri) are authors who are foundational to Asian American literature. We also have incredible strengths in transnational and comparative approaches, including Asian, Southeast Asian, and South Asian studies. Asian American studies at Columbia is unique because of this multidisciplinary community. 
I have to underscore, too, that students are excited by this material. Our classes are full with long waiting lists. Last fall, my class needed to be in the large lecture hall in Pupin, and I recognize with my students that they and I are only in that room because of prior activism on our behalf. While some of my students are Asian or Asian American, many of them are not, and they arrive in my class from a range of majors and interests. I'm always inspired by their sheer enthusiasm and interest in learning more about Asian American literature. And as we discuss in class, Asian American authors have contributed to a rich literary tradition that includes imaginings of the experiences of exclusion, migration, war, and resistance but also vibrant forms of life and community, of what it means to care for each other amid crisis and difficulty. 
---
Vishakha Desai, Senior Advisor for Global Affairs to the President and Chair, Committee on Global Thought 
When I became the President of the Asia Society in 2004, I was surprised by the deluge of notes I received from Asian Americans of all ages, from high school students to retired engineers. The common refrain was: "I never thought that a prestigious international institution on Park Avenue would appoint an Asian woman to be its leader." Embedded in such notes was the recognition that they had never seen an Asian American person in a leadership position in any international organization. And they were right. The paucity of people of color in the international organizations based in the U.S., evident two decades ago, continues to be glaringly obvious even now. The challenge and the opportunity for the university is to bring the multicultural debates at home in synch with our global aspirations and responsibilities, through training of multicultural global leaders and scholarship they can produce. In the context of rising Asia of the 21st century, it is imperative that multifocal experiences of Asian Americans should be seen as a distinct asset and not be derided as "not American enough." 
---
Jennifer Lee, Julian Clarence Levi Professor of Social Sciences
According to the 2022 STAATUS Index, 58% of Americans cannot name a single prominent Asian American, and 42% cannot think of a single event or policy related to the history or experiences of Asian Americans. The invisibility of Asians in the American imagination is a reflection of the invisibility of Asian Americans in our curricula, including in sociology. When we make the choice—and it is a choice—not to include Asian Americans in our data collection efforts, our research designs, our analyses, and in our curricula, we are also choosing to perpetuate anti-Asian bias in our departments, our institutions, our disciplines, and beyond. This is the cost and consequence of invisibility and exclusion. I'm committed to doing research that makes Asian Americans central to the discipline so I'm able to teach the type of courses that were never offered to me, and because I recognize the cost of failing to do so.
---
Marie Myung-Ok Lee, writer in residence at the Center for the Study of Ethnicity and Race
I was just this past month at the Association for Asian American Studies Conference and came to the realization that most of the professors I was meeting were in English and cultural studies, but didn't meet a single creative writer. As a co-founder of the Asian American Writers' Workshop, I have seen up close how white- and western-centered publishing throws up extra barriers to both new and established writers of color and understand how important it is to nurture and protect Asian American writing, especially at its embryonic stages. As the writer in residence at the Center for the Study of Race and Ethnicity, it's clear more research and curricula focused specifically on Asian American writers and writing would not only give the field the validation it deserves, but it would serve as a model encouraging more exploration by students as an academic field. 
---
Mae Ngai, Lung Family Professor of Asian American Studies and Professor of History
Asian American and Pacific Islanders comprise diverse communities, with issues that are distinctive to each group, as well as common concerns. "AAPI" is a term of art, or more precisely, politics, to indicate our shared solidarities and histories that are rooted in the United States' long engagements with the Asia-Pacific, especially colonialism and war. One aspect of that history has been an enduring racist view of the "Asiatic" as backward, incapable of understanding democracy, and threatening to overwhelm the world by virtue of their large numbers and alleged unfair competition. The history is important because it can help us understand the politics surrounding U.S.-China competition and conflict today and the spill-over effects toward Asian Americans. If we understand historical nativism and racism as political projects in the service of certain interests, we can combat them in our own time. These are not just issues for AAPI communities, but for all of society.