10 New Books by Columbia and Barnard Faculty
From fiction to nonfiction, history to polemics, it's all here in these volumes.
May 03, 2023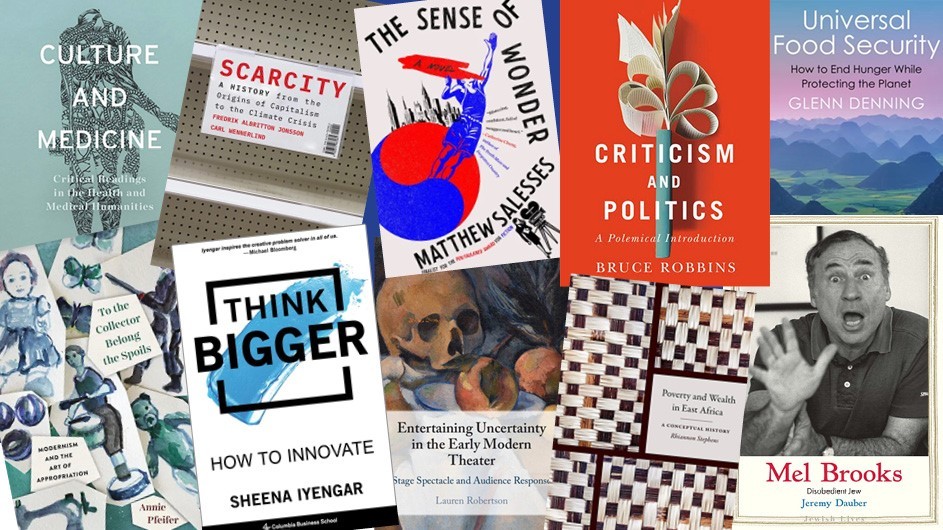 A biography of comedian Mel Brooks, a novel about an Asian American basketball star, a guide to thinking big and creatively, a history of poverty and wealth in East Africa: These are just a few of the books on a wide range of topics that Columbia and Barnard faculty members have published lately. 
Read on for more information about these volumes, as well as books on early modern theater in England, the concept of scarcity, the intersection of criticism and politics, the practice of collecting objects, the emerging fields of medical humanities and health humanities, and universal food security.
---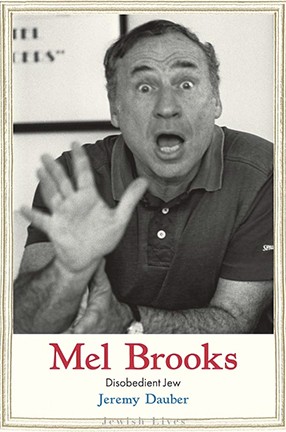 Mel Brooks: Disobedient Jew
By Jeremy Dauber
Mel Brooks, born Melvin Kaminsky in Brooklyn in 1926, is one of America's great comic voices. Having won numerous entertainment awards, Brooks has straddled the line between outsider and insider, obedient and rebellious, throughout his career, making out-of-bounds comedy the American mainstream. In Mel Brooks: Disobedient Jew, Jeremy Dauber, the Atran Professor of Yiddish Language, Literature, and Culture, argues that throughout Brooks's extensive body of work—from Your Show of Shows to Blazing Saddles, Young Frankenstein, and Spaceballs—the comedian has seen the most success when he found a balance between his unflagging, subversive, manic energy and the constraints imposed by comedic partners, the Hollywood system, and American cultural mores. Dauber also explores how Brooks's humor went from being solely for a niche Jewish audience to a more mainstream American one, paving the way for generations of Jewish (and other) comedians to come.
---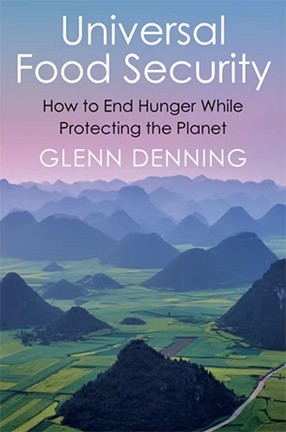 Universal Food Security: How to End Hunger While Protecting the Planet
By Glenn Denning
What would it take to achieve a genuinely food secure world—one without hunger or malnutrition, where everyone gets to consume the right quantity and quality of food to live a healthy, active, and productive life? Bringing about such a future requires transforming how our food is grown, managed, and distributed. From production to consumption, food systems must be sustainable, halting environmental degradation and even repairing the damage we have previously done. In Universal Food Security, Glenn Denning, a professor at Columbia SIPA, provides an accessible guide to making healthy diets from sustainable food systems available to all. He bridges science, policy, and practice; synthesizes relevant literature; and shares perspectives and insights gained over four decades working in more than 50 countries, coupled with the real-world experience of leading experts. 
---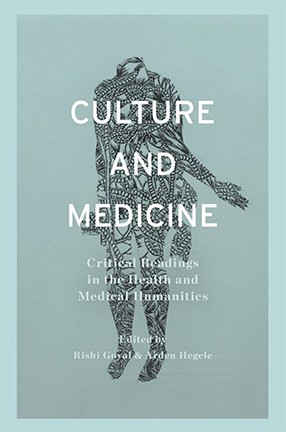 Culture and Medicine: Critical Readings in the Health and Medical Humanities
Edited by Rishi Goyal and Arden Hegele
Charting shared advances across the emerging fields of medical humanities and health humanities, Culture and Medicine, co-edited by Rishi Goyal, doctor of Emergency Medicine at Columbia University Irving Medical Center, and Arden Hegele, lecturer in the Department of English and Comparative Literature, engages with the question of how biomedical knowledge is constructed, negotiated, and circulated as a cultural practice. The volume is composed of a series of pathbreaking interdisciplinary essays, which bring sociocultural habits of mind and modes of thought to the study of medicine, health, and patients. These juxtapositions create new forms of knowledge, while emphasizing the vulnerability of human bodies, new approaches to biology, a sensitivity to language and rhetoric, and an attention to social justice. The essays dissect the ways that cultural practices define the limits of health and the body, and provide novel insights into how biomedical frameworks become settled forms for broader cultural understanding.
---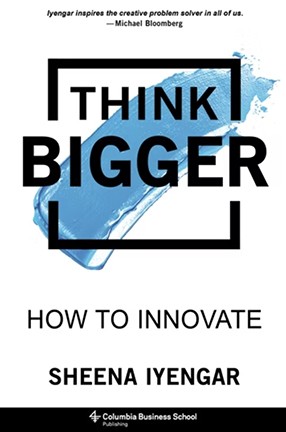 Think Bigger: How to Innovate
By Sheena Iyengar
In Think Bigger, Sheena Iyengar, the S.T. Lee Professor of Business at Columbia Business School, answers a timeless question with enormous implications for problems of all kinds: "How can I get my best ideas?" Iyengar provides essential tools to spark creative thinking and help readers make meaningful choices. She and her team of researchers draw from recent advances in neuroscience and cognitive science to offer a set of practical steps—an evidence-backed method—for generating powerful new ideas. For anyone looking to innovate, the black box of creativity is a mystery no longer. Think Bigger upends the myth that big ideas are reserved for a select few. By using Iyengar's system as a guide, anybody can produce revolutionary ideas.
---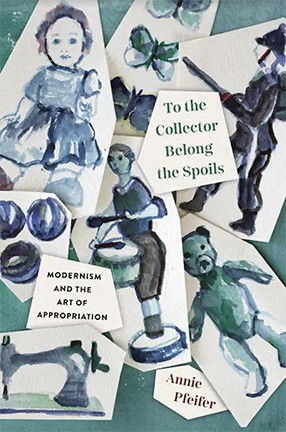 To the Collector Belong the Spoils: Modernism and the Art of Appropriation
By Annie Pfeifer
To the Collector Belong the Spoils rethinks collecting as an artistic, revolutionary, and appropriative modernist practice, which flourishes beyond institutions like museums or archives. Through a constellation of three author-collectors—Henry James, Walter Benjamin, and Carl Einstein—Pfeifer, a professor in the Department of Germanic Languages, examines the relationship between literary modernism and 20th-century practices of collecting objects. From James's paper hoarding to Einstein's mania for African art and Benjamin's obsession with old Russian toys, she shows how these authors' literary techniques of compiling, gleaning, and reassembling constitute a modernist style of collecting, which reimagines the relationship between author and text, source and medium. Placing Benjamin and Einstein in surprising conversation with James sharpens the contours of collecting. To the Collector Belong the Spoils traces the movement's artistic innovation to its preoccupation with appropriating and rewriting the past. Pfeifer shows how these three authors engaged in a form of creative plunder that evokes collecting's long history in the spoils of war and conquest. 
---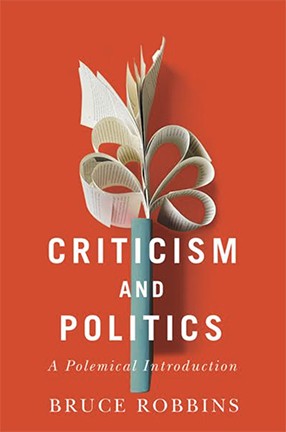 Criticism and Politics
By Bruce Robbins
What is criticism for? Over the past few decades, impassioned disagreements over that question in the academy have burst into the news media. These conflicts have renewed the culture wars over the legacy of the 1960s, becoming entangled in national politics, and leading to a new set of questions about critics and the power they do or don't wield. Re-examining theorists from Matthew Arnold to Walter Benjamin, Fredric Jameson, Stuart Hall, and Hortense Spillers, Criticism and Politics explores the contradictions that have long propelled literary studies—between pronouncing judgment and engaging in philosophical critique, between democracy and expertise, between political commitment and aesthetic autonomy. Bruce Robbins, the Old Dominion Foundation Professor in the Humanities,  defends criticism from those who might wish to de-politicize it, arguing that working for change is not optional for critics, but rather a core part of their job description.
---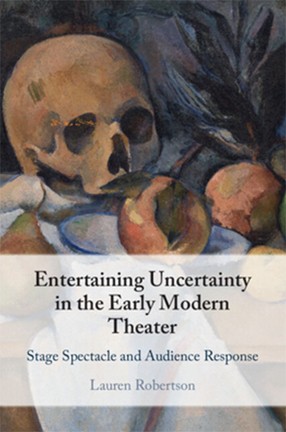 Entertaining Uncertainty in the Early Modern Theater
By Lauren Robertson
Lauren Robertson, a professor of English and Comparative Literature, shows in Entertaining Uncertainty that the theater of Shakespeare and his contemporaries responded to the crises of knowledge that roiled through early modern England by rendering them spectacular. Revealing the radical, exciting instability of the early modern theater's representational practices, she uncovers the uncertainty that went to the heart of the playgoing experience during this period. Doubt was not merely the purview of Hamlet and other onstage characters, but was an essential element of spectators' imaginative participation in performance. Robertson shows that the theater in early modern England was a place for the entertainment of uncertainty—its pleasures made the very act of unknowing possible.
---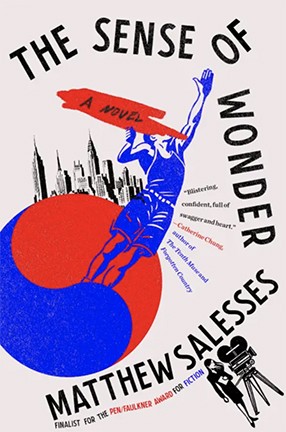 The Sense of Wonder
By Matthew Salesses
In The Sense of Wonder, the new novel by Matthew Salesses, a writing professor at the School of the Arts, an Asian American basketball star walks into a gym. No one recognizes him, but everyone stares anyway. It is the start of a joke, but what is the punch line? When Won Lee, the first Asian American in the NBA, stuns the world in a seven-game winning streak, the global media audience dubs it "The Wonder"—much to Won's chagrin. Meanwhile, Won struggles to get attention from his coach, his peers, his fans, and, most important, his hero, Powerball!, who also happens to be Won's teammate and the captain. Covering it all is sportswriter Robert Sung, who writes about Won's stardom while grappling with his own missed hoops opportunities as well as his place as an Asian American in media. Witness to it all is Carrie Kang, a big studio producer, who juggles a newfound relationship with Won while attempting to bring K-drama to an industry not known to embrace anything new or different. The Sense of Wonder follows Won and Carrie as they chronicle the human and professional tensions exacerbated by injustice, and fight to be seen and heard on some of the world's largest stages. 
---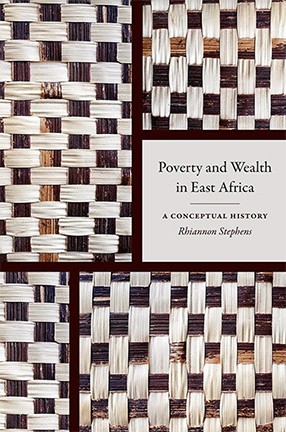 Poverty and Wealth in East Africa
By Rhiannon Stephens
In Poverty and Wealth in East Africa, History Professor Rhiannon Stephens, offers a conceptual history of how people living in eastern Uganda have sustained and changed their ways of thinking about wealth and poverty over the past 2,000 years. This book serves as a powerful reminder that colonialism and capitalism did not introduce economic thought to this region, and demonstrates that even in contexts of relative material equality between households, people invested intellectual energy in creating new ways to talk about the poor and the rich. Stephens uses an interdisciplinary approach to write about societies without written records before the 19th century. She reconstructs the words people spoke in different eras by using comparative historical linguistics, overlaid with evidence from archaeology, climate science, oral traditions, and ethnography. By showing the dynamism of people's thinking about poverty and wealth in the region long before colonial conquest, Stephens challenges much of the received wisdom about economic and social inequality.
---
Scarcity: A History from the Origins of Capitalism to the Climate Crisis
Edited by Carl Wennerlind and Fredrik Albritton Jonsson
Modern economics has a particular view of scarcity, in which human beings have infinite desires, and society must therefore facilitate endless growth and consumption, irrespective of nature's limits. Yet as Wennerlind, chair of Barnard's History Department, and Jonsson, a history professor at the University of Chicago, show in Scarcity, this vision is historically novel, and was not inevitable even in the age of capitalism. It reflects the costly triumph of infinite-growth ideologies across centuries of European economic thought—at the expense of traditions that sought to live within nature's constraints. The dominant conception of scarcity today holds that, rather than master our desires, humans must master nature to meet those desires. Jonsson and Wennerlind argue that this idea was developed by thinkers such as Francis Bacon, Samuel Hartlib, Alfred Marshall, and Paul Samuelson, who laid the groundwork for today's politics of growth. Proponents of infinite growth have long faced resistance from agrarian radicals, romantic poets, revolutionary socialists, ecofeminists, and others. These critics—including Dorothy Wordsworth, Karl Marx, and Hannah Arendt—embraced ideas of scarcity in which our desires, rather than nature, must be mastered to achieve the social good. In so doing, they re-envisioned how humans might interact with both nature and the economy. Following these conflicts into the 21st century, Jonsson and Wennerlind insist that we need new, sustainable models of economic thinking to address the climate crisis. 
---