14 U.S. Fulbright Awards, 12 Simons Foundation Junior Research Fellows, and More Institutional Milestones
From science to engineering and writing to social sciences, here are the Columbians who received awards recently.
April 06, 2022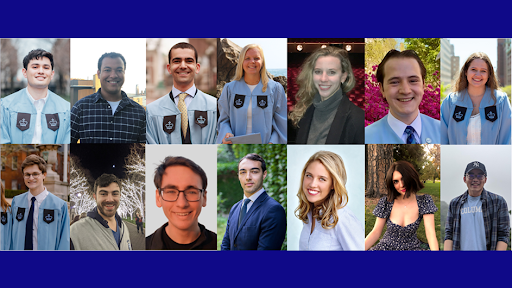 Columbia News produces a biweekly newsletter (subscribe here!) and article series featuring a roundup of awards and milestones that Columbia faculty, staff, and students have received in recent days. In this edition, you'll find awards and milestones from March 24 to April 7, 2022.
Have an award or milestone you'd like to have featured in the newsletter or article online? Please send an email to [email protected]. Note that we'll be running this series every other week. 
You can take a look at past accomplishments on our Awards & Milestones page. And you can subscribe to receive the newsletter in your inbox. 
INSTITUTIONAL
Columbia University Irving Medical Center's inclusive hiring program, Project PossABILITY, which connects workers with intellectual or developmental disabilities to job opportunities at the medical center, received a 2022 Customized Employment Award.
Marjorie Miller, vice president and global enterprise editor at The Associated Press, has been named administrator of the Pulitzer Prizes after a broad search. 
FACULTY
ARTS, HUMANITIES, & ENGINEERING
Lola Ben-Alon, assistant professor, GSAPP, and Shiho Kawashima, associate professor, Columbia Engineering, received a National Science Foundation grant for "Process-Structure-Property Relationships of 3D Printed Earth Materials and Structures."
Keren Bergman, Charles Batchelor Professor of Electrical Engineering, has been named a "Person to Watch" by HPCwire, a news source covering high performance computing. She is also the program chair for ISC 2022, a conference devoted to high performance computing, machine learning, and high performance data analytics.
Margo Jefferson, who teaches in the Writing Program at the School of the Arts, is one of the 2022 nonfiction winners of Yale University's Windham-Campbell Prizes.
Haruo Shirane, Shincho Professor of Japanese Literature and Culture and director of the Donald Keene Center of Japanese Culture, has been elected Honorary Member of The Japan Academy. This is the highest recognition given in Japan to scholars in all fields. 
Colm Tóibín, Irene and Sidney B. Silverman Professor of the Humanities, has been awarded the 2022 Rathbones Folio Prize for his novel, The Magician.
SCIENCE, MEDICINE, & PUBLIC HEALTH
Nine of the 12 researchers picked by the Simons Foundation as 2022 Junior Fellows, part of its Simons Society of Fellows program, are heading to Columbia this summer to start fully funded postdoc positions in fields ranging from neuroscience to quantum information theory. They are: Daniel Alabi, Morris Ang, Eric Arsenault, Sophie Huiberts, Lachlan Lancaster, Oliver Philcox, Cynthia Steinhardt, Andre Toussaint, and Lynn Yap. 
Christina Brezing, assistant professor of psychiatry in the division on substance use disorders in the Department of Psychiatry, was granted funding from the VP&S COVID-19 Fund to Retain Clinician Scientists from the Office of Academic Affairs at Vagelos College of Physicians and Surgeons.
Alwyn Cohall, professor of public health and pediatrics, has been named the 2022-2023 Vanneck-Bailey Scholar by the Vagelos College of Physicians & Surgeons' Virginia Apgar Academy of Medical Educators. 
Nour Makarem, assistant professor of Epidemiology, will receive the Trudy Bush Award for Cardiovascular Disease Research in Women's Health at the EPI | Lifestyle 2022 Scientific Sessions in Chicago.
Myrna Weissman, Diane Goldman Kemper Family Professor of Epidemiology in the Department of Psychiatry has been selected as the recipient of The American College of Psychiatrists' 2023 Mood Disorders Award. This award recognizes outstanding contributions to the understanding and treatment of mood disorders.
SOCIAL SCIENCES
Daniel Villatoro, a Human Rights Fellow at the Institute for the Study of Human Rights, won a global award for young journalists from One Young World. 
STUDENTS
Fourteen students and alumni of three undergraduate schools were awarded Fulbright U.S. Student Program awards for the 2021-2022 Fulbright award year. The 14 awardees are currently spread across seven countries, and you can see the list here.
A team of three SIPA students, Lena Arkawi (SIPA'22), Namir Ahmad (SIPA'22), and Silvana Zapata-Ramirez (SIPA'23), won top honors at a competition among representatives from the seven-member schools of the Global Public Policy Network.
Tony Bodulovic (CC'22), a political science major, received the David Bohnett Public Service Fellowship.
Seven Columbia undergraduates, Anthony Costanzo (GS'23), Gilda DelBianco (CC'25), Audrey Kost (GS'23), Nicolas Lama (CC'24), Charles Smith (CC'22), Ysabella Saifel Titi (GS'23), and William Yuen Yee (CC'22), were selected for the 2022 Critical Language Scholarship.
Five Columbia undergraduates, Ethan Feng (CC'23), Arjun Kudinoor (CC'23), Steven Wang (CC'23), Sarah Xi (CC'23), and Chujun 'Julia' Zhao (SEAS'23), have been named Goldwater Scholars this year. The Goldwater Scholarship represents the preeminent undergraduate award in the fields of mathematics, the natural sciences, and engineering.
William Yuen Yee (CC'22), who double-majored in political science and East Asian studies, was awarded the Michel-David Weill Scholarship to Sciences Po.