2021 Year in Pictures
Take a look back at some of the visual highlights of 2021 from the Columbia community. 
By
Jennifer Pellerito and Kelly Moffitt
December 16, 2021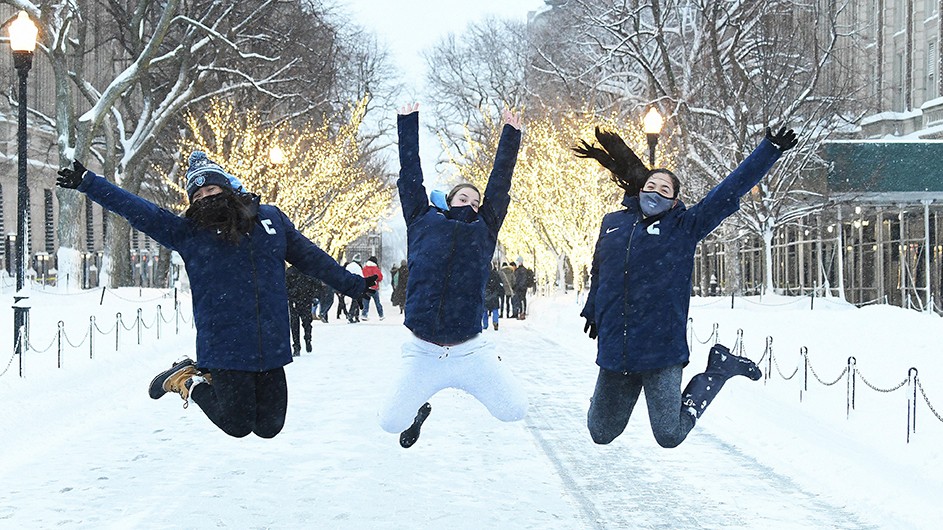 A picture is worth a thousand words and after a year like 2021, we couldn't be more grateful for a medium that so documents our lives, feelings, and world.
Below, take a look back at some of the Columbia News team's visual highlights of 2021, featuring a handful of landmark events, achievements, and campus traditions through the lenses of photographers from across our community.
---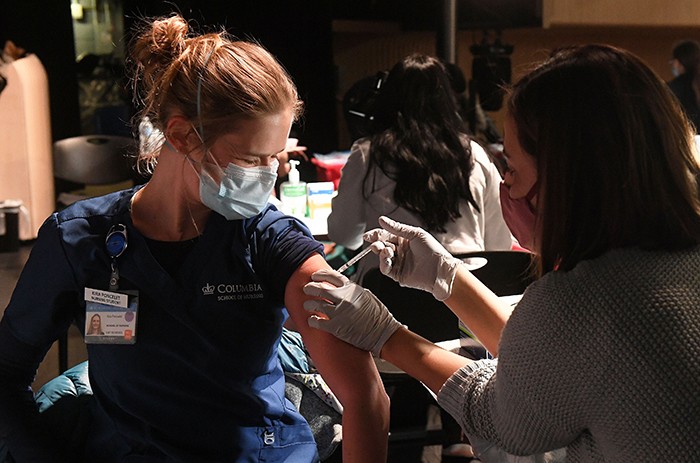 While the country was still very much in the midst of a health crisis in January 2021, it is hard to overstate how vaccination efforts offered a beacon of hope. Here, a Columbia Nursing student who has provided care to patients through the pandemic receives a dose of the COVID-19 vaccine at Columbia University Irving Medical Center. Photo by Eileen Barroso for Columbia University Irving Medical Center. 
---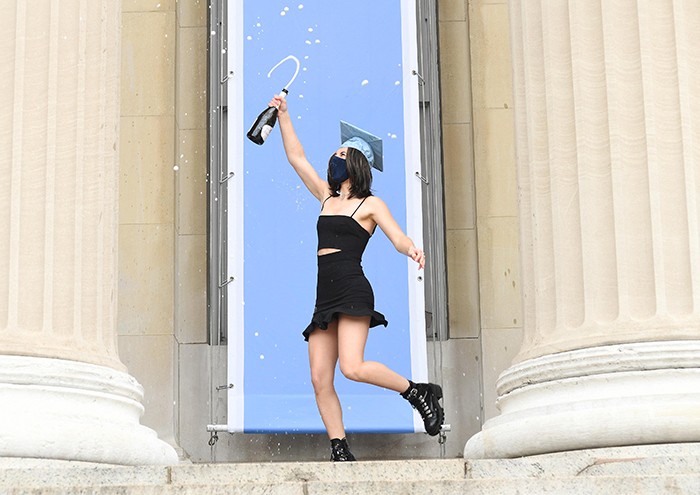 After a challenging year, Columbia was pleased to help our students around the world find unique ways to celebrate their enormous accomplishments. Congratulations, Class of 2021! Photo by Eileen Barroso.
---
It's a bird! It's a plane! It's the Graduate School of Architecture, Planning, and Preservation's Avery SPOT, a student-designed outdoor pavilion that featured an LED-illuminated inflatable canopy and marked the return of outdoor art installations to Morningside campus. Photo by Josh Jordan, Columbia GSAPP.
---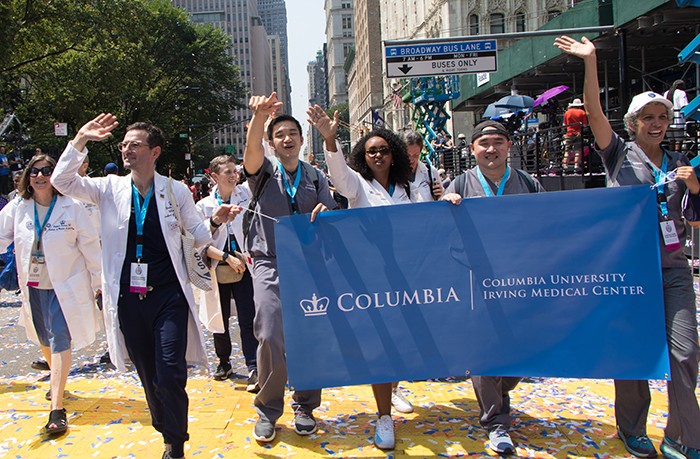 Healthcare workers from Columbia University Irving Medical Center and NewYork-Presbyterian Hospital marched in New York City's Hometown Heroes ticker tape parade this July. Residents of New York City (and beyond) are incredibly grateful for the extraordinary service, dedication, and sacrifice that all our healthcare workers have provided our communities during this pandemic. Photo by Rudy Diaz. 
---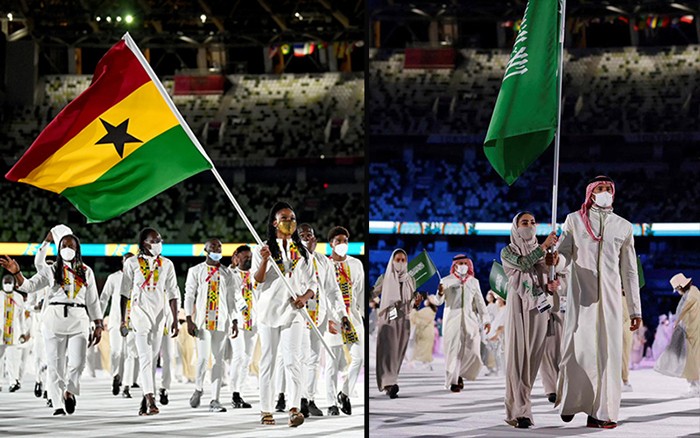 In addition to having 10+ Columbians compete in the 2020 Summer Olympics in Tokyo this year, two Columbians even had the immense honor of being flag-bearers for their countries during the opening ceremony: Nadia Eke (CC'15), Track & Field, competing for Ghana, and Yasmeen Al Dabbagh (CC'19), Track & Field, competing for Saudi Arabia. Congratulations to all our Columbia athletes! Photos courtesy Getty Images. 
---
To say we were excited to have our students back on campus this fall is an understatement. After more than a year apart, festivities in August and September to welcome students back to campus reminded us all how glad we are to be a part of the Columbia community. Photo by Eileen Barroso.
---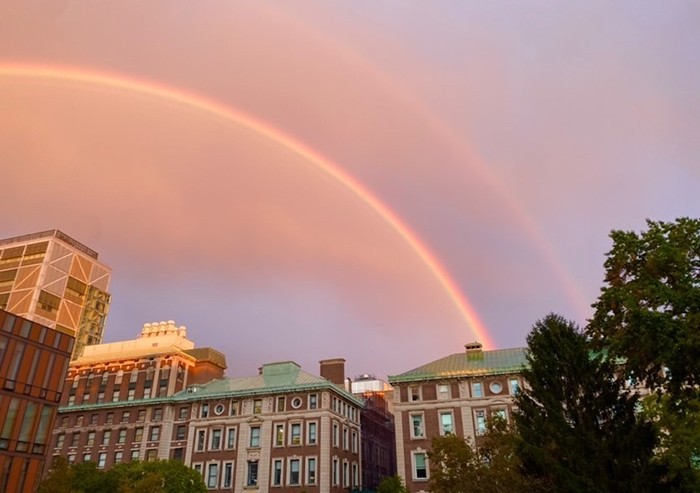 In many cultures, rainbows are considered a symbol of hope. This beautiful phenomenon was caught hanging above Columbia's campus in October by Sophie Meritt (BC'25). Photo by Sophie Meritt. 
---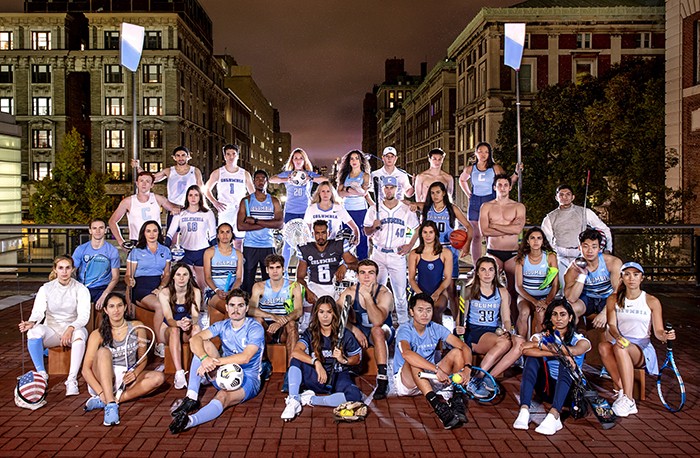 Would you believe us if we told you this photo wasn't photoshopped? Well, you should! This impressive, annual 31-sport photo serves as a celebration of the fact Columbia athletes have returned to competing. Photo by Mike McLaughlin, Columbia Athletics. 
---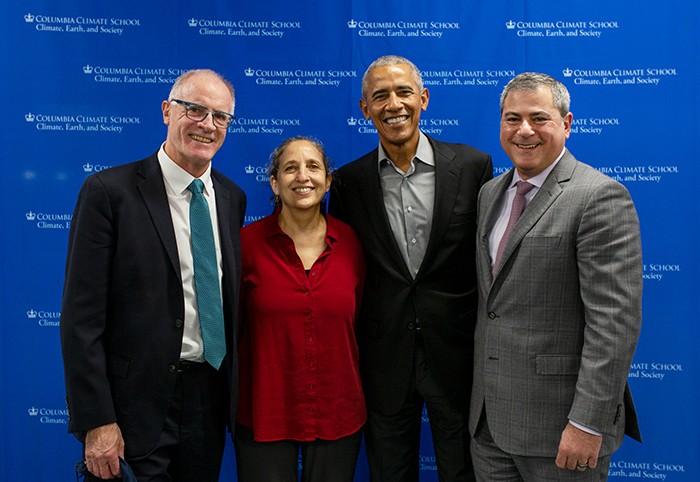 The Obama Foundation and Columbia Climate School organized a roundtable discussion with President Obama (CC'83) and a group of young climate activists at the COP26 in Glasgow in November. The group discussed the importance of youth climate activism. Obama acknowledged and thanked Columbia for setting up the Climate School and he is pictured here with the deans of the Columbia Climate School: Alex Halliday, Ruth DeFries, and Jason Bordoff. Photo courtesy The Obama Foundation. 
---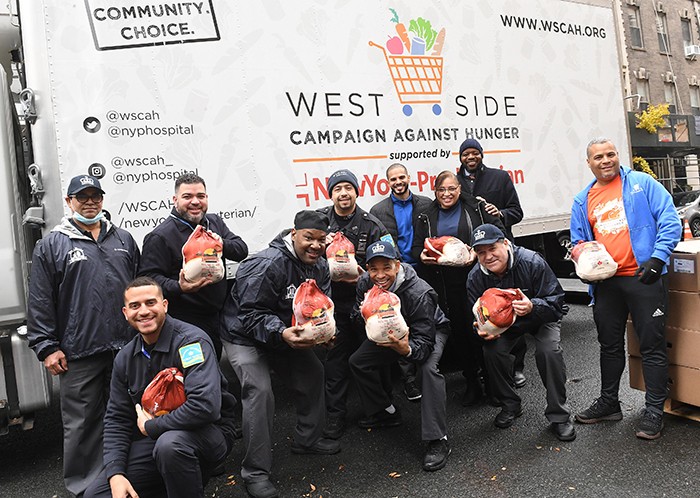 West Side Campaign Against Hunger (WSCAH) has been donating turkeys to the community for more than 20 years. This year, Columbia Community Service, Columbia Facilities, and Columbia Dining joined WSCAH to help deliver 551 turkeys to New York City families facing food insecurity. Photo by Eileen Barroso. 
---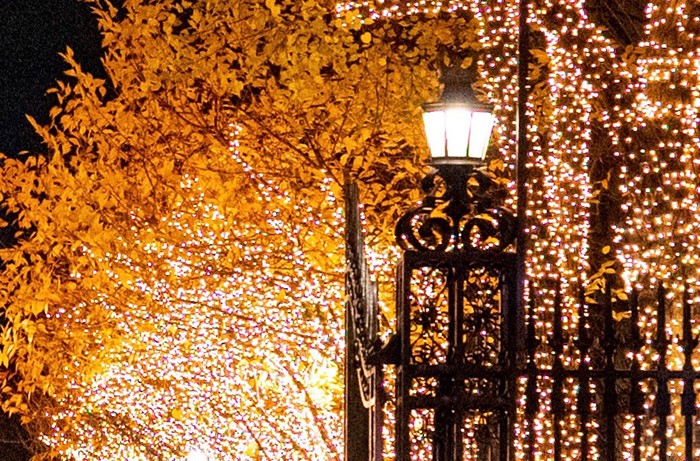 These past weeks, months, and years have been challenging and, at times, devastating for our community and the world. In the last moments of 2021, let us try to find the light in our lives. Photo by Diane Bondareff. 
---
Enjoyed this photographic journey through the last year? Don't miss our 2021 Year in Review, covering the top Columbia News stories of the year.