2022 Year in Pictures
Take a look back at some of the visual highlights of 2022 from the Columbia community. 
By
Jennifer Pellerito and Kelly Moffitt-Hawasly
December 16, 2022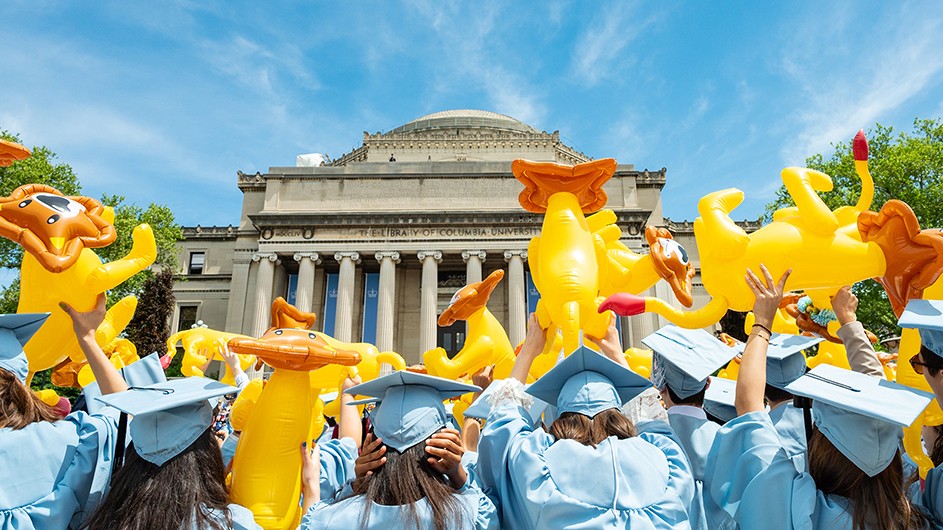 This year, Columbia came roaring back and ready for action, with a resurgence of campus activities and events. Through it all, photographers of all sorts captured the zeitgeist of the moment, whether by DSLR lens or camera phone. 
Take a visual journey with us over the past year to get a glimpse of the big and small moments that made Columbia a great place to be.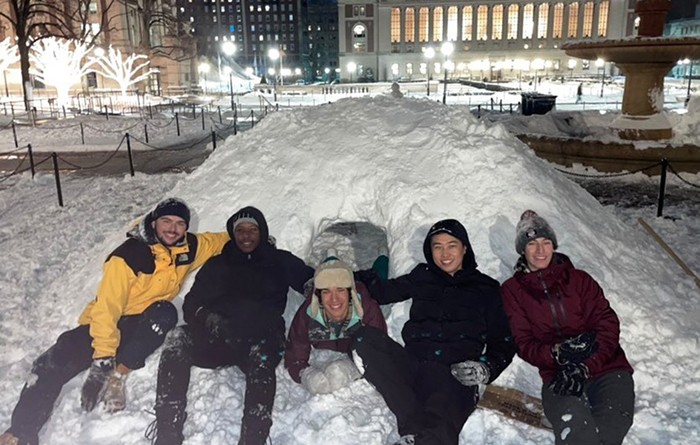 Early February 2022 marked a snowstorm for the ages and Thomas Richalot (GS'24), Thabo Ngwenya (GS'24), Chris Roman (CC'25), Bryan Zhang (GS'24), and Phillip Grabovsky (CC'25) took full advantage of the blizzard to build one of the all-time favorite snow structures, an igloo, on Morningside campus.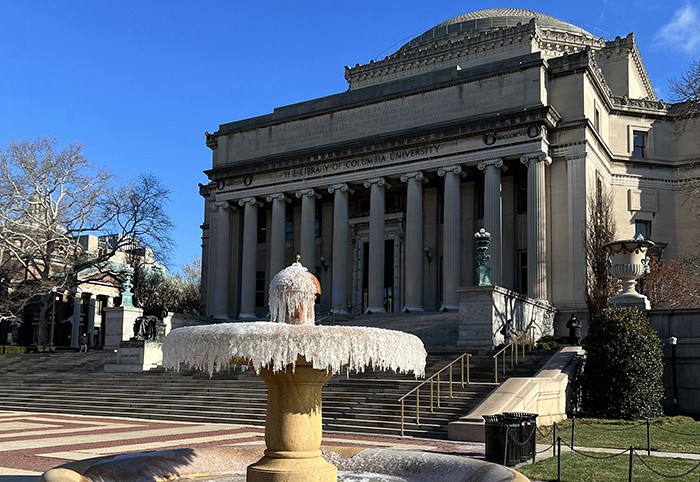 The transition from March to April was a little chaotic — warm one day and freezing the next! In a cruel April Fools joke, the Low Plaza fountains were turned on only to abruptly freeze during one of the temperature shifts. Photo by Jennifer Pellerito (SOA'07).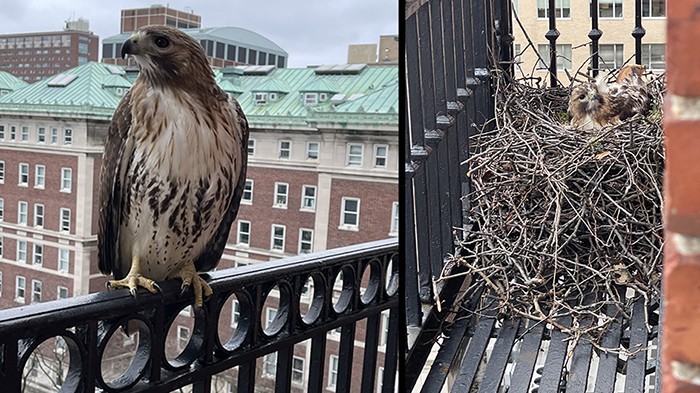 In April, two red-tailed hawks moved into John Jay on Columbia's Morningside campus and brought baby chicks into the world. The Columbia community collectively adopted the hawks, affectionately naming them the "Ginsbirds," after famous alum Ruth Bader Ginsburg. Photos by Cristen Scully Kromm.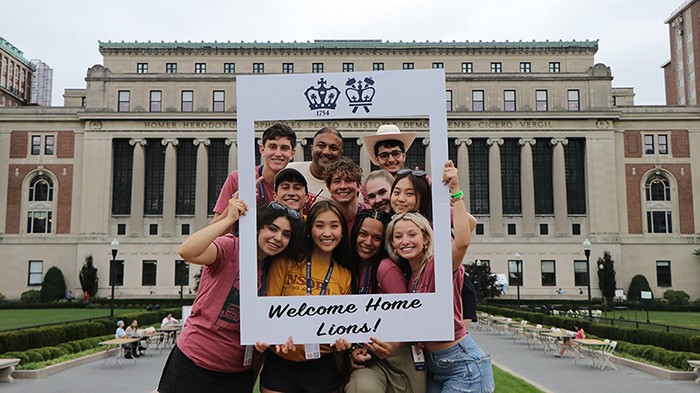 The fall 2022 semester kicked off with the New Student Orientation Program (NSOP) in August. Shout-out to the NSOP leaders for celebrating our new lions with roaring pride. Photo by Olivia Namkoong (CC'23).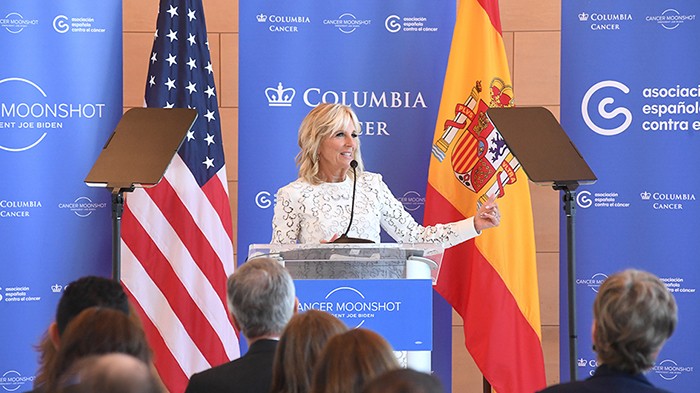 On September 21, First Lady Jill Biden and Queen Letizia of Spain discussed Columbia's strides in addressing health inequities and forward-thinking cancer research in a visit to the Herbert Irving Comprehensive Cancer Center. Photo by Eileen Barroso.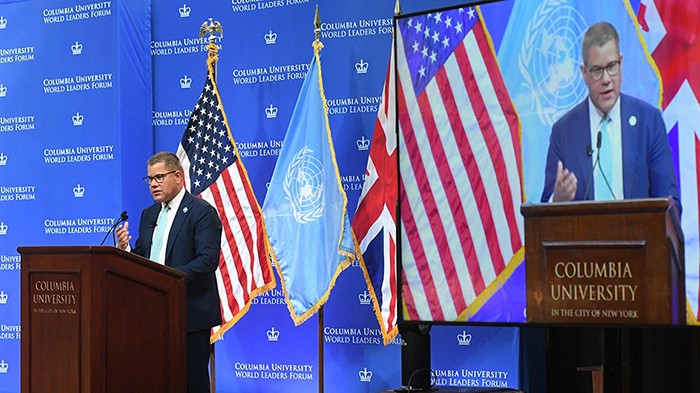 With leaders in town for the UN General Assembly in September, Columbia welcomed President of COP26 Alok Sharma to our World Leaders Forum (established by President Lee C. Bollinger in 2003) to discuss issues like climate change and democracy with Columbia students, faculty, and staff. Photo by Eileen Barroso.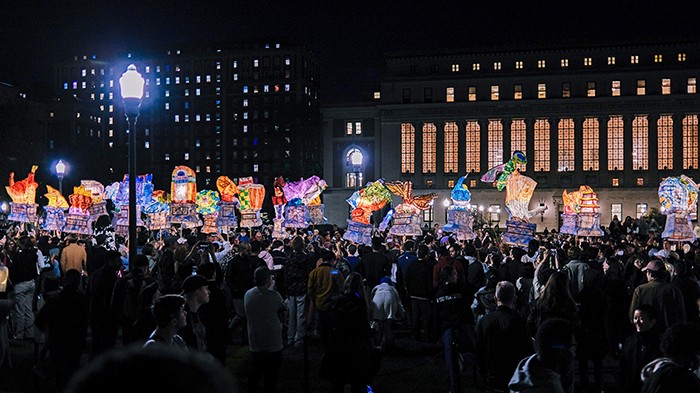 In September, dozens of makers and thousands of marchers joined together for the annual Morningside Lights parade from Morningside Park to College Walk, after a week of lantern-building workshops for Columbians and our neighbors. This year's theme was "The Reimagined Monument," a reflection on how we collectively memorialize. Photo by Adrienne Stortz.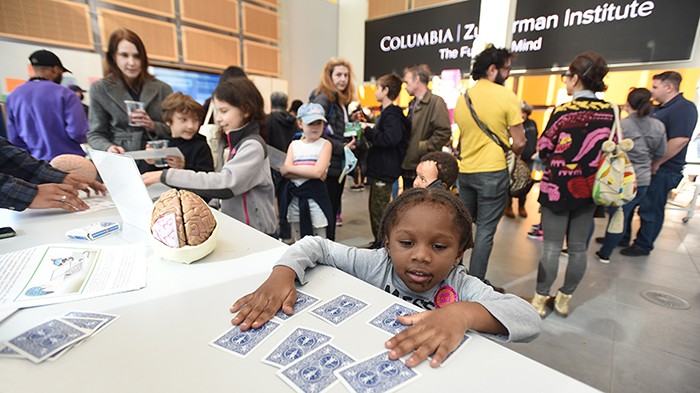 October marked the second Manhattanville Community Day of 2022, a time when friends and neighbors join together on the Manhattanville campus for food, music, and science-y fun. We loved seeing the looks of wonder on smiling faces, including this youngster enjoying a game at Zuckerman Institute. Photo by Susan Farley.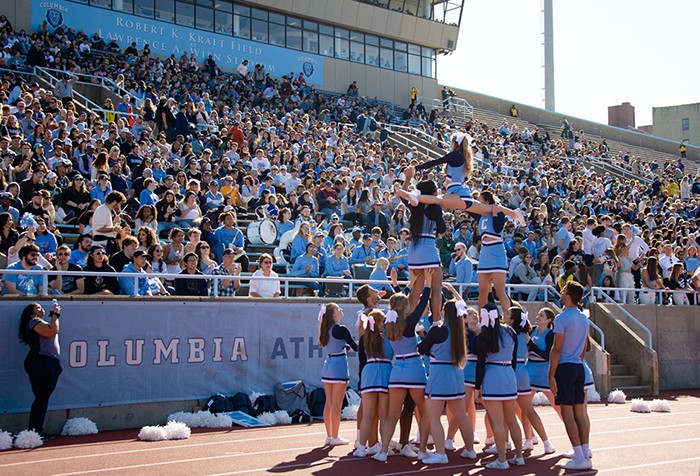 Cheers for our Columbia Lions! Lion pride soared as students, alumni, staff, and families celebrated Homecoming in October. Photo by Kathy Fang.
It is a feat as impressive logistically as our Columbia Athletics teams are powerful: the annual all-31 sports team photo, this year at Bethesda Fountain in Central Park. Photo by Mike McLaughlin/Columbia University Athletics.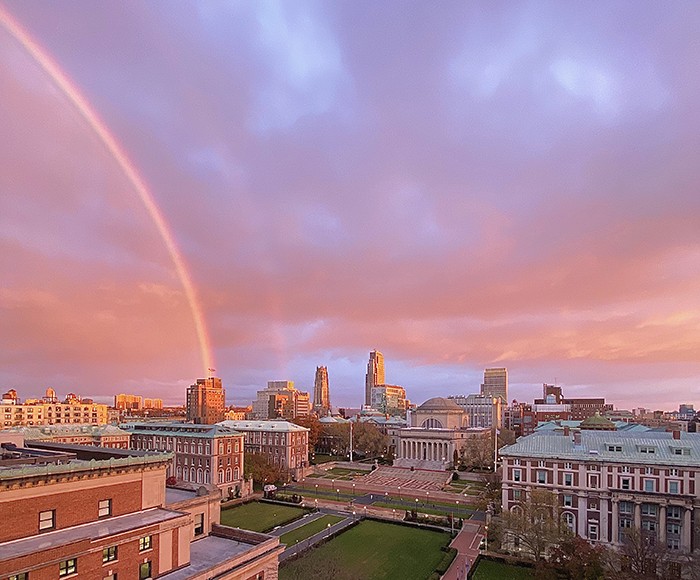 Somewhere, over the rainbow...Columbia's campus is a beautiful sight to see. In a fitting end to 2022, one of our students captured this impressive rainbow landing on our gem of a campus. Photo by Talia Cario (SEAS'26).
---
Enjoyed this photographic journey through the last year? Don't miss our 2022 Year in Review, covering the top Columbia News stories of the year.