5 Questions: Engineer's Energy Use Study Put Her Research on the Map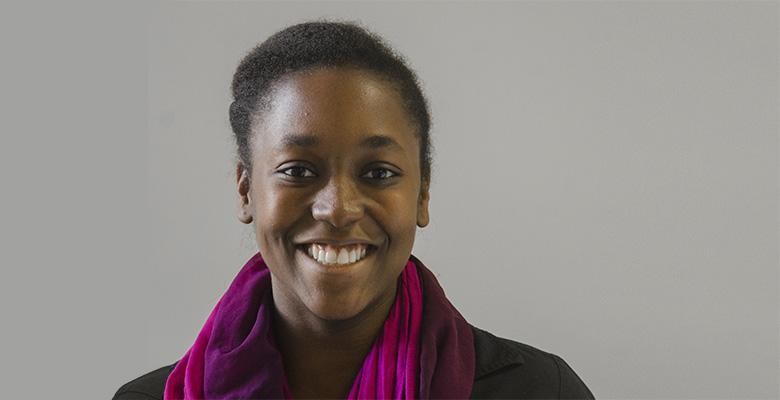 Five years ago, long before her graduation this spring from Columbia Engineering with her Ph.D., Bianca Howard's research on energy consumption won attention nationwide. As the lead author of a 2011 study that mapped the energy use of nearly a million buildings in New York City, she headed a team of researchers from the School of International and Public Affairs, Columbia's Earth Institute and the Mayor's Office of Long-Term Planning and Sustainability.
"It required her to sift through reams of data, making sense of it all and incorporating deeper statistical ideas and techniques in her work," said Vijay Modi, a professor of mechanical engineering and Howard's academic adviser. Her study presented its results in in a powerful visual way and was picked up by every major news media outlet in New York.
The research helps urban planners, policy makers and engineers understand the dynamics of the energy consumption of buildings, a major step in any effort to promote energy efficiency. "Just knowing about your own consumption can change your entire perspective," Howard said.
A native of Omaha, Neb., Howard majored in engineering at the University of Nebraska before moving 1,300 miles east to enroll at Columbia for her master's degree and Ph.D. in mechanical engineering. Now she is 3,500 miles even further east, doing additional research at Imperial College London.
Q. What brought you to Columbia?
A. In making my decision of where to go for graduate school, I mainly considered three aspects: I wanted to find a research advisor undertaking interesting research. I wanted to do that research at a good institution. And I wanted to live in a fun place. Columbia was the best intersection of each of those criteria. I was able to find Vijay Modi, who was doing interesting research on energy systems. Columbia obviously has an enormous reputation and name recognition. And it's in New York City. Perfecto!
Q. Is there one thing that defined your time at Columbia?
A. I had so many experiences during my time on campus. Good times with now lifelong friends. The stress of the qualifying exam. Happily chatting for hours about a potential research idea. "Complex Variables" was by far my favorite course. The biomedical engineering lounge. Carlton lounge. Sneaking into Business School mixers. Am café. 1020. Lionshead. The Heights. Summer lunches at Dinosaur BBQ. The education on coffee. Joe's. Presenting research to a room of 100 people. The joy when something works. The pain when it doesn't. There was not one single moment that defined my time at Columbia and I think to try to define it by one would be a disservice.
Q. Was there some experience outside of the classroom that had the greatest impact on you?
A. There were two experiences that had meaningful impacts on me during my grad school experience. First, I was fortunate enough to participate in research that led to the development of an online energy map of New York City that received a significant amount of press. During that time I understood a bit more about how the world works and what it feels like to do research that can have a worldwide impact. This led to many opportunities. I even was able to have my picture and a few words about my research printed in Elle magazine. Second, during my time at Columbia I founded the student group Diversity in Graduate Engineering. While a small group, we had impact where it counts. We were able to participate in outreach activities with historically under-represented students from across the U.S. and within the Columbia Engineering community, which I really enjoyed.
Q. What's the best part about studying in New York City?
A. Being here. I loved spending my Ph.D. in New York. It's such a multifaceted and diverse place. The best part: the escape that it is right outside of the Columbia gates. If you get tired of studying, want to branch out and meet completely different people, crave some good Vietnamese food, yearn for relaxation at Russian baths, long or an emotional rollercoaster at the opera, or are itching to boogie to Bhangra dance music—it's all there once you walk outside the gates.
Q. What's the next big leap for you?
A. As of now I'm staying in the academic track. I'm currently a postdoctoral researcher at Imperial College London in its Urban Systems Lab. We're working on leveraging data collected from information and communications technology systems to develop responsive, and therefore energy-efficient, building space conditioning systems.