5 Questions on the Midterms with Knight First Amendment Institute Head Jameel Jaffer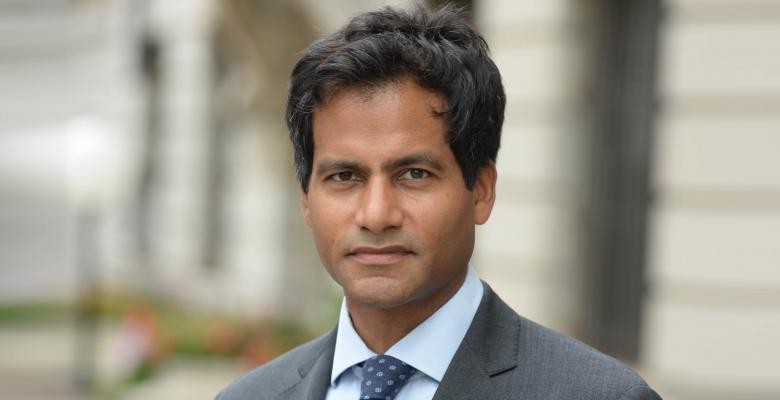 The Knight First Amendment Institute at Columbia University was created in early 2017, to preserve and expand First Amendment rights in the digital age through research and education. It also supports litigation that promotes the protection of freedom of expression and the press. Here, its director, Jameel Jaffer, discusses what the Institute is working at this political inflection point.
Q. What are the most significant threats to free speech right now?
A. President Trump has expressed extraordinary hostility to the press, and I'm sure this has undermined many Americans' confidence in the press and respect for the First Amendment. Still, I think the most significant threats to free speech emerged before Trump was elected and will remain with us after he is gone.
One of them has to do with new technologies of surveillance that can be used to monitor constitutionally protected speech and association, which can chill the exercise of First Amendment rights. At the Knight Institute, we've taken on a series of projects—with partners including the Yale Information Society Project and the Brown Institute at Columbia Journalism School—to investigate and measure the chilling effect and to revive the First Amendment as a constraint on government surveillance. One example: We filed a Freedom of Information Act suit to learn more about the Department of Homeland Security's practice of searching travelers' laptops and cellphones at the international border. (Incredibly, DHS conducted more than 30,000 of these suspicion-less searches last year.) We've also been closely tracking the State Department's plan to require all visa applicants to register their social media handles with the government. These kinds of policies have obvious privacy implications, but they also present a serious and insidious threat to the freedoms of speech and association.
Q. Tell us about your case, Knight Institute v. Trump. What is happening with Trump's appeal?
A. Like many public officials, President Trump uses social media as a means of engaging with his constituents. His @realDonaldTrump Twitter account now has some 50 million followers. He uses it as an extension of the presidency, to defend his administration's policies and to announce appointments to government posts. Unfortunately, he's blocked many of his sharpest critics, preventing them from participating in the comment threads associated with his tweets. Last summer, we sued the president and his aides on behalf of seven of these critics, arguing that his Twitter account is a "public forum" under the First Amendment and that his practice of blocking critics constitutes unlawful discrimination on the basis of viewpoint. A federal district court in New York agreed with us and the White House has since unblocked hundreds of people. The White House also appealed the court's decision, so we'll be defending that decision in the court of appeals later this fall.
Q. What prompted the Institute to ask Facebook to lift restrictions on digital journalism and research? What is the status of your request?
A. Journalists and researchers play a crucial role in illuminating Facebook's influence on public discourse, but Facebook's terms of service prohibit them from collecting data by automated means. They also prohibit them from using temporary research accounts to probe the algorithms that underlie the platform, and make it difficult for journalists and researchers to study problems like disinformation, filter bubbles, and discrimination. Over the summer, the Knight Institute asked Facebook to create a "safe harbor" that would allow journalists and researchers to do the work we need them to do, while still enabling Facebook to protect the privacy of its users and the integrity of its platform. We're now talking to Facebook about what changes it might be willing to make in response to our proposal.
Q. Talk about the Knight Institute's work with the ACLU on the prepublication review process for former intelligence agency employees. How is this related to the First Amendment?
A. Millions of current and former intelligence agency employees who once had access to classified information—and many who didn't—are generally prohibited from publishing manuscripts that touch on their experience in government without first submitting them to the government for approval. The requirement to submit one's manuscript for advance review is a prior restraint, and the requirements are unclear, overbroad, and vary significantly from one agency to the next. Manuscript review can take months. Agencies' censorial decisions are often arbitrary, and motivated by concerns unrelated to national security. The collective effect is to silence voices that are especially important to the public's ability to understand and evaluate national security policy. With the ACLU, we've been litigating Freedom of Information Act requests and interviewing former intelligence agency employees to better understand how the prepublication review system works, or doesn't. We hope to be able to propose a slate of reforms, at least.
Q. What's next for the Knight Institute?
A. You can expect to hear a lot more from us about how to address the outsized power that a small number of technology companies now exercise over our shared speech environment. We've also been thinking about ways in which we might be able to collaborate with computer scientists, engineers, and other technologists on projects that involve free speech and new technology. There is a whole set of problems that neither lawyers nor technologists can hope to solve on their own — but that perhaps we can solve, or begin to solve, together.