5 Questions: Real Estate Prof. Lynne Sagalyn Probes the Redevelopment of Ground Zero
The complexities involved in getting this done are detailed in Power at Ground Zero: Politics, Money, and the Remaking of Lower Manhattan, by Lynne Sagalyn, the Earle W. Kazis and Benjamin Schore Professor Emerita of Real Estate at Columbia Business School. It is a story about federal, state and local politics and the interaction of ambition, ego and money—she estimates the total cost at more than $25 billion in public and private funds. "The symbolism of the reconstruction extended far beyond New York and was freighted with the twin tasks of symbolizing American resilience and projecting American power while memorializing the human losses of that day," she said.
Sagalyn, an expert in real estate development and finance who was the founding director of Columbia's Paul Milstein Center for Real Estate, has done extensive research on public-private partnerships and urban development. She came to Columbia in 1992 from MIT and retired from full-time teaching last June. Her previous book, Times Square Roulette: Remaking the City Icon, chronicled the redevelopment of 42 nd Street. A New York native who lives on the Upper West Side, she has a Ph.D. in urban studies from MIT.
Related
Q. What was so important about rebuilding at Ground Zero?
A. The destruction of the World Trade Center complex on 9/11 set in motion a chain of events that fundamentally transformed both the United States and the wider world. But the symbolic locus of the post-9/11 world has always been the 16 acres in Manhattan's financial district where the twin towers collapsed. Mayor Rudolph Giuliani promised to rebuild on the morning of Sept. 12, 2001. The reconstruction project was about more than real estate dealings and political jockeying. While modern city building is often dismissed as cold-hearted and detached from meaning, virtually every action in rebuilding Ground Zero was infused with significance, and the emotional dimension of 9/11 supercharged the complexity of the rebuilding process.
 
Q. What were some of the biggest challenges?
A. The fragmented ownership of Ground Zero raised thorny issues of control. A structure for making decisions, setting priorities, and resolving differences was sorely lacking. While idealism dominated in the initial planning phase, interest-group trench warfare soon ensued. Any leadership force had to fight the politics of the complicated structure and its central stakeholders—the Port Authority, the Silverstein Investor Partnership, the 9/11 families, the State of New York, and the City of New York—all of whom became adversaries as they pushed their individual ambitions for rebuilding Ground Zero. Public-private real estate ventures need a protocol for determining who will be in charge and how major decisions will be made. They need more than ideals, more than plans, and more than deals.
Q. What does this say about public-private partnerships in the future?
A. Rebuilding Ground Zero was not a typical public-private project. Before 9/11, the two partners, the Port Authority and real estate developer Larry Silverstein, were aligned in the sale of a 99-year leasehold on the WTC site, which was completed six weeks before the complex was destroyed. When the site had to be rebuilt, the lease had to be amended in line with what was now a high-profile project with a clear public interest—the remembrance mandate and the need to rebuild for the future economic viability of lower Manhattan. To a considerable degree, the experience at Ground Zero presents elected officials and policymakers with a question they are likely to confront again: What kind of governance structure is best suited for resolving conflicts across fragmented property rights and fragmented government power?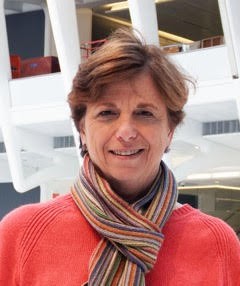 Lynne Sagalyn
Q. Your research for Power at Ground Zero took 12 years. What did that entail?
A. I interviewed approximately 150 people, many several times, read through hundreds of primary documents and thousands of news articles and other secondary materials. The challenge was to simplify the complexity of its political history without sacrificing its richness while explaining how the politics of money—in public agencies like the Port Authority as well as in the private offices of real estate developers like Silverstein—shapes critical decisions of our urban environment.
Q. Has the project fulfilled the dual mandate of remembrance and revitalization of lower Manhattan?
A. Yes, but not fully, yet. Half of the 16-acre site is devoted to remembrance. But the two existing office buildings are still seeking tenants while another is under construction. The fourth planned tower awaits commitment from an anchor tenant before moving forward and the fifth is still years away. And, notably, the cultural component of the master plan, the Ronald O. Perelman Performing Arts Center is now set to open in 2020, according to a recent press release. Even so, rebuilding has been accomplished in a shorter time than what it has taken to realize other large-scale city building ventures, 42nd Street at Times Square and Battery Park City, for example.