5 Things to Know About Columbia Community Service: What It Is and How You Can Get Involved
Learn the key details about an important initiative supported by employees and retirees that helps Upper Manhattan thrive.
November 21, 2022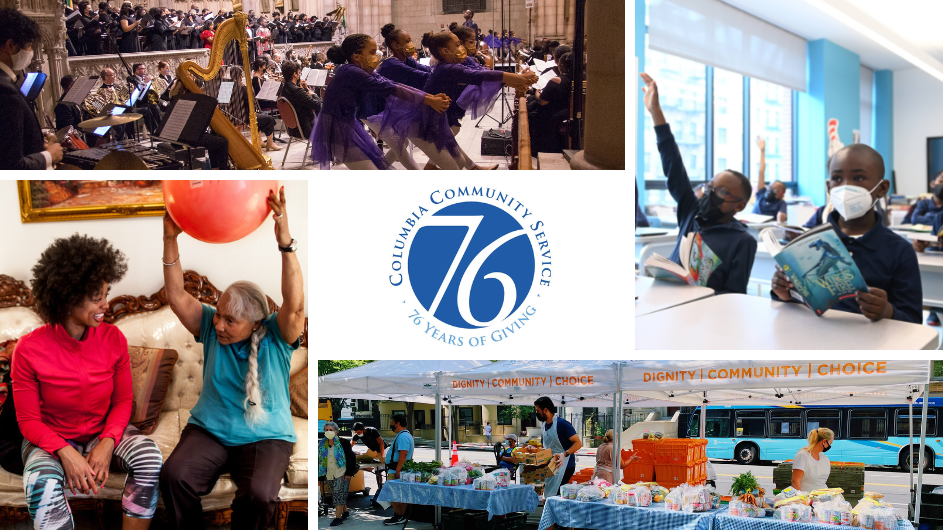 Maybe you've seen the emails going out in previous years, or maybe this is your first year at Columbia and you're just hearing about Columbia Community Service. Either way, here are quick answers to the questions you might have about the program, what it is, and why it's important.
1. What is Columbia Community Service?
Columbia Community Service (CCS) collects donations from employees and retirees every year to support organizations doing important work in Morningside Heights and Harlem. Donations come from Columbia, Barnard, and Teachers College faculty, staff, and retirees. With those donations, CCS provides grants to more than 60 organizations that work throughout the community to provide essential social services, help keep families fed, enrich arts and cultural offerings, and provide educational support.
You can donate to CCS with a credit card or via payroll deduction.
2. What does a donation to Columbia Community Service do?
Because CCS's operating costs are paid by the university, 100% of your donation to CCS goes to support local organizations that are combatting hunger, providing educational enrichment and social services, and supporting arts and culture. The money you give helps keep summer camps operating, provides scholarships for children to attend after-school and enrichment programs, supports the health and well-being of older adults, and much more.
With a single donation to CCS, your dollar reaches a wide range of organizations, supporting their missions and increasing their impact.
3. Which organizations does CCS support?
CCS supports more than 60 organizations, including food pantries, tutoring programs, language learning programs, athletic and academic enrichment programs, and many others. Last year, as part of the 75th Annual Appeal, CCS added 11 new organizations to its list of grantees: Association to Benefit Children, DOROT, Friends of Morningside Park, Hit the Books, In Arms Reach, Inc., Moving for Life, Riverside Hawks Leadership Academy, STEM Educational Institute, The Community Initiatives of NY, The HOPE Center, and The Parris Foundation.
See the full list of CCS grantees.
4. How did CCS get its start?
During World War II, a group of civic-minded women affiliated with Columbia joined together to make a difference both locally and globally. Their efforts began with fundraising for the war effort, but soon expanded to the Columbia Committee for Community Service, which by the early 1960s was beginning to focus heavily on supporting local, neighborhood organizations. 
Learn more about the history of CCS.
5. How can I get more involved with CCS?
There are a lot of ways to get involved beyond supporting the 76th Annual Appeal financially! You can volunteer with a CCS grantee, with opportunities to provide tutoring, do archival work, distribute food at pantries, and much more. You can also participate in one of the many drives CCS runs to collect gently used clothes and toiletries, toys, and more. This year's toy drive, benefiting nine different CCS grantee organizations, will run from December 7-13. Next week, you can donate gently used clothing and non-perishable food items during Clean + Go Green, and those items will be given to CCS grantees.
You can even become a CCS ambassador and work with CCS to encourage your colleagues to donate.