56 Columbia Faculty Earn Tenure in 2022
From science to engineering, writing to social sciences, here are the Columbians who received awards recently.
October 19, 2022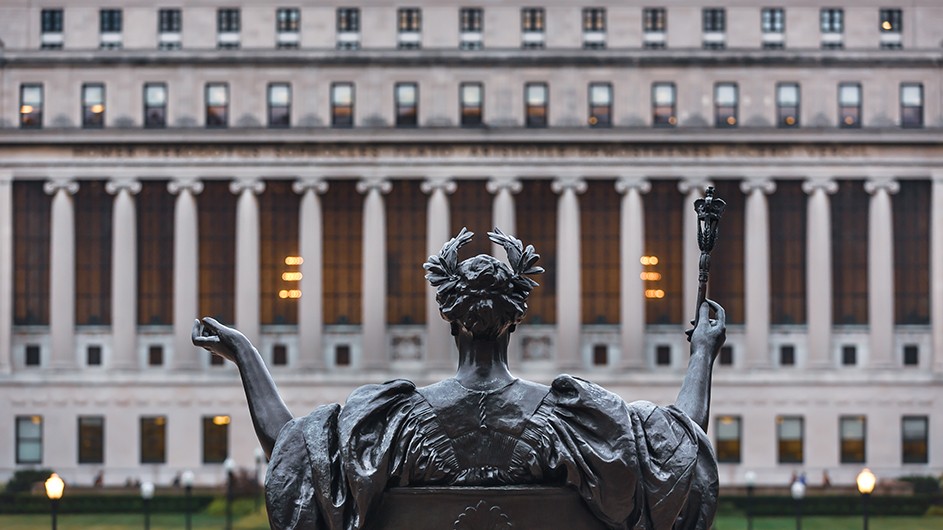 Columbia News produces a biweekly newsletter (subscribe here!) and article series featuring a roundup of awards and milestones that Columbia faculty, staff, and students have received in recent days. In this edition, you'll find awards and milestones from Oct. 6 to Oct. 20, 2022.
Have an award or milestone you'd like to have featured in the newsletter or article online? Please send an email to [email protected]. Note that we'll be running this series every other week. 
You can take a look at past accomplishments on our Awards & Milestones page. And you can subscribe to receive the newsletter in your inbox. 
INSTITUTIONAL
An Oct. 13 reception in Low Library recognized 56 faculty who earned tenure in 2022, inaugurating a new Office of the Provost annual tradition to recognize a major career milestone.
ARTS & HUMANITIES
Deborah Steiner and Katharina Volk, both Classics professors, are 2022 recipients of the Charles J. Goodwin Awards of Merit, which honor outstanding contributions to classical scholarship by the Society for Classical Studies.
Joseph Howley, Classics professor, and Noah Chasin, adjunct professor at the Graduate School of Architecture, Planning, and Preservation, have been named 2022 recipients of the Faculty Mentoring Awards, presented annually to two Columbia faculty members to recognize excellence in mentoring PhD and MA students during their graduate careers.
SCIENCE & MEDICINE
Gregory Alexander, Helen Young CUPHSONAA Professor of Nursing, was appointed co-chair of committee #7 on the Moving Forward: Nursing Home Quality Coalition.
Elham Azizi, Herbert and Florence Irving Assistant Professor of Cancer Data Research and assistant professor of biomedical engineering, has received a Chan Zuckerberg Initiative Science Diversity Leadership award for her project titled "Computational Modeling of Regulatory Mechanisms in the Spatial Breast Tumor Microenvironment Purpose."
Don Boyd, associated director of the Nurse Anesthesia Program, received the Novice Faculty Excellence in Didactic Teaching Award by the American Association of Colleges of Nursing.
Leon Chen, associate professor of nursing, was named a Fellow of the American College of Critical Care Medicine. 
Ruth DeFries, co-founding dean of Columbia Climate School, University Professor, and Denning Family Professor of Sustainable Development in the Department of Ecology, Evolution and Environmental Biology, is the winner of the eighth annual Columbia University Press Distinguished Book Award for What Would Nature Do? A Guide for Our Uncertain Times. 
Wafaa El-Sadr, University Professor and director of Columbia Global and ICAP, will receive the American Public Health Association Sedgwick Memorial Medal for Distinguished Service in Public Health for her groundbreaking work in global HIV research, treatment, and care.
Sankar Ghosh, Silverstein and Hutt Family Professor of Microbiology and chair of the Department of Microbiology & Immunology at the Vagelos College of Physicians and Surgeons, was elected to the National Academy of Medicine for his pioneering studies of NF-kB, a family of central regulators of immune cells, and establishing strategies to target NF-kB in the treatment of inflammatory diseases and cancer.
Yiping Han, professor of microbial sciences in Dental Medicine and Microbiology and Immunology, is president-elect of Anaerobe Society of the Americas. She will become president in 2024.  
J. John Mann, Paul Janssen Professor of Translational Neuroscience in Psychiatry and Radiology, was selected by the Brain and Behavior Research Foundation's Scientific Council as the winner of the Colvin Prize for Outstanding Achievement in Mood Disorders Research.
Shree Nayar, T.C. Chang Professor of Computer Science, was elected as a Foreign Fellow of the Indian National Academy of Engineering for his pioneering work, which is focused on three areas: the creation of novel cameras that provide new forms of visual information, the design of physics-based models for vision and graphics, and the development of algorithms for understanding scenes from images.
Baishakhi Ray, associate professor of computer science, recently won a Distinguished Paper Award at the IEEE/ACM International Conference on Automated Software Engineering (ASE 2022) for "CARGO: AI-Guided Dependency Analysis for Migrating Monolithic Applications to Microservices Architecture."
Meghan Turchioe, assistant professor of nursing, was named a Health Equity Scholar by the COMMUNITY Center.
Olajide Williams, professor and chief of staff of the department of neurology, received the Distinguished Community Service Award, underwritten by TIAA, from the United Hospital Fund for his work improving health literacy through the transformative power of music, art, and science. 
Xiaoyang Zhu, Howard Family Professor of Nanoscience in the department of chemistry, was awarded the American Physical Society's 2023 Earle K. Plyler Prize for Molecular Spectroscopy and Dynamics for his research in the spectroscopy and dynamics of molecular condensed materials.
ENGINEERING
James Hone, Wang Fong-Jen Professor of Mechanical Engineering and chair of the department of mechanical engineering, was awarded the American Physical Society's 2023 James C. McGroddy Prize for New Materials for his contributions to the synthesis and assembly of high-quality 2D materials and their heterostructures.
STUDENTS
Five Columbia General Studies students and five Barnard College students have been selected to join the inaugural cohort of the Intrapreneurial Leadership Fellows Program 2022-2023:
Leslie Blanco (GS'24)
Elizabeth Bordi (GS'23)
Daniella Coen (GS'24)
Nazira Davroni (BC'25)
Flavie de Germay de Cirfontaine (BC'23)
Ebonnie Goodfield (GS'24)
Mary Ingram (BC'23)
Frankii James (GS'26)
Meredith Kol-Balfour (BC'24)
Rinka Tonsho (BC'24)
STAFF
Michelle Margolis Chesner, Norman E. Alexander Librarian for Jewish Studies, has been named president of the Association of Jewish Libraries for 2022-24. 
Hadia Sheerazi, program manager of the Carbon Management Research Initiative at the Center on Global Energy Policy, Columbia Climate School, was recently named one of the honorees on the first global "50 Rising Stars in Environmental, Social, and Governance (ESG): Women of the Future" list.
Nine women who work for Columbia's Facilities and Operations team were recognized at the Women Builders Council's 17th Annual Champion Awards Red Tie Reception on September 21: 
Terri Caldes, director, Human Resources 
Emerald Currie, director, University Events Management 
Tammy Cockerham, manager, Training & Quality Assurance 
Sejal Shah, manager, Distributed Energy Systems 
Eleonora Andreeva, project manager, Manhattanville Development Group  
Sarah Milena Matos, supervisor, Client Services – Operations 
Angela Ramos de Tejada, supervisor, Custodial Services – Operations 
Adriana Childress, project manager, Manhattanville Development Group 
Karmen Naidoo, manager, Engineering Audit