6 Things to Know About Commencement 2023 and Graduation Season at Columbia
May 17 marks Columbia's largest celebration of the Class of 2023, here are six things graduates and their guests should know.
April 07, 2023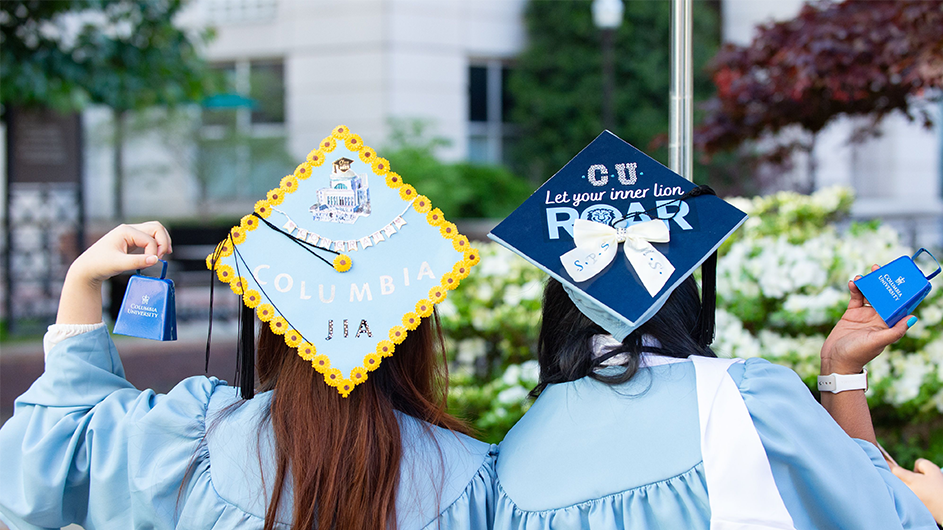 As flowers begin to bloom across Columbia's campuses, so does our excitement about celebrating the Class of 2023 this spring. May 17 marks the largest celebration of our grads, with University Commencement, but that day is surrounded by more than a week of graduation festivities, from class days to the baccalaureate service. 
You may have some questions as we prepare to celebrate and Columbia News is here to help with six things you should keep in mind this graduation season.
Read through those things below, but don't forget that the Commencement website is here for you with up-to-the-minute updates about this year's festivities. The Commencement team has even made specific guides for both University Commencement and school ceremonies for when you and your families come to campus.
If you have more specific questions, you can always reach out to their helpline at [email protected]. 
1. Share Your Photos and Grad Stories Throughout the Season. #Columbia2023
We want to celebrate YOU. With that in mind, make sure that you share your Columbia story, graduation pictures, and Commencement experiences using the hashtag #Columbia2023. 
You can also share your picture with us to be used in Commencement storytelling using this form on Airtable. Here, you'll also be able to answer questions that might be featured on Columbia News throughout April and May:
What book had a profound impact on you during your time at Columbia? And what is the best-kept secret spot on campus to read that book?
What is the name of a class you took at Columbia that moved you?
Who is a professor you would like to thank from your time here?
What one-sentence advice would you give to the next generation of Columbians?
REMEMBER: Commencement setup starts earlier than you think! Make sure you grab a photo in your regalia with Alma Mater before April 14, when construction begins. Not taking photos until later? We've got you covered with this list of equally iconic spots to take grad photos on campus.
Regalia is required for Commencement. All academic attire, including the cap and gown, is ordered through the Columbia University Bookstore. You can find more information here. 
2. Anyone Above the Age of Three Needs a Ticket to Commencement...
Registration is required for Commencement and school ceremonies, for both graduates and guests. For Commencement, undergraduate degree candidates may register for up to four guest tickets and graduate degree candidates may register for up to two guest tickets each.
Keep an eye on your email for the ticket registration links, which are rolling throughout the spring semester as students become eligible. Tickets are limited due to space constraints, but don't worry, they won't run out by the time they become available to you. That is a promise.
3. ... But Commencement Will Be Livestreamed for Everyone to Watch Around the World.
With ticket limits in mind, though, we're ensuring everyone who wants to view Commencement will be able to stream the ceremony on the Commencement website, Columbia homepage, and Columbia YouTube channel. This way, friends and family from all over the world can tune in to help celebrate the Class of 2023!
Stay tuned for more information about Class Day livestreams. 
4. This Year's Commencement Program Will Be Digital, so Come Prepared With a Fully Charged Phone and/or External Battery (For Photos, Too!)
Columbia is reducing its carbon footprint by reducing the amount of printed material distributed at Commencement. This year, that includes the program for the event, which will be distributed electronically and include information on musical performances, speakers, award winners, and honorary degree recipients. You can find the official Commencement program here a little closer to the ceremony as well as via a QR code on signage displayed throughout the event.
5. Help Us Make Commencement Sustainable — Bring a Reusable Water Bottle With You!
Columbia is committed to global sustainability efforts. Here's where you can learn about green initiatives at Commencement. Most important for your planning, single-use plastic bottles will not be distributed. Guests and students should bring their own reusable bottle that can be refilled at any of the water refill stations that will be available on Morningside campus during Commencement Week.
6. Looking for a Lactation Area or Changing Table? We've Got You Covered. 
For graduates or guests who are breastfeeding or our youngest guests who need a diaper change, Columbia is providing specified lactation and changing table locations across campus throughout Commencement week. You can find the full list of locations at the bottom of this page and listed below:
Dedicated baby changing stations will be available at the following locations from Friday, May 12: 
For guests that require a lactation room:
For graduates that require a lactation room during Class Day lineups from Friday, May 12, through Wednesday, May 17:
For graduates that require a lactation room during University Commencement on Wednesday, May 17, four locations are available on upper campus. Please pre-arrange swipe or keycode access by contacting the Work Life office at [email protected] or (212) 854-8019 by Wednesday, May 10, 2023. For more details on these locations, please visit the Work Life website.
More questions?
The Commencement website is your best friend! At this university resource, you can find information about the Commencement ceremony itself, school ceremony information, frequently asked questions, and it is the place you can go to be sure you'll catch the ceremony live stream, in addition to Columbia's YouTube and homepage.