12 Great Places to Take Graduation Pictures on Columbia's Campuses (Besides Our Favorite, Alma Mater)
Construction for Commencement and Graduation Ceremonies takes place sooner than you think on Columbia's Morningside campus. Here are some great alternative photo locations for your graduation photos!
By
Kelly Moffitt and Jennifer Pellerito
April 07, 2022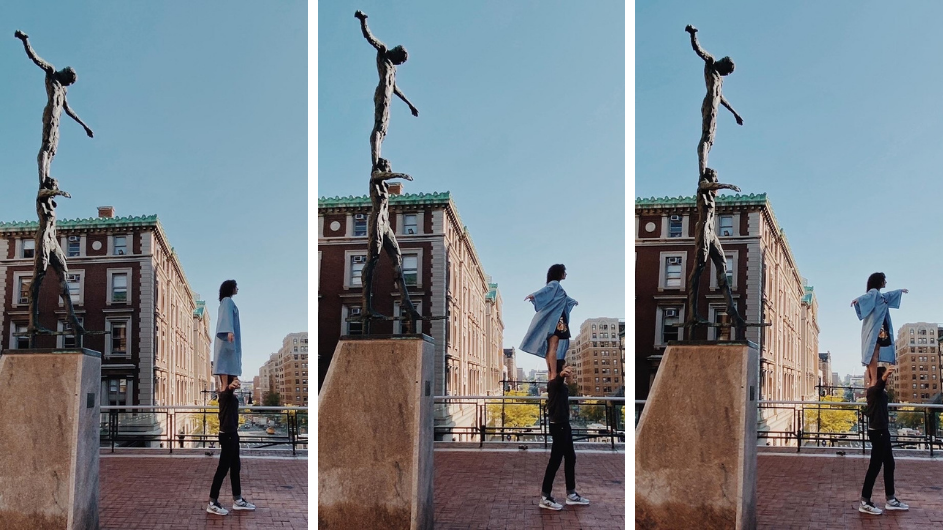 Graduation season is here! Get your cameras ready! At Columbia, everyone wants to grab an iconic photo with Alma Mater, Low Library, and in front of Butler Library in their regalia, but construction for commencement and school ceremonies starts earlier than you think. This year, bleachers will begin to be installed in mid-April. What's a grad to do? Columbia News has you covered. 
Below, find some ideas for alternative grad photo locations all over Columbia's campuses that will make you look your best. And check out the most daring pose above, by Carolyn Rose (CC'22) and Sam Landa (GS'22), taken at Revson Plaza's "Tightrope Walker" statue.
1. The Sundial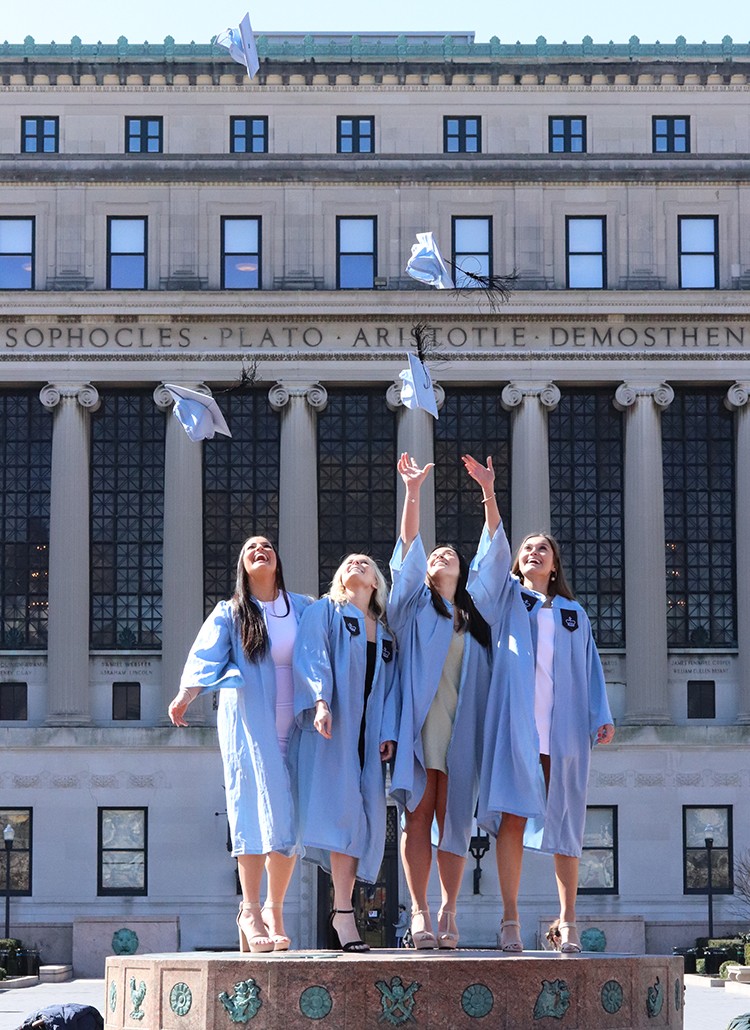 O.K., well, we know the sundial in between Butler Library and Low Library isn't exactly alternative for grad pictures, but we couldn't help ourselves—we love a good grad-cap throw there. Make sure you grab your photo before the space fills up!
2. The Columbia Gates
A celebratory spot with great signage to boot: the Columbia gates. Yaroslava Zaitseva (GS'21) nails the blurry-cap-in-motion moment. 
3. Scholars' Lion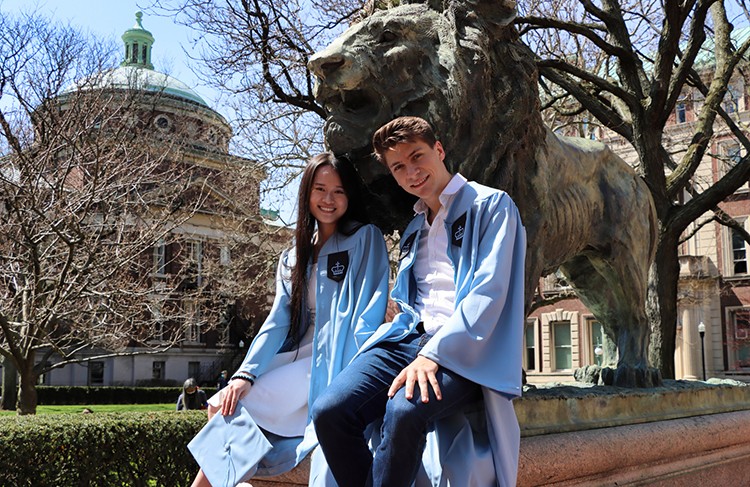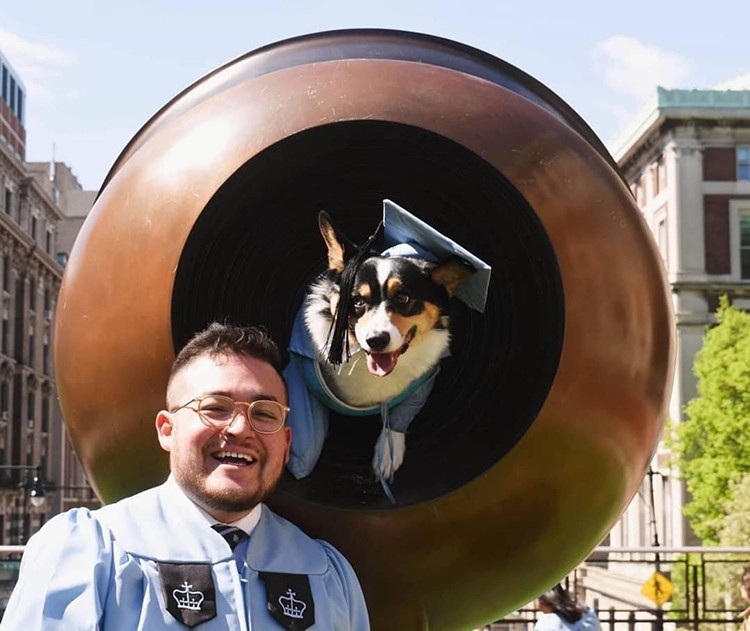 First things first: Pets are welcome, nay, encouraged in graduation pictures on campus. We love this one from Jon Carlo Dominguez (CC'19) and Hudson the Corgi in David Bakalar's "Life Force" sculpture on Revson Plaza. 
5. Le Marteleur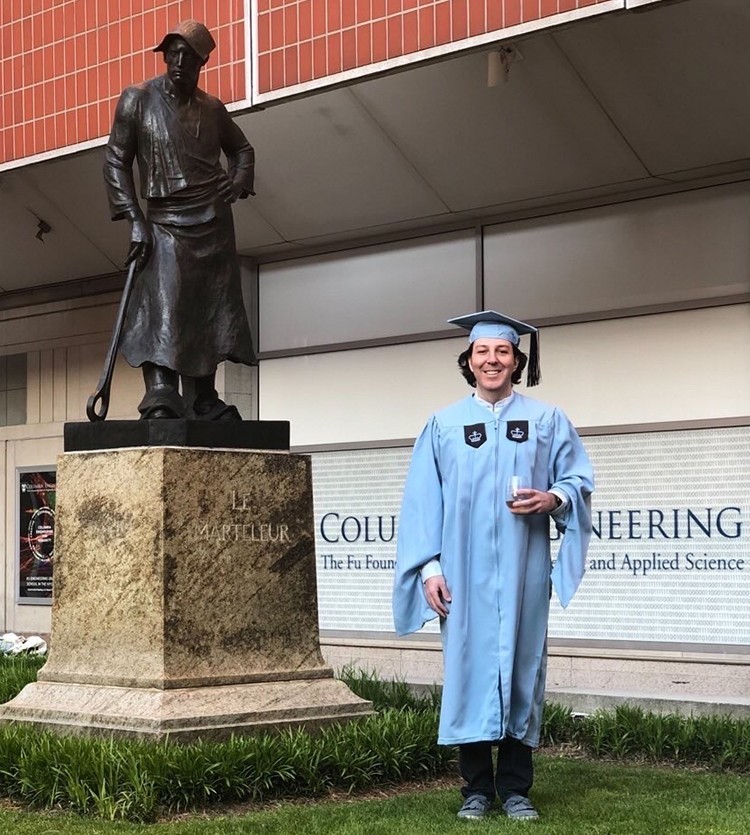 We personally think Constantin Meunier's Le Marteleur (The Hammerman) sculpture in front of the Mudd Building does not get enough love in graduation pictures. A great option for our engineering students, like Ari Zingillioglu (SEAS'20) pictured above, or anyone who enjoys a classic contrapposto pose, really. 
6. The Thinker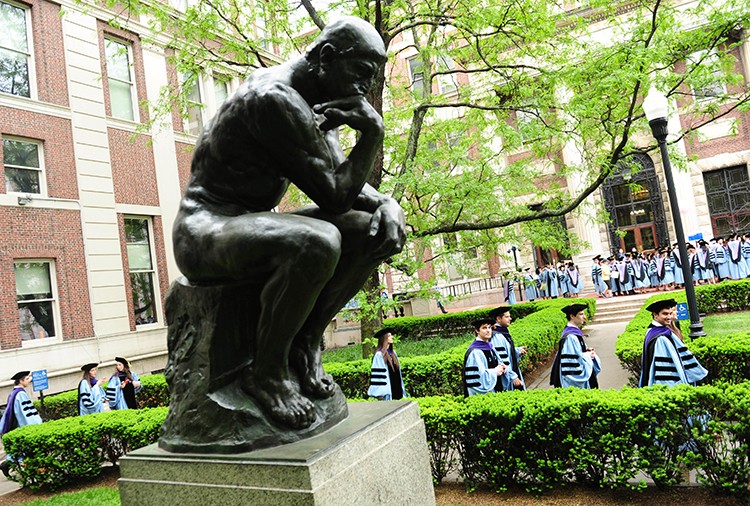 You've spent years cramming, studying, crunching the numbers, pondering life's big questions and you're NOT going to pose with The Thinker, the most philosophical of statues on campus? Situated on the lawn outside of Philosophy Hall, a pose with this statue is the perfect encapsulation of the academic side of the college experience. 
7. Curl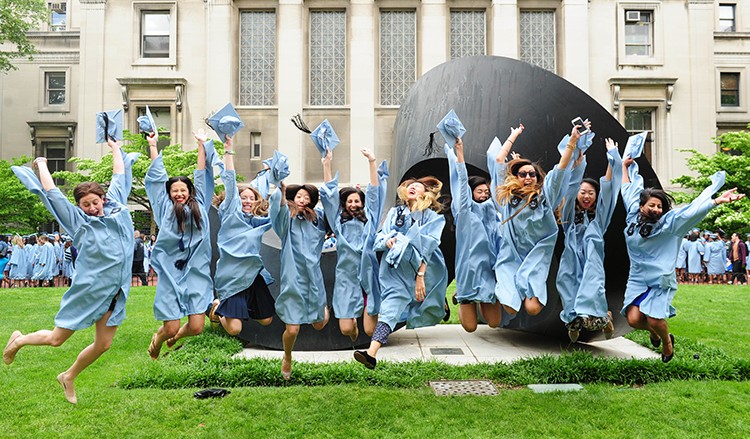 Like the ribbon on a graduation present, Meadmore's "Curl" sculpture in front of Uris Hall is a fun and festive spot for a group shot. 
8. Barnard Gate (+Bonus)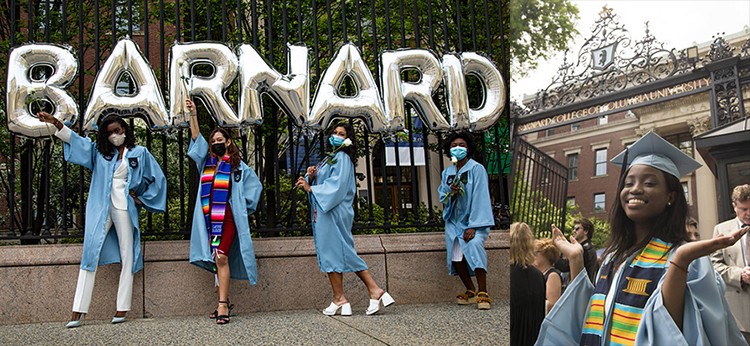 Barnard College's balloon game is always top-notch around commencement. You can find these prominently displayed by the Barnard Gate, also pictured. 
Two bonus ideas: The orange elevator at the Diana Center or the Diana Center Staircase has great light.  Below, Anna Fondiller (BC'19) shows us how it's done.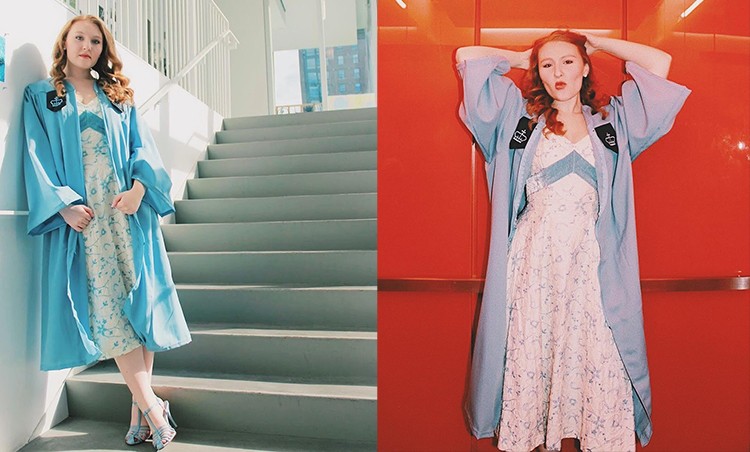 9. Teachers College Views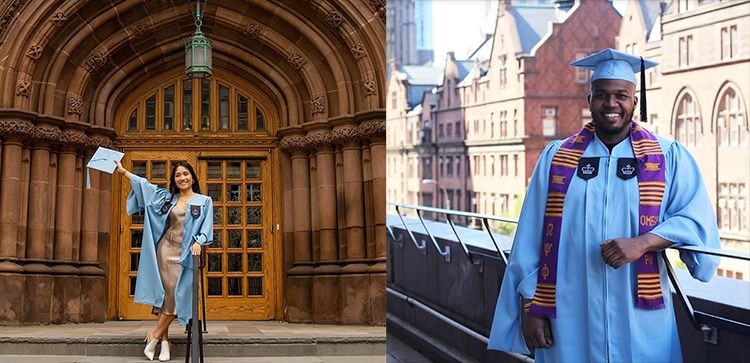 We've always thought the Teachers College campus has Harry Potter vibes and that certainly comes through in these photos. Lauren Salazar (TC'21) is at the Zankel Building entrance, and John E. Williams (TC'19) is at the landing on the stairs behind Schapiro Hall. These spots are a lovely addition to your graduation photo repertoire.
10. Vagelos Education Center (CUIMC)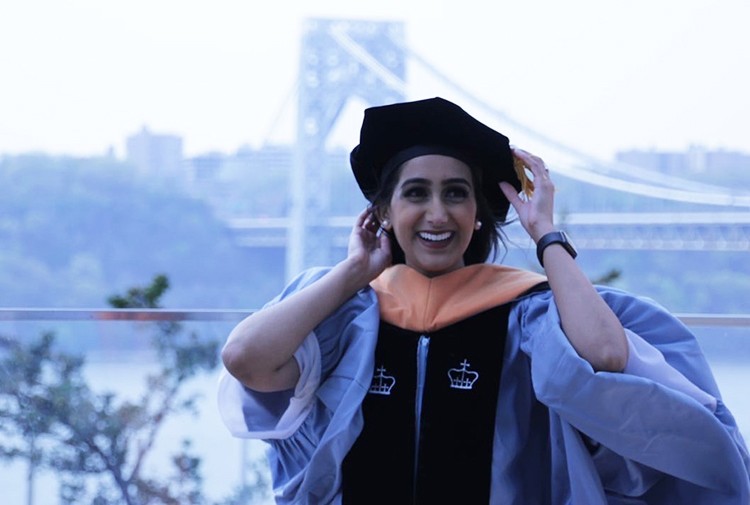 We adore an iconic New York City landmark in a graduation photo and this shot, featuring the George Washington Bridge, is no different. Taken on Columbia University Irving Medical Center's campus on the balcony of the sleek Vagelos Education Building, we love the velvet tam tip by Manpreet Nijjar (NUR'21) here. 
11. Allan Rosenfeld Building (CUIMC)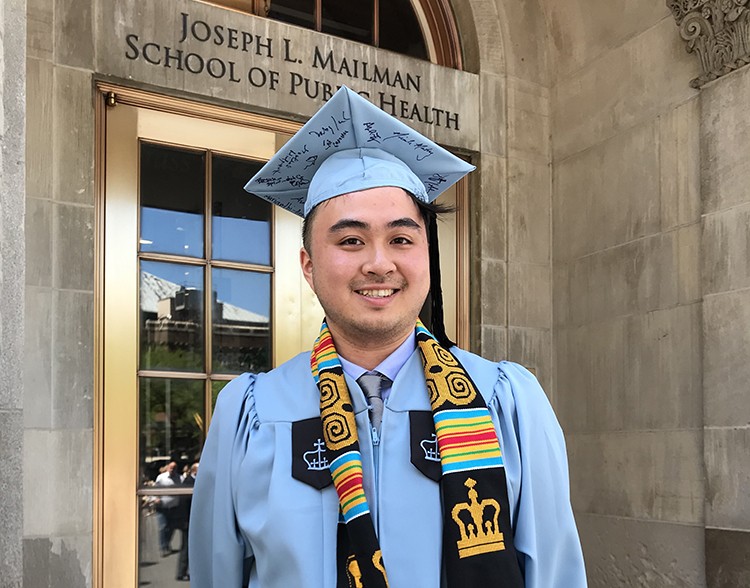 Good as gold! The Mailman Building entrance offers a gilded backdrop for our public health graduates, like Darwin Keung (MSPH'19), pictured above. 
12. Manhattanville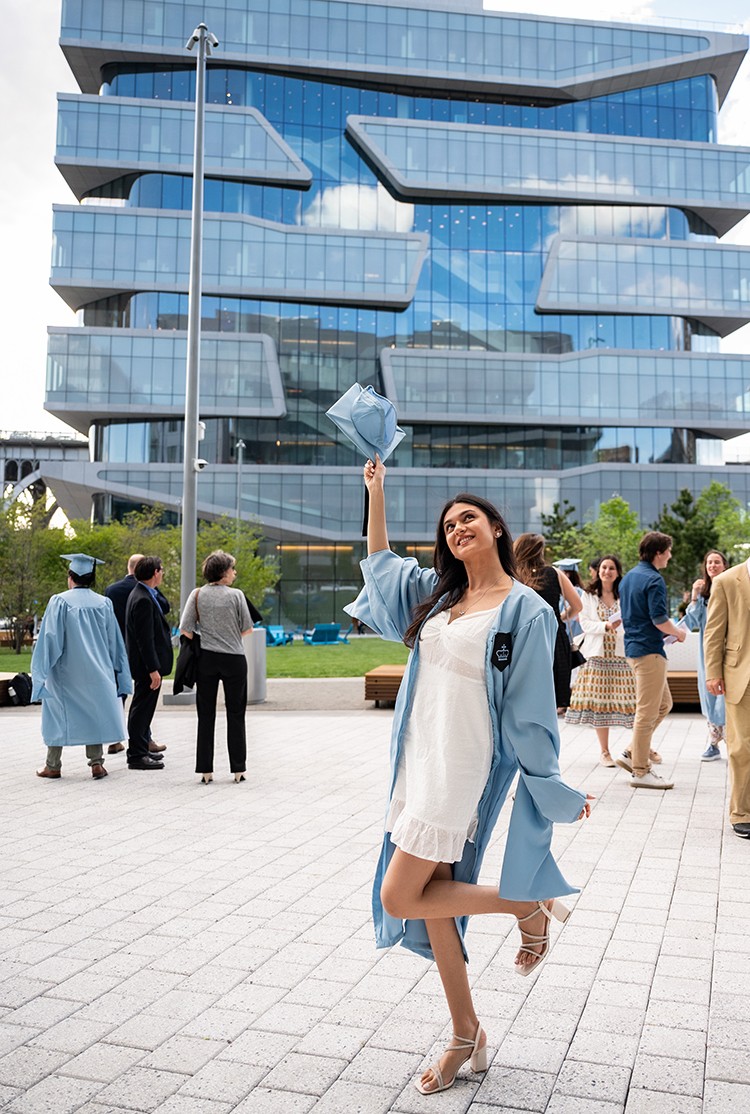 Graduation photo opps abound on Columbia's newest campus in Manhattanville, including this spot in The Square in front of Kravis Hall featuring Lubna Patwa (BUS'22).