Ahead of World Cup, Columbia Economist Leads the Way for U.S. Soccer
When the World Cup kicks off in Brazil on June 12, no soccer fan in the Columbia community will have more invested in the U.S. team's effort than Sunil Gulati.
June 03, 2014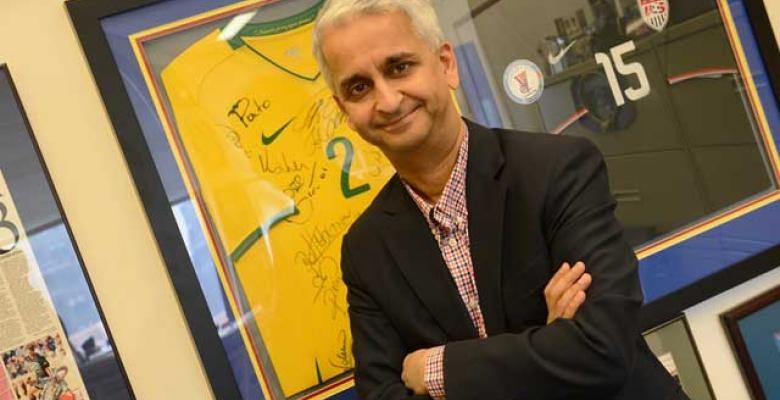 A senior lecturer in Columbia's economics department, Gulati, 54, is president of the U.S. Soccer Federation, which oversees soccer at all levels across the country. He was also recently elected to the executive committee of the Fédération Internationale de Football Association (FIFA), soccer's international governing body.
"Sunil Gulati is simply one of the most important and influential people in the world of soccer today," says Don Garber, Major League Soccer (MLS) commissioner. "The fact that an American occupies such a key role in the sport is a true testament to his longtime commitment to the game and provides our country with a voice in some of the key issues and opportunities affecting the game."
After earning two master's degrees in economics from Columbia (GSAS'83, '86), Gulati taught from 1986 to 1990 in the economics department and the School of International and Public Affairs. Gulati says his expertise in economics has helped his soccer-related work in some direct ways, such as using statistics to evaluate on-field performance. But it's indirect economics skills, such as cost-benefit analysis, that have been far more valuable. "It's simply the way of thinking that is embedded in everything I do," he says.
After college, while running a national team development camp, Gulati told then-president of the U.S. Soccer Federation, Werner Fricker, that the national team program had problems. Fricker replied, "Send me a note, but don't go sending me a 17-page memo," recalls Gulati, who did send 17 pages. That memo earned him an invitation to improve the program and ultimately put him in a small group that crafted the successful U.S. bid to host the World Cup in 1994.
He says the 1994 World Cup provided the momentum needed to start MLS, the top professional men's soccer league in North America. Gulati was one of the founding members of MLS, served as deputy commissioner and has watched interest grow since its first season in 1996. According to MLS, 2013 average attendance at games was 18,725 – higher than that of the NBA or NHL.
In 2003, driven by his love of teaching, he returned to Columbia, where in addition to his work in the classroom, he serves on the Faculty Athletics Committee advising University leadership on all aspects of Columbia athletics. He has also served on the search committees that hired both of the University's soccer coaches.
Gulati teaches a sports economics seminar so popular that one year some students camped out for 40 hours to secure a spot in the class. In a course he teaches at the Business School, Gulati touches on issues he currently faces at the U.S. Soccer Federation – for example, a game the team was scheduled to play in March against Ukraine as political unrest engulfed that country. It was ultimately played in Cyprus. Gulati also teaches general economics courses, and while he is mindful that not every student likes sports, he occasionally uses sports for examples. "If I'm teaching about cartels, I might use an American sports league instead of OPEC," he says.
Born in India and raised in Connecticut, Gulati got involved in soccer at an early age. By the time he was in high school, he was playing, coaching and refereeing. At 16, he and a friend, frustrated by their town's lack of a soccer club at their age level, started their own team and managed every detail.
"We even painted the numbers on the backs of our jerseys, but made the big mistake of using water soluble paint," says Gulati. "In the first game, as soon as we started running, the numbers did too." He later played junior varsity soccer as an undergraduate at Bucknell and intramural soccer as a Columbia graduate student.
Gulati and his family live in Morningside Heights and his two kids, 16-year-old Emilio and Sofia, 9, play youth soccer. He steers clear of any administrative role in their teams and jokingly laments one detail. "My daughter's games are at 8 a.m. on Sundays. I didn't have enough clout to get them moved to a later time."