From Amateur Meteorologist to Sustainability Specialist
Jeffrey Fralick is among the first students to graduate from Columbia's sustainability science master's program.
May 13, 2020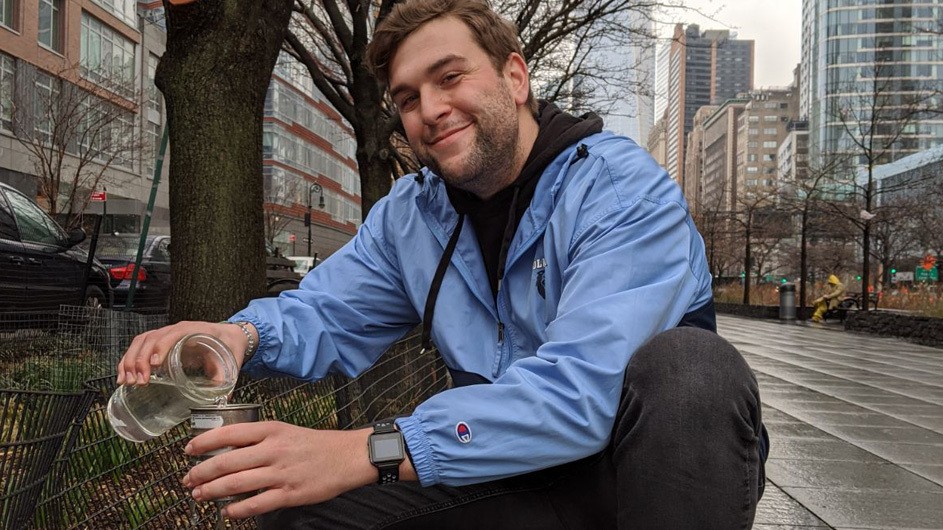 Growing up in Kansas in Tornado Alley, Jeffrey Fralick spent many an evening huddled in the basement with no power, tornado sirens blaring. Although scary, these experiences gave Fralick a fierce fascination with Mother Nature's ability to whip up complex and destructive events.
He grew into an amateur meteorologist, using radar apps and weather models to track incoming storms; he and his family would set up lawn chairs in the garage to watch storms roll in.
"It's just so wild that nature can so quickly make human civilization seem so small," he said.
Now, in the days of the COVID-19 pandemic, the entire world is witnessing nature's destructive potential. But the cancellation of Commencement won't stop Fralick from celebrating his graduation this May; he's ordered his cap and gown and plans to have a photo shoot on the family farm in Pennsylvania.
After his interests in meteorology broadened to include climate change and environmental science, Fralick enrolled in the sustainability science master's program at Columbia University. He is among the first students to graduate from the program.
"I think this program is unique, given how it's embedded within the Earth Institute and that we have access to professors at Lamont-Doherty Earth Observatory," Fralick said. "That is definitely a huge draw—I knew I could build upon my knowledge of sustainability, and learn from some of the world's leading experts in their respective fields."
Although he studied sustainability as an undergraduate, Fralick said the sustainability science program provided crucial analytical skills and hands-on experience to navigate through climate data, build models and create other useful tools to address environmental challenges.
After graduation, Fralick hopes to apply these new skills to do research that supports decision-making. He is passionate about exploring the intersection between science and policy, and how the two can be linked to benefit people and the environment.
Fralick has been involved in research on water quality in the Delaware River Watershed, and his Capstone workshop project at Columbia investigated microplastics in the Hudson River.
He has also had the chance to explore the policy side of the research-policy link. In an internship at the Environmental Protection Bureau in the New York State Attorney General's office, he is working with environmental scientists to use research to support litigation. One of the lawsuits he is proudest to have worked on involved ensuring that property owners take action to prevent young children from being exposed to lead paint.
The coronavirus has scuttled some of the job prospects that he had lined up, but while he waits for the economy to recover, Fralick hopes to implement some of the sustainability practices he's learned about on his family's farm. He is drawing up plans to grow hemp, which can be used as a sustainable material for clothing, paper, bioplastics and even concrete. The farm would be pesticide-free and rely on compost from nearby mushroom farms. It would include a drip irrigation system to conserve water and a specially designed garden that supports vulnerable pollinator species and natural insect control.
In the long-term, Fralick hopes to work at an organization such as the National Oceanic and Atmospheric Administration (NOAA) or the Environmental Protection Agency. "I want to be able to continue to do research. And it is my hope that whatever research I work on will have an impact in instituting some sort of policy change to better society and protect the environment.