Architecture Students Visit India's Mid-Century Modern City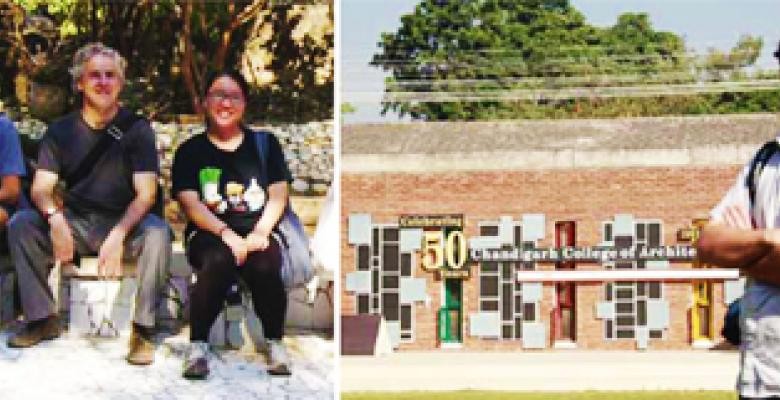 Many people visit India to see the Taj Mahal, the majestic mausoleum built by a 17th century emperor as a tribute to his wife. But last month, a group of Columbia and Barnard architecture students went to India with a lesser-known destination in mind—Chandigarh, a 20th century planned city designed by the famous architect Le Corbusier.
When India gained independence in 1947, Lahore, then the capital of Punjab, fell within the borders of Pakistan. A new capital had to be built to house the Punjabi government. A group of Modernist architects, led by Le Corbusier, stepped forward with a plan for a new city comprised of 47 precisely divided sectors. Chandigarh was built over a 15-year period and today is home to more than 1 million people.
"We were all awed by the vast scale of the undertaking," said David Smiley, an assistant professor of architecture at Barnard, who accompanied 14 students in his Architectural Design III class to the city about 150 miles north of New Delhi.
The design studio, focusing on new towns including Reston, Va., Brasilia and a neighborhood outside Rotterdam, studied the ways architects interpreted urban design principles during the mid-20th century and how these places have adjusted to changing demographics. The class compiled their work in a book,New Town Field Guide, which describes the history, current status and possible future of these communities. "Our job wasn't to pass judgment, but to look at how a planned city operates because so much of life isn't planned," Smiley said.
During the 10-day trip to India in November—funded, in part, by Columbia College, Barnard and theEarth Institute—the group met with local architects, community groups and citizens. "These people are very proud of their city," said Smiley. "We were invited into their homes because they wanted to talk about where they live."
Each sector in Chandigarh was planned to be its own self-sustaining community with a school and all the amenities required to live comfortably. Judges, lawyers and government officials live in the sectors closest to the capital complex—a collection of monumental government buildings designed by Le Corbusier now surrounded by a barbed wire fence because of security concerns. The poorest residents live the farthest from the capital, though poor in Chandigarh is relative. The city does not have the sort of slums seen in Mumbai and Calcutta.
All of the residential and commercial buildings in the city embody the simplicity-seeking Modernist aesthetic—geometric, concrete frame buildings line the streets, most no higher than four stories. Many buildings have been altered by residents. There is more green space in Chandigarh than in most Indian cities. Yet there are also more cars per capita than any other city in the country despite its relatively low population density.
"To an extent, it reminded me of urban planning in the U.S., particularly the Lower East Side," said Chenoe Hart (BC '12). "There are interesting parallels between the two, especially the landscaping and suburban parks. It didn't always feel like we were on the other side of the world."
The architecture students conducted video studies of the "ground plane"—essentially anything on the street level both in and outdoors. And they considered small interventions, such as waste management, that could improve the growing city. "This started a moral debate about our role as planners," said Jacob Goren (CC'12). "Being in Chandigarh for seven days, we couldn't begin to understand the culture and didn't want to impose our Western ideals."
For two days, the class visited Mumbai, where they toured the city's infamous slums. "This was the toughest part of the trip," said Goren. "Most of us had never seen anything like that. It was uncomfortable walking through there and having people look back at you. It made me feel guilty for, well, basically everything I have. It put everything in perspective."
Chandigarh, on the other hand, means the "The City Beautiful," and though it too has its problems, Smiley said, "It remains a fascinating attempt to think through the problem and the very idea of a city."