Ask Alma's Owl: Founding Doctor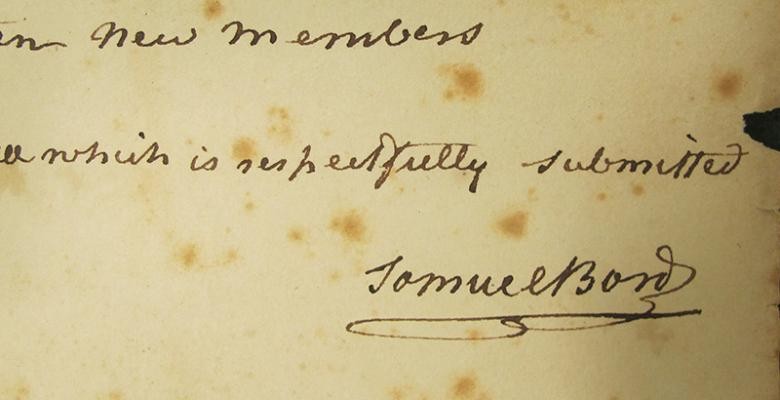 Dear Alma,

Who is Bard Hall at Columbia University Irving Medical Center named for?
Dear Med Student,
Bard Hall is named for Samuel Bard (1742-1821), a founder of what is now Columbia's Vagelos College of Physicians and Surgeons. A prominent early American physician, his patients included George Washington, Alexander Hamilton and others among the nation's founders.
The Augustus C. Long Health Sciences Library at Columbia University Medical Center recently acquired a manuscript by Bard: "Remarks on the constitution, government, discipline & expences [sic] of medical schools—submitted to the Regents of the University of New York in obedience to their requisition for such information." The 35-page document was composed and signed by Bard in 1819 in his capacity as president of the College of Physicians and Surgeons.
"The manuscript provides an important insight into the educational philosophy of one of the most notable physicians of the early United States," said Stephen Novak, head of archives and special collections at the Health Sciences Library.
Born in New York City, Bard studied medicine at the University of Edinburgh because there was no medical school in the colonies. While a student there, he learned that the University of Pennsylvania was preparing to establish a medical school. "I wish with all my heart, they were at New York that I might share amongst them and assist in founding the first medical college in America," he wrote to his father in 1762.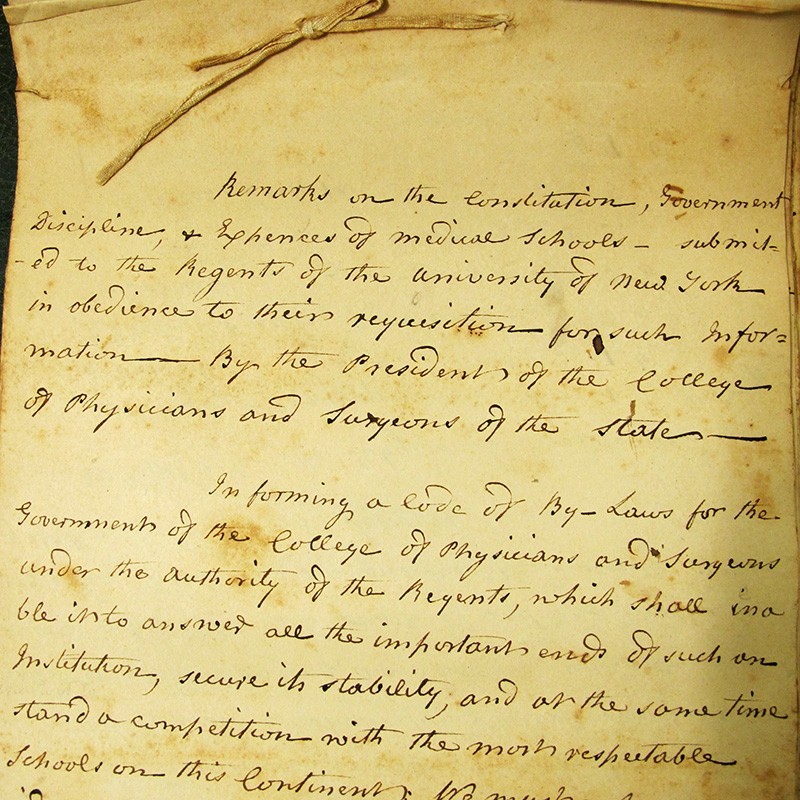 Several years later, Bard was instrumental in establishing the second medical school in the colonies, when the Board of Governors of King's College approved a medical teaching facility whose first class graduated in 1769. The school closed during the Revolutionary War, reopening in 1791 as the medical school of Columbia College, with Bard as its first dean. In 1814 the medical faculty of Columbia College was merged with the College of Physicians and Surgeons which was incorporated as an integral part of the university in 1891.
In the newly acquired manuscript, Bard wrote that the United States was "extensive and but thinly inhabited," leaving most American physicians poorly paid, apart from a few in large cities. "The general mass of students of medicine are poor; it is therefore very important that we provide them with the best instruction at the cheapest rate."
The manuscript is the second by Bard to be acquired by the Health Sciences Library in recent years. In 2013, the library purchased "Discourse on the Importance of Medical Education," an 1811 manuscript for a lecture he delivered at the medical school.
In addition to his involvement with the medical school, Bard was a founder in 1771 of New York Hospital, now part of NewYork-Presbyterian, the primary teaching hospital of the Vagelos College of Physicians and Surgeons. He also wrote textbooks: His Compendium of the Theory and Practice of Midwifery (1812), considered the first obstetrics textbook written by an American, went through five editions by 1819.
Although the United States is no longer "thinly inhabited," the cost of medical education is still a concern in the 21st century, as underscored by the recent $250 million donation by P. Roy Vagelos (a 1954 P&S graduate) and his wife Diana (a 1955 Barnard College graduate) to endow a fund that will help Columbia eliminate student loans for medical students who qualify for financial aid, currently about half of the student body in the medical school.
In another contribution to higher learning in early America, Bard's grandson, John Bard, founded St. Stephen's College in Annandale-on-Hudson in 1860. Facing financial troubles, St. Stephens became an undergraduate college of Columbia University from 1928 to 1944, when it began admitting women. In 1934, it was renamed Bard College.
Send your questions for Alma's Owl to [email protected].