Ask Alma's Owl: Herbert H. Lehman's Columbia Legacy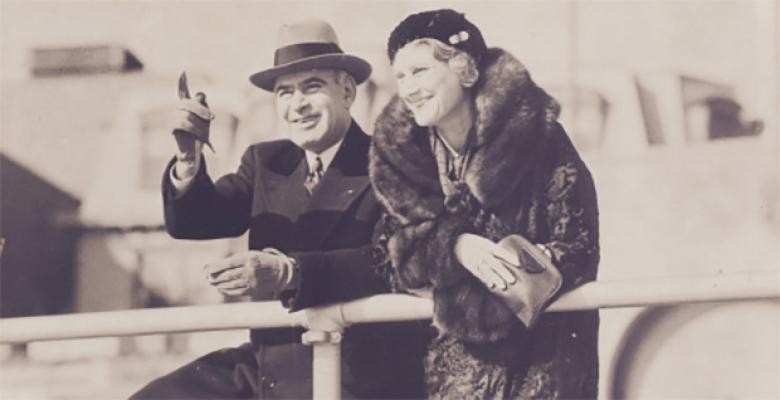 Dear Alma,

Who was Herbert H. Lehman, whose name is so prevalent at Columbia?
Dear History Buff,
A scion of the wealthy banking family that founded the former global financial services firm Lehman Brothers, Herbert H. Lehman was a four-term governor of New York from 1933-1942, succeeding Franklin D. Roosevelt when FDR became president. Lehman later became a U.S. senator from New York, serving from 1950-1957.
Lehman, who received a bachelor's degree from Williams College, did not graduate from any school at Columbia, but a library, a scholarly center and a professorship at the University are named for him. The Rare Book and Manuscript Library houses his extensive archival papers because the late Allan Nevins, Dewitt Clinton Professor of History at Columbia and a biographer of Lehman, connected the Lehman family to the University.
"Herbert Lehman was progressive, honest, hardworking and goal-oriented," said Kenneth T. Jackson, the Jacques Barzun Professor of History and Social Sciences and director of the Herbert H. Lehman Center for American History. "He was governor during some of the hardest years the state has ever faced, and he ended his state service as perhaps the best governor of the 20th century."
The center, which focuses on political history and the history of New York—both city and state—is located in the School of International and Public Affairs building. It contains a replica of Lehman's Park Avenue home office, complete with some of his belongings in the desk drawers.
Lehman was elected lieutenant governor in 1928, when Roosevelt became governor, and both were re-elected in 1930. As governor, Lehman pulled New York through the Great Depression by supporting New Deal policies at the state level. During World War II he became director of the United Nations Relief and Rehabilitation Administration at President Roosevelt's request, aiding those who suffered during and just after the war.
Lehman later joined Eleanor Roosevelt to lead a reform movement that ultimately stripped Tammany Hall of its influence in the state Democratic Party. He died in 1963, at age 85, the day before he was to receive the Presidential Medal of Freedom from President Lyndon B. Johnson.
The Herbert H. Lehman Papers at the Rare Book and Manuscript Library comprise more than 37,000 documents, including correspondence to and from five presidents and other important political figures. The library is also home to the Herbert H. Lehman curator for U.S. history, Thai Jones (J'02, GSAS'12).
Elsewhere on campus, the Center for Oral History holds Lehman materials, including one of its first projects: interviews with Lehman conducted by Nevins and his Columbia graduate students. In the anthropology department, the Herbert Lehman professor of government, Mahmood Mamdani, focuses on the interaction between politics and culture.
At the School of International and Public Affairs, the Lehman Social Sciences Library has an estimated 333,000 books, 185,000 maps and 1,700 periodicals in addition to the material in the Lehman Center. The Lehman Center hosts conferences and public seminars featuring scholars from all backgrounds. On October 24, Lisa Keller, associate director of the center, will introduce Duane Tananbaum, a professor from Lehman College (part of The City University of New York), who will discuss his book, Herbert H. Lehman: A Political Biography.