Ask Alma's Owl: Victor Fleming and Columbia's School of Military Cinematography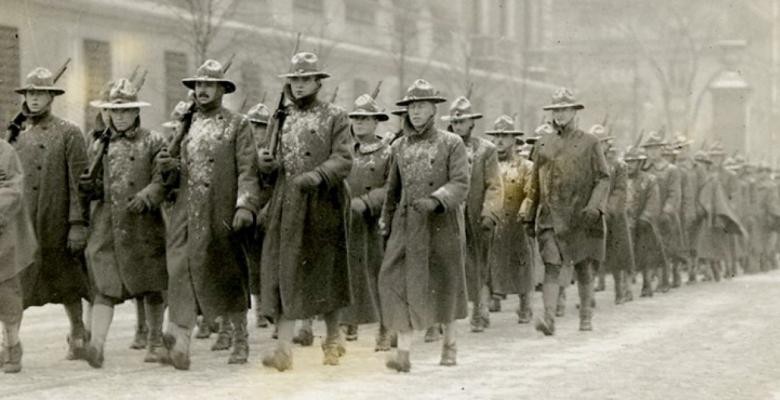 Dear Alma,

Is it true that the director of the Wizard of Oz taught film at Columbia?
Dear Film Fan,
Yes, Victor Fleming did teach film at Columbia, but not in the usual sense of the role.
Fleming, who had found fame as Douglas Fairbanks's chief cameraman in silent-picture days, was stationed at Fort Sill in Oklahoma in 1918 when he got the nod for an assignment in New York with the Army's new School of Military Cinematography.
Columbia President Nicholas Murray Butler had offered to house the school, which would teach both still and motion photography. Fleming, given his prowess behind the camera, was a natural pick to help lead it.
"From the output of the School, most of the official war photographers will be chosen," read the Columbia Spectator on Jan. 9, 1918. Columbia offered lab space, projection rooms, lecture halls and a rifle range between Kent and Philosophy halls. The men's barracks was on the ground floor of a University building that was not identified except to say "it is one ordinarily used for a purpose remote from war," according to the Spectator. Despite the newspaper story, the Army treated the school as a military secret and didn't confirm its existence until after the war ended.
Fleming poured himself into this effort. He had already made 15 training films at Fort Sill, and was now training others. Biographer Michael Sragow wrote in Victor Fleming: An American Movie Master that Fleming and his fellow instructors taught six-week courses, eventually instructing more than 700 soldiers in how to cut, edit, shoot, develop, store and ship film.
War photography training on campus was not all work—there was time for recreation. "The cinematographers scrimmaged on Columbia's football field between afternoon classes and lectures on cameras and lighting, fitness and health," writes Sragow. One day, 70 members of the unit marched downtown to see the hit Broadway musical Maytime.
Fleming was part of a remarkable group of up-and-coming filmmakers who were in the program. They included Jonas Sternberg, who would change his name to Josef von Sternberg and direct The Blue Angel, a movie that made Marlene Dietrich a star. Then there was Ernest B. Schoedsack, who co-directed King Kong in 1933. Also participating in the program was Lewis Milestone, who would direct the most notable film based on the Great War, All Quiet on the Western Front. Fleming would go on to direct The Wizard of Oz and Gone with the Wind, both in 1939, and win an Academy Award for direction for the latter.
Fleming's role in the war effort reaped him a military award, too. He was subsequently awarded his commission as lieutenant.