Brown Institute Director Mark Hansen's Storytelling Revolution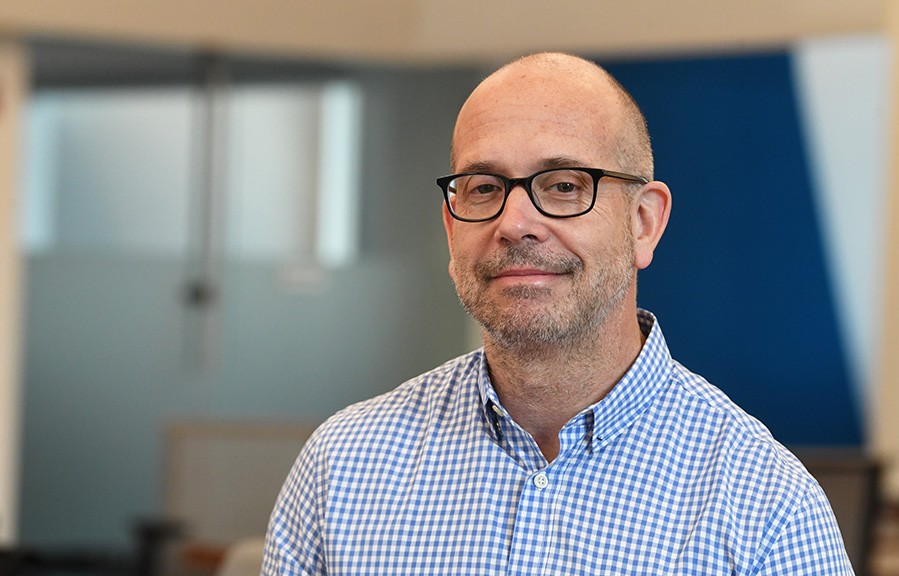 The Brown Institute for Media Innovation, founded in 2012, is located at both Columbia's Graduate School of Journalism and Stanford's Graduate School of Engineering. Each year it awards upwards of $1 million in grants and fellowships, called Magic Grants, to fund projects and prototypes that devise new tools and new ways to tell stories.
The "magic" is inspired by the language of the institute's founding donor, legendary Cosmopolitan magazine editor Helen Gurley Brown, who wanted to provide students and others in the early stages of a project with the resources to follow their passions. As the Brown Institute prepares to select the next set of Magic Grant recipients, its director, Mark Hansen, discussed the breadth of the institute's work.
LEARN MORE ABOUT BROWN MAGIC GRANTS
Q. What qualities do you look for in a project for a Brown Institute Magic Grant?
A. Our mission is to develop new tools and modes of expression, and to produce original stories that extend the practices of journalism and media production broadly. We support original ideas with the potential to transform how stories are found and told—we look for story proposals, new software platforms or even novel hardware developments. A successful application clearly explains a unique story or technological advance and outlines a one-year (at most) plan to realize it or to create a prototype.
Q. Can you describe a few current projects that illustrate the institute's work?
A. The Magic Grants have funded more than 150 people working across 50-plus projects. The diversity is astounding, reaching out across our respective campuses and into the creative and research communities in New York City and the Bay Area. Previous grants include Esper, an open-source software infrastructure that explores and analyzes extremely large video collections, with a focus on examining the last decade of TV news; and a 360-degree video documentary, On the Brink of Famine, which is co-produced by PBS FRONTLINE.
Q. What do the Stanford and Columbia branches each focus on, and where does their work dovetail?
A. At Columbia, many of our projects are rooted in "story." They might involve a database or reusable platform built to assist in reporting or presenting a class of story in new ways. Or they might be a specific story told through new technologies that fundamentally changes our conception of what a story can be.
At Stanford, more projects focus on developing new technologies, laying the groundwork for the future of storytelling. These include tools for capturing, editing, synthesizing and analyzing audio and video, machine learning algorithms to simplify complex workflows of journalists and storytellers, and new tools meant to provide artists opportunities for expression through computation.
Q. What do you hope for with the work that is supported?
A. Some of our grants fund new technical innovations developed to serve the general mission of journalism. A project called GenderMeme is a natural language processing algorithm that "reads" a news article and counts citations by gender, raising awareness of gender imbalance of sources and experts consulted in news stories. Our VR/AR/360-video work focuses on stories that push the medium to be expressive in new ways. Our teams often craft educational guides to help practitioners learn about new technologies—curricular materials that can be offered to Columbia and Stanford students and faculty for their own uses.
This year, much of our work hinges on exploring data and algorithms, as objects to be reported on as well as tools to be reported with. Two teams in particular are creating new ways to collect, structure and organize data around traumatic events. When Deportation becomes a Death Sentence is a collaboration with The New Yorker that assembles a database of people deported from the U.S. and tells the stories of what happened to them and their families after return to the countries they fled. With Democracy Fighters, we are helping a Columbia Journalism School alumnus compile journalism produced by reporters killed in Mexico, a project that captures their reporting before it disappears.
Q. What else is Brown working on?
A. At the Journalism School, the Brown Institute is heavily invested in providing support to students interested in data and computation. We host a variety of extracurricular training events, including a monthly seminar and workshop called the Transparency Series. Through symposia, workshops and open office hours, we build on their coursework and hopefully expand their conceptions of the core practices of journalism. We have also started offering summer internships for our students that again straddle engineering and journalism.
Our grants are open to anyone affiliated with Columbia or the larger research and creative communities in New York City and beyond. We also have public lectures like the Distinguished Lectures in Computational Innovation, which is co-sponsored by Foundations for Research Computing and Columbia's Data Science Institute. We see ourselves as an integrator of the strengths of our university.
Journalism is moving at lightning speed toward a future defined by major technology shifts. The rate of change is destabilizing and redefining nearly every aspect of journalism. We need original scholarship that is constructive and interdisciplinary, that supports and extends the practice of journalism so that we can deliver on our public mission. This is why the Brown Institute was created.