Building Community on Campus and Beyond
Junior Benjamin, an assistant director in the Office of Government and Community Affairs, is involved in many aspects of civic engagement at Columbia. 
June 05, 2019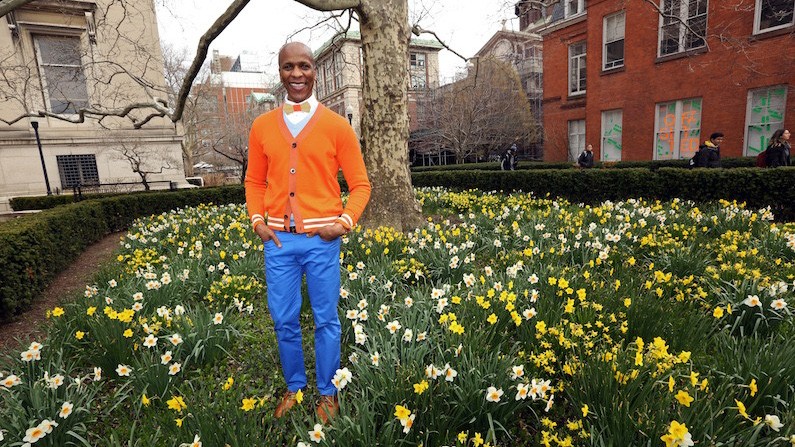 TITLE: Assistant Director, Campus Initiatives, Community Relations and Finance in the Office of Government and Community Affairs
NUMBER OF YEARS AT COLUMBIA: 18
WHAT HE DOES: People frequently greet Junior Benjamin (TC'12) by saying "You're the blood drive guy!" As the administrator of Columbia's program, he expanded what had been two annual drives into six drives at five campus locations. Thanks to his efforts, Columbia was among four colleges named 2019 New York Mets College Blood Donor Champions for making the most donations in the city. On April 30, Benjamin was on home plate at Citi Field for the celebration.
"It gives me goosebumps to see so many Columbians turn out to give blood. One pint can save three lives," he said. Benjamin has also started a program to encourage joining the national bone marrow registry and organizes skin cancer screenings. 
An important aspect of his role is promoting civic engagement at the University. He helps plan Columbia's participation in the ALS Ride for Life, which promotes services, research and awareness for those living with amyotrophic lateral sclerosis, also known as Lou Gehrig's Disease. Sometimes the participants, in wheelchairs or on scooters, end their ride at Columbia, where Benjamin hosts a reception and other activities. "It's especially meaningful, since Lou Gehrig went to Columbia."
Benjamin also coordinates Read Ahead, which for two decades has matched Columbia volunteers with students in local K-8 schools for reading mentorship. "You see the difference that it makes in the young students," he said, noting that it gives them more confidence and boosts their performance at school. 
And if that isn't enough, he supervises accounts payable, travel and business expense reports in his department, as well as relations with external vendors.
MOST MEMORABLE MOMENT: In 2014, at an emotional campus ceremony organized with the New York Blood Center, a Columbia sophomore who had donated his blood met one of his recipients, who turned out to be a Columbia graduate himself. "Most blood donations are anonymous. We actually got to put a face to a donation, it was mind-blowing," Benjamin said.
WHAT HE LIKES MOST ABOUT HIS JOB: "I love the diversity of what I do, the opportunity to interact with people from different walks of life. It's so rich an experience."
ROAD TO COLUMBIA: Born in Grenada, Benjamin attended Catholic school through high school, living in different homes from ages 8 to 13. "School was a refuge for me," he said. In 1990, he landed a scholarship at Broome Community College in Binghamton, N.Y., where he majored in industrial technology. His arrival in January was a shock, since it's typically 85 degrees in Grenada at that time of year.
After graduating in 1992, he went home and taught high school classes in business and social studies. Six years later he returned to the U.S., earning an undergraduate degree in business administration from Baruch College in 2001, and was immediately hired at Columbia University Irving Medical Center as assistant to the chair of the ear, nose and throat department.
Moving to the Morningside campus in 2005 as a project coordinator in the Office of Government and Community Affairs, he became part of the team attending briefings over plans for the Manhattanville campus. Since then he has earned two additional graduate degrees—one in public administration and human resources management from John Jay College and another in adult learning and leadership from Columbia's Teacher's College.
IN HIS SPARE TIME: Benjamin volunteers for New York Cares, teaching computer skills to seniors, and at the Brooklyn Public Library, where he helps adults earn high school equivalency degrees. Last year Benjamin became an auxiliary police officer and marched—in uniform—with the group at the 2019 St. Patrick's Day Parade. 
If there were a best dressed list for campus staff, Benjamin would be at its top. He wears colorful vests, resplendent socks, long coattails for formal occasions and sometimes tops off his outfits with wooden bowties made by a friend in Grenada. "People take pictures of me on the train and ask, 'Are you a model?'" He invariably replies, "I'm a role model."