Columbia Climate School Named University Partner for Climate Week NYC 2021
Experts from across Columbia Climate School will join events bringing together voices from business, government, and civil society—setting the stage for ambitious carbon-cutting commitments at the UN climate talks this fall.
August 11, 2021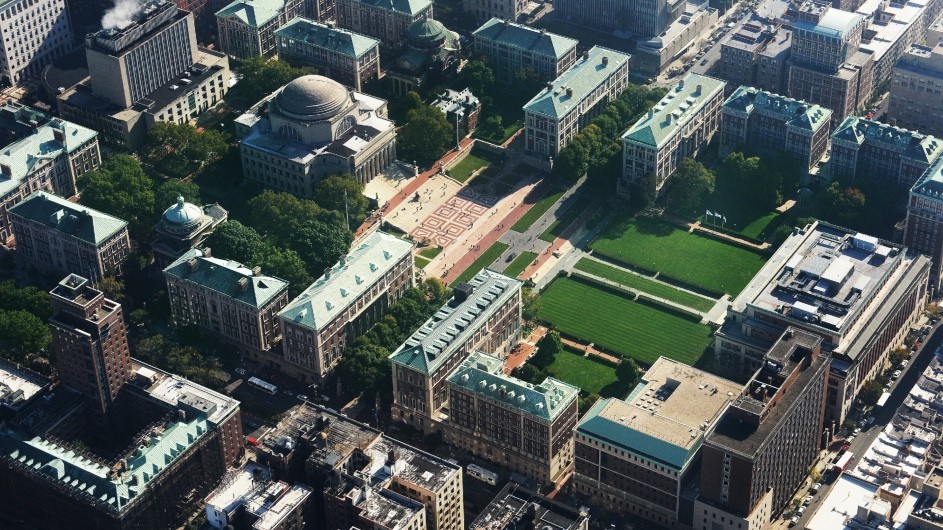 The Climate Group has selected the Columbia Climate School as its University Partner for this year's Climate Week NYC. Running from Sept. 20-26, Climate Week NYC convenes key climate leaders to accelerate climate action and discuss ambitious commitments ahead of the 26th UN Climate Change Conference, or COP26, later this fall in Glasgow.
Now in its 13th year, Climate Week NYC is a key time of year for businesses, governments, civil society, and the wider global audience to gather to showcase leading climate solutions and discuss how to do more, fast. It has been instrumental in creating global momentum toward climate action.
Established last year, Columbia Climate School represents a historic commitment by Columbia to tackle the climate crisis. The first new school to be established at Columbia in 25 years, it will serve as a hub for research, learning, and action. The Climate School builds on Columbia's strengths to solve problems, educate future climate leaders, and generate the knowledge needed to design and inspire solutions as the window to avert the potentially catastrophic effects of climate change closes. The school's first class of incoming students arrives on campus this month.
"Columbia is proud to partner with Climate Week NYC on this agenda-setting event series at a moment of intensifying urgency in the fight against climate change," said University President Lee C. Bollinger. "The kind of collaboration and collective action advanced by Climate Week NYC aligns with our institutional values and our efforts to direct our academic resources in a manner consistent with the magnitude of the global climate crisis."
Hundreds of events are scheduled for Climate Week NYC 2021, and many will feature Columbia Climate School experts. Information about speakers, delegates, and the events program can be found on the new Climate Week NYC website. Last year, Climate Week NYC was home to more than 500 events held virtually from 30+ countries around the world. This year, the week will continue to build on that momentum with the events program covering ten themes: built environment, energy, industry, food, environmental justice, transport, finance, sustainable living, nature, and policy. 
"We are excited to partner with Columbia Climate School for this year's Climate Week NYC," said Helen Clarkson, CEO of Climate Group. "The decision to create a school focused on climate education and solutions comes at a critical time. Universities play a key role in educating the public, providing a clear analysis of science-based progress and targets, and creating the next generation of activists who can ensure that climate action is weaved into all sectors, so we can build a better future for all."
Ahead of the next round of global climate talks, Columbia Climate School has set its own target for shrinking its carbon footprint. Plan 2030 outlines a set of goals to be reached over the next ten years, putting all of Columbia's campuses on a path towards cutting carbon emissions to net zero by 2050. Columbia has also adopted a policy of non-investment in publicly traded oil and gas companies.
"Columbia University is responding to the urgency of the moment by making the largest commitment a great research university can: building an entire school devoted to tackling this existential threat," said Jason Bordoff, co-founding dean of the Climate School. "The Columbia Climate School will pursue groundbreaking scholarship to advance new knowledge across the myriad disciplines needed to tackle the scientific, engineering, policy, financial, social, and other aspects of the climate crisis. It will measure success by whether that knowledge is turned into action to build a more sustainable, just, and safer future. And it will develop innovative programs to educate society at large and train tomorrow's leaders in how to curb and cope with climate change."
"This is the critical decade to achieve deep reductions in carbon pollution and avoid the most catastrophic impacts of climate change," said Daniel Zarrilli, special advisor on climate and sustainability at Columbia University. "By naming the Columbia Climate School as the University Partner to Climate Week NYC 2021, the Climate Group is affirming the vital role of universities like Columbia in advancing climate science, accelerating evidence-based climate solutions, and empowering the next generation of climate leaders. We look forward to partnering on another successful Climate Week as we all work to deliver the Paris Agreement and secure a livable climate for the next generation."
Leading the Columbia Climate School are four of the university's top climate experts: Alex Halliday, director of Columbia's Earth Institute; Jason Bordoff, founding director of Columbia's Center on Global Energy Policy; Ruth DeFries, university professor and Denning Family Professor of Sustainable Development; and Maureen Raymo, director of Columbia's Lamont-Doherty Earth Observatory.