Columbia Launches a Carbontech Initiative to Bring Climate Solutions to Market
Program will help researchers and entrepreneurs develop and scale carbon-cutting technologies.
November 15, 2021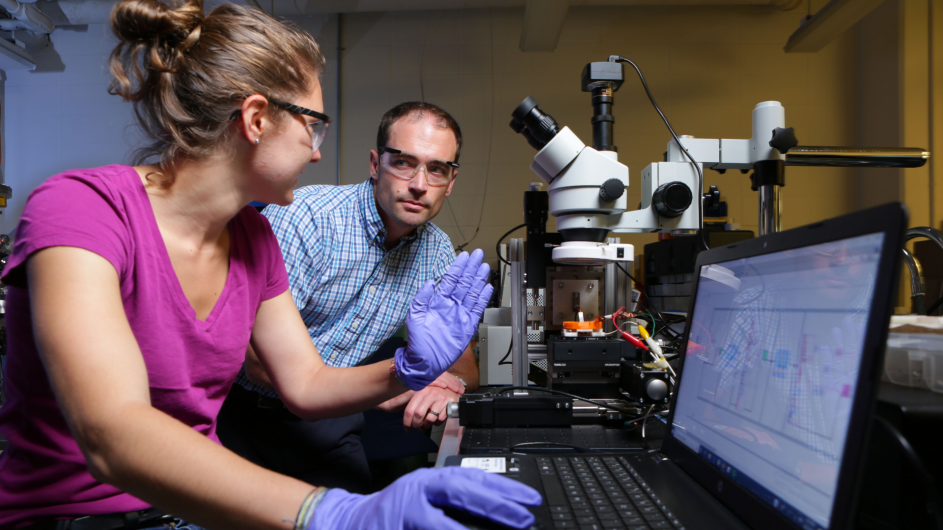 Columbia University will launch a grantmaking and accelerator program to develop, commercialize, and scale tools and technologies focused on lowering emissions by turning carbon into useful products.
Announced last week at the COP26 climate talks in Glasgow, Columbia University was awarded $10 million in seed funding under New York State's Carbontech Development Initiative. This program will allow researchers and entrepreneurs working on carbon capture, utilization, and storage-related technologies to expand on their work and establish New York as a center for carbontech innovation. 
"The dangers posed by climate change become more apparent and urgent with each passing day," said Columbia University President Lee C. Bollinger. "Solving a crisis of this magnitude demands the kind of expertise and commitment to interdisciplinary collaboration that Columbia excels at. This award will help researchers and entrepreneurs at this University and across New York develop and scale critically important carbon technologies."
As part of the Carbontech Development Initiative, administered through the New York State Energy Research and Development Authority (NYSERDA), $9.1 million was also awarded to the nonprofit Activate to establish a fellowship program for New York-based entrepreneurs. Activate's fellowship program will work with the new Columbia Startup Fellows Program, where Columbia will provide lab space and specialized equipment to Activate fellows in New York.
NYSERDA President and CEO Doreen M. Harris said, "We are proud to support Columbia University on carbontech research and know that its leadership, working with Activate's fellowship program, brings world-class facilities and knowledge to advance the cutting-edge technologies needed to scale and commercialize products made from carbon. These initiatives will help New York State achieve deep decarbonization in our fight against climate change and build more sustainable, resilient communities."
With an engineering school, a new climate school, and offices dedicated to aiding researchers and entrepreneurs in getting their ideas off the ground, Columbia has already established itself as a leader in the movement to decarbonize the global economy. 
"Columbia has already shown how serious it is about trying to solve the climate crisis," said Jason Bordoff, co-founding dean of the Columbia Climate School and founding director of Columbia's Center on Global Energy Policy. "We're excited to work with NYSERDA and Activate to demonstrate how much more can be accomplished. We're confident that this initiative will spark further innovation in New York and beyond." 
A number of promising green startups have sprung out of Columbia in recent years. One, GreenOre CleanTech, uses carbon dioxide as a reagent to convert industrial waste into valuable minerals. A second, Heirloom, captures carbon dioxide from the air and injects it underground for long-term storage. Other startups, including AdvanceH20 and Trident Desalination, offer more efficient ways to treat sewage and generate clean water, respectively, while lowering carbon emissions in the process. Still others, like sHYp and Werewool, are developing fossil-fuel alternatives for the energy and apparel sectors.
Columbia's research efforts, a portion of the total funding for the Carbontech Development Initiative, will focus on three key areas: capturing carbon from the air, oceans, and industrial plants to lower ambient levels of carbon dioxide and combat ocean acidification; converting carbon into minerals and other marketable materials; and repurposing those materials in construction and other industries. 
The program will also focus on the commercialization process, with an emphasis on analyzing markets and policies so that carbontech entrepreneurs across New York can position their companies for success. "We will make sure that there's a compelling market need for the technologies that we're developing, and entrepreneurs get connected with investors and others to bring their ideas to market and ensure that they will be profitable," said Jim Aloise, assistant vice president at Columbia Technology Ventures and the tech to market director for the initiative.
"This project brings together highly interdisciplinary teams led by the Lenfest Center for Sustainable Energy to develop a new circular carbon economy," said Lenfest Director Alissa Park, a professor at Columbia Engineering and co-founder of GreenOre CleanTech. "Through scientific and technological breakthroughs, we will lead global efforts to decarbonize the economy, while advancing an understanding of how to manage carbon throughout our engineered and natural systems."