Columbia Pledges That All Future Campus Construction Will Be Fossil Free
As Climate Week NYC begins, the university explores creating a fully electrified campus. The Columbia Climate School is university partner of the weeklong climate showcase.
September 20, 2021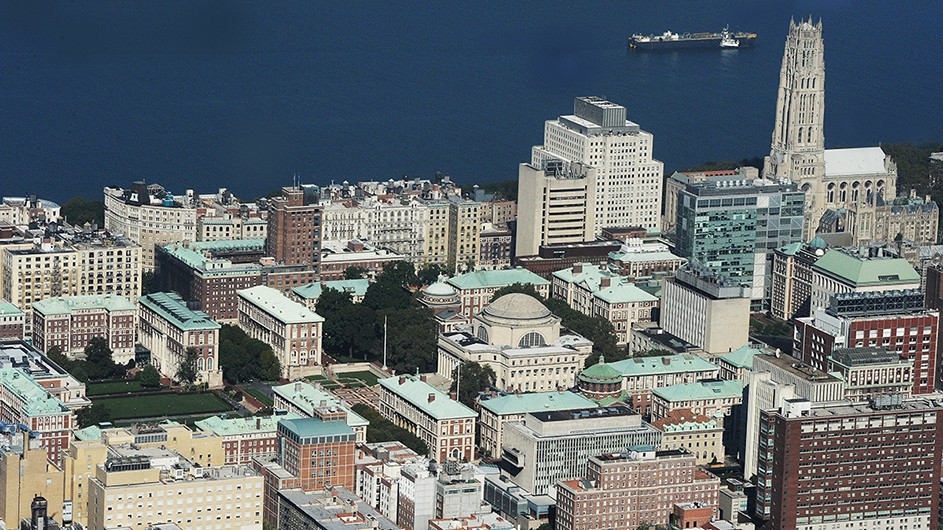 Columbia University announced today that it will no longer install new fossil fuel connections in any new construction, refresh, or renovation projects. To support this transition, the university will evaluate how to fully electrify the campus by replacing the onsite combustion of fossil fuels with clean, renewable energy sources.
The university will continue to enhance its planning, design, and construction practices to expedite the end of fossil fuel combustion on campus. These steps are essential if Columbia is to remain within maximum cumulative emissions targets on the way to becoming net zero by 2050, and, second, exceed the requirements of Local Law 97 in New York City. Columbia's work to eliminate on-campus fossil fuel combustion and electrify the campus is supported by actions across New York State to green the electric grid and to achieve the State's goals of 70% of electricity from renewable sources by 2030, and 100% carbon-free electricity by 2040.
The announcement coincides with the start of Climate Week NYC 2021, a weeklong call to action and showcase for climate solutions. The Climate Group selected Columbia Climate School as the university partner for Climate Week NYC 2021 and made Columbia a venue for a series of high-level events and conversations. Columbia Climate School is a hub for research, learning and action, and reflects Columbia's profound institutional commitment to tackling the climate crisis.
"Our vision for Columbia Climate School, the first new Columbia school in a quarter century, has been for it to harness the world class resources Columbia offers, to always evolve to meet the challenges before us, and to possess a scale commensurate with the threat we face," said Lee C. Bollinger, Columbia's President and the Seth Low Professor of the University. "We welcome the opportunity to serve as the university partner for Climate Week NYC, as we continue to accelerate all of our efforts to address the climate crisis."
"It is incumbent on us to lead and collaborate in creative new ways to deliver on this critical commitment," said David Greenberg, Executive Vice President for University Facilities and Operations.  "In the coming year a clear policy and updated guidelines will be developed to ensure every part of our planning, construction, and design process prioritize the departure from fossil fuels to reflect our new way of doing business."
"This is the critical decade to achieve deep reductions in carbon pollution and avoid the most catastrophic impacts of climate change," said Daniel Zarrilli, Special Advisor on Climate and Sustainability at Columbia University. "By ending the expansion of fossil fuel infrastructure on campus and pursuing electrification, we are taking the necessary steps to align the university with the goals of the Paris Agreement, clean the air in our surrounding communities, and end the world's addiction to fossil fuels—all part of our commitment to empowering the next generation of climate leaders."
The university has in recent years dramatically decreased its GHG emissions through ongoing investments in renewable energy, building retrofits, electric vehicles, shifts in commuter behavior, and composting of organic materials. Building on Columbia's 2017 sustainability plan, Columbia's Plan 2030 is, in part, a roadmap for the university to achieve net zero emissions by 2050. Plan 2030 was developed in conjunction with Columbia scientists and faculty, using guidance from the Science Based Target initiative (SBTi) and the United Nations Environment Programme (UNEP) to establish measurable targets for achieving the university's goals.
Recent successes include:
This comprehensive approach to reducing campus emissions operates in concert with the work of Columbia Climate School, the university's historic and ongoing contributions to climate science and research, and important changes in university investment policy.
Building on the decision in 2017 to divest from thermal coal, Columbia has adopted a policy of non-investment in publicly traded oil and gas companies. The university does not hold any direct investments in publicly traded oil and gas companies, and is formalizing this policy of non-investment for the foreseeable future.