Columbia Students Shine as 2022 Rhodes Scholars
Four Columbia students were selected as Rhodes Scholars, plus more awards and grants for faculty and students.
December 08, 2021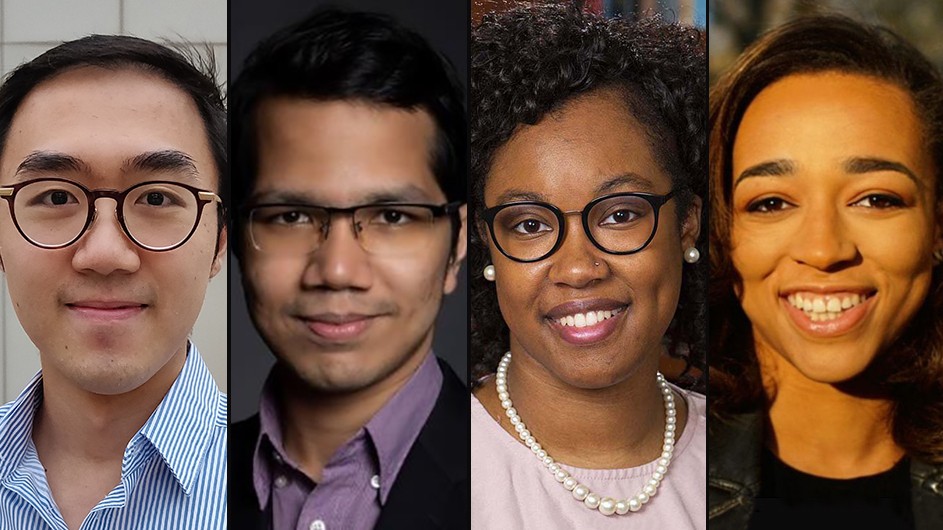 Columbia News produces a biweekly newsletter (subscribe here!) and article series featuring a roundup of awards and milestones that Columbia faculty, staff, and students have received in recent days. In this edition, you'll find awards and milestones from November 12 to December 9, 2021. 
Have an award or milestone you'd like to have featured in the newsletter or article online? Please send an email to [email protected]. Note that we'll be running this series every other week. 
You can take a look at past accomplishments on our Awards & Milestones page. And you can subscribe to receive the newsletter in your inbox. 
ARTS & HUMANITIES
Victoria de Grazia, Moore Collegiate Professor of History, was awarded the Aldo and Jeanne Scaglione Prize for Italian Studies from the Modern Language Association of America for her book, The Perfect Fascist: A Story of Love, Power, and Morality in Mussolini's Italy.
Debashree Mukherjee, assistant professor in the department of Middle Eastern, South Asian, and African Studies, was awarded an honorable mention for the Modernist Studies Association's First Book Prize for her work Bombay Hustle: Making Movies in a Colonial City.
Shana Redmond, professor of English and Comparative Literature, was awarded the Judy Tsou Critical Race Studies Award for the American Musicological Society for her book Everything Man: The Form and Function of Paul Robeson. 
ENGINEERING
Julia Hirschberg, Percy K. and Vida L. W. Hudson Professor of Computer Science, and PhD students Shayan Hooshmand and Zixiaofan Yang won Best Short Paper from the 2021 Conference on Empirical Methods in Natural Language Processing. Their paper was titled "CHoRaL: Collecting Humor Reaction Labels from Millions of Social Media Users."
J. Thomas "Tommy" Vaughan Jr., professor biomedical engineering and radiology, a principal investigator at the Zuckerman Mind Brain Behavior Institute, and director of the Columbia Magnetic Resonance (MR) Research Center, and his co-investigators have won a National Science Foundation (NSF) Major Research Instrument grant for $3.7 million that supports the development of a "Next Gen 9.4T Magnetic Resonance System for Translational Neuroscience."  
Nanfang Yu, associate professor in the department of applied physics and applied mathematics, has been named a 2022 Optica Fellow for the invention and development of metasurfaces and their application to imaging and cooling. 
LAW & SOCIAL WORK
Talia Gillis, associate professor of law, has been selected as the winner of the 2022 AALS Scholarly Papers Competition, which recognizes outstanding scholarship by early-career faculty members who have been teaching for less than five years.
Michael J. Graetz, Columbia Alumni Professor of Tax Law, received the Tax Foundation's Distinguished Service Award in November. Graetz is the first law professor to receive the award in its 80-year history.
Susan Witte, professor of social work, was honored as 2022 Fellow of American Academy of Social Work and Social Welfare.
SCIENCE & MEDICINE
Gregory Alexander, Helen Young CUPHSONAA Professor of Nursing, had a co-authored article titled "Health Data Sharing in US Nursing Homes: A Mixed Methods Study" selected for inclusion in the 2021 edition of the International Medical Informatics Association Yearbook as one of the best articles published in 2020.  
Ottavio Arancio, professor of pathology and cell biology and of medicine, will receive $2,423,405 over five years from the National Institute on Aging for a sub-award of "Chaperome networks in Alzheimer's Disease." 
Veronica Barcelona, assistant professor of nursing, received the International Society of Nurses in Genetics Founders' Award.
Kenrick Cato (NRS'14), Nurse Researcher for NewYork-Presbyterian Hospital and assistant professor of nursing, was elected to the Board of Directors of the American Medical Informatics Association and as chairperson for their Nursing Informatics Working Group.
Marie Carmel Garcon, assistant professor of nursing, served as the keynote speaker at the Third National Conference for the National Indian Nurse Practitioners Association of America, held in Orangeburg, New York, on November 6, 2021. She also received this year's Luminary Award from the organization.
Donald Edmondson, associate professor of behavioral medicine, will receive $285,338 over one year from Presbyterian Hospital in the City of New York for "Enhancing the Implementation and Evaluation of the NYP Telemedicine Initiative" and $440,344 over four years from the National Heart, Lung, and Blood Institute for a sub-award of "Impact of minority stress on cardiovascular disease risk and resilience.
Krzysztof Kiryluk, Herbert Irving Assistant Professor, has received the 2021 Donald W. Seldin Young Investigator Award from the American Society of Nephrology. The award is presented annually to an individual with an outstanding record of achievement and creativity in basic or patient-oriented research related to the functions and diseases of the kidney. 
Ian Kronish, associate professor of medicine, will receive $390,598 over five years from the National Heart, Lung, and Blood Institute for a sub-award of "Generalizable prediction of medication adherence in heart failure."
Andrew Marks, Clyde '56 and Helen Wu Professor of Molecular Cardiology (in Medicine) and professor of physiology & cellular biophysics will receive $624,456 over five years from the National Heart, Lung, and Blood Institute for "Training in Cardiovascular Sciences for Under Represented Students."
Gary Miller, professor of environmental health sciences, will receive $2.4 million over four years from the National Institute of Environmental Health Sciences for "Vesicular modulation of dopamine neuron toxicity."
Karthik Natarajan, assistant professor of biomedical informatics, will receive $533,697 over 21 months from the Centers for Disease Control and Prevention for a sub-award of "Virtual Network to Investigate the Trajectory of COVID-19-Related Severe Outcomes."
Shree Nayar, T. C. Chang Professor of Computer Science, was honored by the Society of Photo-Optical Instrumentation Engineers as a luminary of computer vision, celebrating the work of those who have "lit the way" for research in optics and photonics.
William B. F. Ryan, special research scientist with the department of Marine Geology and Geophysics, was elected a Foreign Fellow to the Accademia Nazionale dei Lincei.
Rebecca Schnall, Mary Dickey Lindsay Professor of Disease Prevention and Health Promotion (in Nursing) and Professor of Population and Family Health, will receive $438,936 over two years from the National Cancer Institute for "Development and Pilot Testing of a Just in Time Mobile Smoking Cessation Intervention for Persons living with HIV."
Jeffrey Shaman, professor in the department of Environmental Health Sciences and director of the Climate and Health Program at the Mailman School of Public Health, will receive $332,272 over 16 months from the Centers for Disease Control and Prevention for a sub-award of "Heterogeneous forecast and nowcast of COVID-19 at county scale" and $3,271,345 over five years from the National Institute of Allergy and Infectious Diseases for "Quantifying Error Growth to Improve Infectious Disease Forecast Accuracy."
Jingjing Shang, professor of nursing, and Patricia W. Stone, Centennial Professor of Health Policy in the Faculty of Nursing, received a $3.4 million grant from the National Institute on Aging for a four-year study of disparities in the impact of COVID-19 on nursing home and home health care patients. Shang also received a $2.4 million award to adapt and test a mobile health app for Latino patients living with HIV. 
Shuran Song, assistant professor in computer science, and Huy Ha, PhD student, were finalists for the Best System Paper Award at the 2021 Conference on Robot Learning. Their paper was titled "FlingBot: The Unreasonable Effectiveness of Dynamic Manipulation for Cloth Unfolding." 
STUDENTS
Andre Chan (CC'21), was selected as a Hong Kong Rhodes Scholar for the Class of 2022. Chan plans to study for an MPhil in Musicology at Oxford. Chan double majored in Music and Philosophy, and served as the Artistic Director of the Columbia Bach Society. 
Arman Husein (CC'22), was selected as a Malaysia Rhodes Scholar for the Class of 2022. Husein seeks to pursue an MSc in Economic and Social History, followed by an MSc in Economics for Development at Oxford. 
MacKenzie Isaac (TC'22) was selected as a United States Rhodes Scholar for the Class of 2022. She will study at the University of Oxford in England next year. 
Hannah Kendall, a PhD student in composition, will be awarded the renowned Hindemith Prize for young composers, worth 20,000 Euros. The prize-winning ceremony and a concert of her works will take place next year in August as part of the Schleswig-Holstein Music Festival in North Germany. 
Swati Ravi (CC'22) has been selected as one of twelve recipients of the George J. Mitchell Scholarship. Ravi plans to pursue an MSc in Space, Science and Technology at University College Dublin. 
Sydni Scott (CC'22), was selected as a United States Rhodes Scholar for the Class of 2022. Scott plans to pursue an MPhil in Politics (Comparative Government) while at Oxford.