A Composer's Path from Rio de Janeiro to New York City
In his first semester teaching at Columbia, Marcos Balter encourages his students to embrace change and curiosity.
September 22, 2022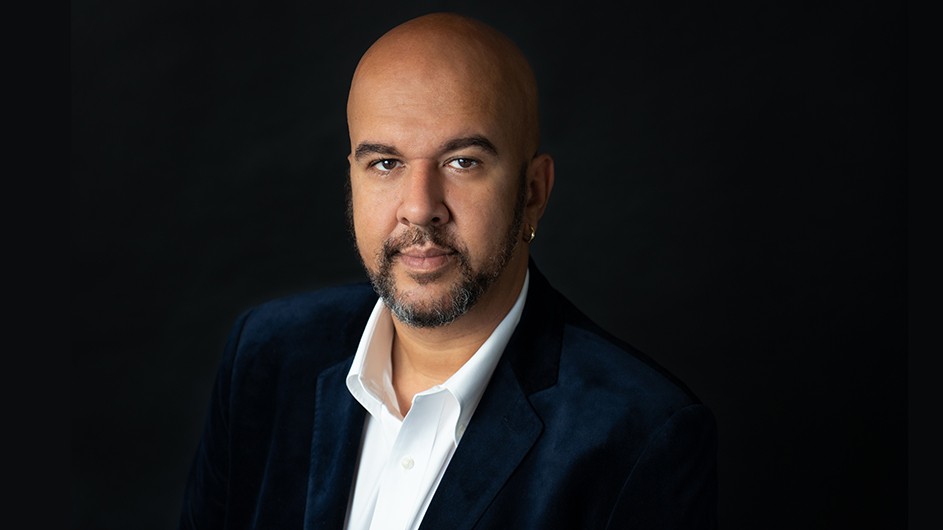 Newly arrived at Columbia this summer as the Fritz Reiner Professor of Musical Composition, Marcos Balter is a Brazilian composer whose music has been described as "rigorous in construction, and playful in overall effect" by The New York Times, and "slowly evolving, creating vivid emotional contexts and inviting the listener to savor sounds" by The Washington Post.
Balter is the recipient, among other honors, of the American Academy of Arts and Letters Music Award, a John Simon Guggenheim Foundation Fellowship, a Tanglewood Music Center Leonard Bernstein Fellowship, and two Chamber Music America Awards. He has been commissioned by the New York Philharmonic, Los Angeles Philharmonic, Chicago Symphony, the MacArthur Foundation, and the Art Institute of Chicago, among others. Recent appearances include those at Carnegie Hall, Lincoln Center, Park Avenue Armory, Köln Philharmonie, Queen Elizabeth Hall in London, ArtLab at Harvard University, and Teatro de Madrid.
Balter discusses his excitement at being on campus with Columbia News, along with his career arc from Rio de Janeiro to Columbia professor, and his advice for those contemplating a professional life in music.
How does it feel to be at Columbia?
It feels simultaneously surreal and natural. I have deeply admired Columbia's Music Department for a very long time, not only because of its vast and rich history, but also—and perhaps in particular—because of its pivotal contributions to music as a living and ever-growing art form. If you had told me a decade ago that one day I would call George Lewis—one of my heroes—a colleague, I would probably have laughed at you. Yet, George's profound influence on my thinking as an artist and as a scholar also makes this whole experience feel like a homecoming. I could say the same about many of my other new colleagues. It's humbling, but also life-affirming. 
What are you teaching this semester?
Besides private composition lessons, I am teaching a graduate seminar called Analytical Perspectives in New Music. The course is focused on music from the past 50 years that falls outside of what most would call "traditional," and that invites us to expand or reconsider existing analytical methodologies, perhaps even inventing new ones in the process. The premise is that most works that are deemed conducive to music analysis tend to conform to specific parameters dictated by unnecessarily exclusivist practices. 
What was your path to a career as a contemporary classical music composer?
I grew up in Rio de Janeiro, Brazil, in a family of nonmusicians. My first encounter with my profession was through a television show featuring the American composer Steve Reich. As a kid, I was always fascinated by sound in a very particular way: I wanted to invent sounds rather than just reproduce them. So when I watched Reich speaking about doing exactly that, a lightbulb went on in my brain. I was only four, but I was forever hooked. My parents initially thought that it was just a fad, a childish curiosity, but from that moment on, I knew that there was nothing else I would rather do.
Most of my formal training was rather conservative, primarily based on European classical music. But I was lucky to grow up in a musically rich culture that taught me the power of eclecticism, and to look for inspiration beyond genres, styles, and other problematic categorizations of music and culture as a whole. That, along with the realization that music is a collective endeavor, led me to become the artist I am today—an avid collaborator who is genuinely excited to work with the likes of the Los Angeles Philharmonic or the Tokyo String Quartet, as well as the indie-rock band Deerhoof and Paul Simon. That's one of the reasons why I don't know if I would call myself a contemporary classical composer. I think just composer suffices. 
How do you balance the demands of composing your own works and being a professor?
Teaching makes me a better composer and vice-versa. Though I see myself as a composer who teaches rather than the other way around, I love and am equally devoted to both facets of my professional existence. Sure, life would be easier if days had a few extra hours in them. At the same time, I feel like I benefit from the need for organization and discipline that my busy schedule requires of me.
I've also recently started paying more attention to my overall well-being—how much I sleep, how well I eat, and all these things that one tends to overlook when working at full speed. Being kinder to myself both mentally and physically gives me a much-needed boost at this stage in my life. Even though both my compositional and pedagogical obligations are much greater now, I feel less overwhelmed by either than I did in the past.
Do you currently play any instruments and/or perform?
I studied piano for many years, and actually made my first money as a performer, primarily as an accompanist for dancers and singers. But once I could earn a living solely as a composer, I gradually stopped performing. It felt like a natural shift. I still have a piano at home, but I only play now for fun. I do wish I had kept up my chops, and that publicly performing was a bigger part of my life. So I guess I could call myself a dormant performer. Perhaps that's why most of my closest friends are performers. I feel a kinship with them that is often greater than that towards other artists. 
What are you working on now?
I just finished a big orchestral work for the New York Philharmonic for their inaugural concert at the newly renovated David Geffen Hall at Lincoln Center in October. It's a sort of concerto for orchestra and two unusual soloists: an electronic musician, Levy Lorenzo, and a light artist, Nicholas Houfek. For the past two decades, I've been slowly expanding a series of works inspired by Yorubá traditions, with a particular focus on Orishas, the deities that represent the multiple facets of Olidumare, the supreme force in Yorubá religion.
This new work is titled Oyá, after the Orisha that symbolizes rebirth. She governs winds, storms, and lightning, elements associated with life and death, transformation and liberation from one's past and an embracing of newness. I want Oyá to baptize and claim this new concert hall, to radically wash it clean from its history, and to inundate it with forward-looking energy.
Now that Oyá is done, I'm embarking on yet another orchestral score for the season opening of the São Paulo Symphony Orchestra in just a few months. It's been an orchestra-heavy year, which is unusual for me. 
Advice for anyone pursuing a career in music or academia (or both?)
Listen to yourself and build your practice around who you are. Nobody can tell your story better than you, which is always the best story you can tell. It doesn't need to be a product of other stories, but existing communally, and open-mindedly listening to others will only strengthen your own individuality.
Something else that I find productive for both artists and scholars is the realization that strong opinions are not necessarily a virtue. Don't fall prey to dogmatic thinking. That's when creativity dies away. Changing your mind is a beautiful thing, and will often point you towards paths you would never imagine taking otherwise. Be curious and open to being changed.