A Crowdfunded Education Leads Undocumented Graduate to Journalism Degree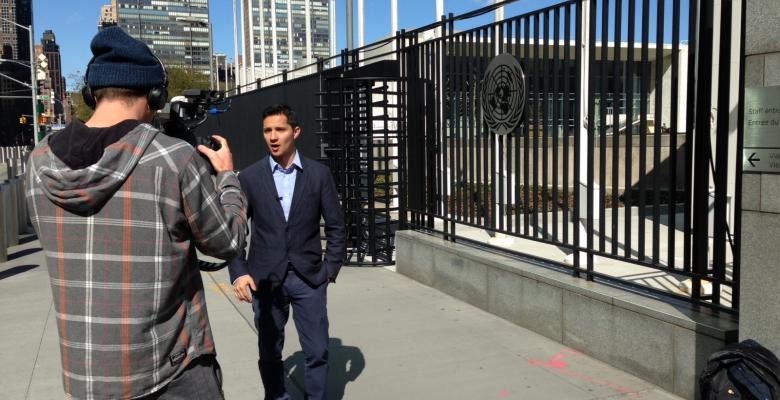 It took a village to get Armando Tonatiuh Torres-Garcia to Columbia Journalism School.
Born in Mexico and brought to the U.S. as a nine-month-old, Garcia grew up in St. Helena, population 6,000, in California's Napa Valley. Now 25, he was raised by a single mother, Nora, who cleans houses for a living. Garcia, his mother and older brother are all undocumented immigrants. A trajectory towards an Ivy League graduate school would seem improbable.
But Garcia developed a passion for journalism as a young boy watching Univision anchor Jorge Ramos on television, and a determination to match it. While in junior college and later California Polytechnic State University, he took part-time jobs as a backpacking guide and translator for a local law office, but his heart was in reporting. When he graduated in 2013 he was hired as a reporter/anchor at Univision Costa Central, a Spanish-language UHF station in Santa Barbara.
"It was tough, it was challenging, but I wanted to do more," Garcia said. "I wanted to tackle stories in a deeper way, and learn how to do investigative stories."
Garcia applied to Columbia Journalism School and to his shock, he got in. That's when the mother of one of his childhood friends wrote a letter to the local weekly, St. Helena Star, saying she had started a GoFundMe web page and asking the community to pitch in.
Daphne Larkin, a 1975 Journalism School graduate and local resident, read it and arranged to meet Garcia. "It was clear that Armando has all the right stuff for a journalist, he has this burning passion to tell the story," she said. "I think it stems from his own story of being in limbo, he's not a citizen of anywhere."
Larkin and her husband held a series of fundraising dinners at their home and contacted personal friends who might contribute. Someone cashed in frequent flyer miles to fly Garcia to New York. The Journalism School provided a partial scholarship. Over Christmas break, another round of fundraisers back home helped bring in enough money for Garcia's second semester.
He stood out in reporting class on day one, said his professor, LynNell Hancock (JRN'81). "He wanted to make sure he was assigned the most challenging neighborhood, one that would take him out of his comfort zone," she said. "He would hurl himself into the biggest story he could find, no matter how dangerous, or how tough to crack."
When he discovered that a new synthetic drug, K2, was being marketed to juveniles and sold in groceries along with candy, he dressed like a teenager and went undercover to try and buy the drug. He graduated that class with honors.
In his second semester, he took the Journalism School's "Covering Religion" course, which routinely travels overseas to report major stories. Professor Ari Goldman (JRN'73) has run the study tours for 16 years. "I've been able to give students some amazing opportunities but taking Armando to Italy was very different. He saw stories everywhere we went and he produced them with a high degree of sophistication. He's a natural in front of a camera."
The trip to Italy was "bittersweet," said Garcia. "One of the things I want to do as a citizen and a journalist is go out and see the world, and this was my first opportunity to do that." Garcia was able to travel abroad on a student visa because he is enrolled at a university, but he was questioned by Immigration and Naturalization Service (INS) agents for almost an hour when he returned.
Under current law—not to mention today's political climate—Garcia says there is no way for him to become documented. He has been able to stay in the U.S. under an INS waiver program called Deferred Action for Childhood Arrivals, which assesses applicants on a case- by-case basis but hasn't ruled on his, even after many years.
Not surprisingly, Garcia was drawn to the stories of Syrian refugees and how they are being treated in Europe. For his master's project, he found a Syrian refugee in New Jersey, and also a Syrian living in an Italian refugee camp. "The resulting video was sophisticated and deeply moving," said Hancock.
Garcia's talents have not gone unnoticed. By the end of the school's one-year master's program, Garcia had received several job offers from news organizations and was carefully assessing them to determine which provided the widest reporting opportunities.
"I represent hundreds of thousands of students like me who are undocumented, and  didn't have the opportunity to go to school," said Garcia, who is mindful of the example he may set. "A year and a half ago I wouldn't have believed it if you said I was going to graduate from Columbia Journalism School."