CU People: Meredith Howard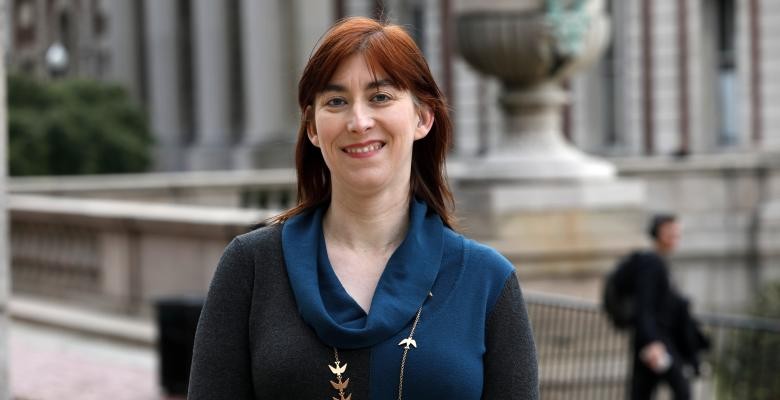 Title
Promotions Director, Columbia University Press
Years at Columbia
14 years
What She Does
As a director in the marketing department of Columbia University Press, which is celebrating its 125th anniversary this year, Howard oversees publicity, advertising, and media relations for books that "range from specialized monographs with a limited readership to books for a general audience that have good scholarly bones." In her role, she also writes marketing plans, nominates books for awards and supervises subject catalogs.
Howard, who also chairs the Press' 125th Anniversary Committee, organized a "Quasquicentennial Celebration" in Low Library in March that included the launch of an historical exhibition, now on view in the rotunda, and a printed history of the Press.
What She Likes Most About the Job
"No two days are ever the same," Howard says. She enjoys interacting with authors who are experts in their fields and also appreciates the energy and enthusiasm that the associate provost and director of the Press, Jennifer Crewe, brings to the work. She is especially pleased as the new season's catalog is issued. "It's the first chance you really get to be excited about the books that we are about to publish," she said.
Road to Columbia
Howard was born north of Chicago in Libertyville, Ill., the hometown of Adlai Stevenson and Marlon Brando. She studied English at Smith College in Northampton, Mass., and went abroad in her junior year to Cordoba, Spain where she studied Spanish literature and history. After graduation in 1995, she interned at Sojourner: The Women's Forum, a local magazine in Boston, but didn't care for the pace of a 30-day publishing schedule, which led her to pursue book publishing. "I tell our interns that internships are really good for eliminating choices for a potential career as much as they are about finding ones that you like."
From 1996 to 2003, Howard worked in the landmark Flatiron Building in lower Manhattan for the scholarly and reference division of trade publisher St. Martin's Press. She started as an assistant to the dual heads of marketing and publicity. Four months into the job, however, the head of publicity left and Howard was asked to fill her shoes on a sinkor-swim basis. "I was told 'If you can do the job for six months, it's yours to keep.'" She got the job, despite the steep learning curve. Eventually, wanting to work in the nonprofit sector, she came to Columbia.
In Her Spare Time
She is an omnivorous reader. "I love books. That goes without saying." She and her husband, who works in computer technology, enjoy going to movies and concerts. She also loves to cook. "I got a book on Malaysian cooking at Christmas, and I'm trying the recipes out now."