CU People: Victor M. Mercedes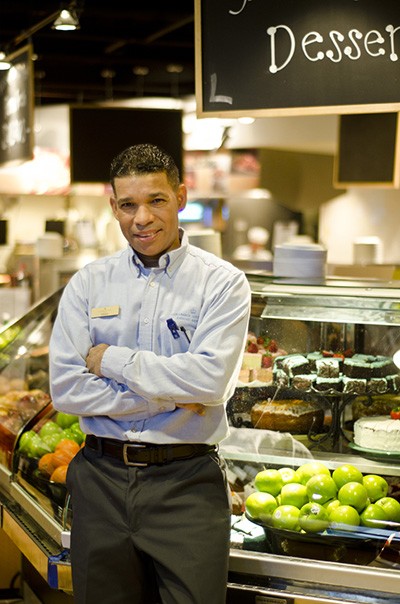 Title
Head Pantry Worker
Years at Columbia
24
What He Does
Mercedes begins his day at 4:00 a.m. at Ferris Booth Commons in Lerner Hall, where he sets up the fruit bar and avocado, waffle, and yogurt stations for breakfast. When that meal is done, he prepares the soup station and crudité bar for lunch. He is most proud of his dessert station, which he painstakingly stocks with special pastries for Halloween, Thanksgiving, Mardi Gras, Cinco de Mayo and other theme days. For a 1990s throwback day last November, some pastries resembled boom boxes and cassette tapes. "I put all my passion and love into unique details for the dessert station," he said.
Best Thing About the Job
Serving food with a smile and getting smiles in return from the students. "It means that they're happy, and that's what counts most," he said. To entertain students, he has re-enacted Michael Jackson's iconic Thriller video in the Lerner Hall dining room, dancing while dressed as the King of Pop complete with white glove, black hat and red leather jacket as his coworkers played zombies in the background. A video of the show is one of the most popular ever posted on Columbia Dining's Facebook page.
Road to Columbia
After graduating from high school in 1984, Mercedes emigrated from the Dominican Republic to Canada, staying there for two years before moving to the United States. He worked in an M&M chocolate factory in the Bronx, operating production machines, and later at a Roy Rogers restaurant near the World Trade Center. One day in 1994, his boss heard that Columbia had a job opening for a porter to clean tables and wash dishes in the Wien Hall dining room. "I tried the job and stayed," Mercedes said. Since then he has moved into food service, preparing meals for students in John Jay, Lerner, Uris, and Mudd halls. In 2008, he moved to Ferris Booth.
Most Memorable Moment
Mercedes won Columbia's version of American Idol in 2005, performing merengue with his own choreography. He used the prize to take a trip to the Dominican Republic. "It was big for me and still is," he said.
In His Spare Time
From 1990 to 1997, Mercedes served as a volunteer captain in the Marine Cadet Corps, part of which involved helping foster children in the Bronx. Each May, he arranges a Mother's Day party in his hometown of Sosúa, in the Dominican Republic, with singing, baseball, and food. He collects baseball equipment for the local Little League, as well as other items and ships them ahead of the event.
He also is the lead singer in a trio, El Grupo Viagra, whose repertoire includes merengue, salsa, bachata, and cumbia. One of their most popular songs is Un Verano en Nueva York(Summer in New York).
"Music is my life 24/7," Mercedes said. "It gives me a lot of energy." His trio performs at private parties and travels during the summer, performing in New Jersey, Connecticut, Long Island, and Pennsylvania venues and occasionally traveling as far as Florida. One of his favorite gigs is performing in Washington Heights in the summertime, where people dance, take salsa lessons, and enjoy the outdoors. "At one private event, we really got the movie star Danny Glover moving."